Best Gluten-Free Recipes- There's been a lot of talk about 'Gluten' in our food these days. While some people call it a fad diet, for some it is critical to steer clear of gluten because they may be allergic to it. So, what is gluten? Gluten is a type of protein found in grains like wheat, rye and barley which can irritate your gut and trigger allergic reactions. It is this protein that gives bread its chewy texture and also provides elasticity to baked goods.

A very recent study, conducted by researchers from the prestigious Harvard University, suggests that you don't need to avoid gluten unless you have Celiac Disease or a serious allergy. If you decide to do so as a lifestyle choice, it may lead to deficiencies and also increase the risk of diabetes as you are consuming less fibre, they assert. You should know that gluten intolerance (commonly known as wheat allergy) and Celiac's disease is not the same thing. Celiac Disease is an autoimmune disease where your immune system does not recognize gluten and may react by making your white blood cells attack the lining of the small intestine. Gluten intolerance may simply refer to an allergic reaction and you may grow out of it with time. Experts who follow the Paleolithic lifestyle believe that our body is only designed to absorb and digest foods that our ancestors ate while grains and other foods grown by the modern man are responsible for causing most lifestyle diseases that our forefathers never had to suffer. Therefore, for those who are healthy, ruling out wheat and other grains that contain gluten completely remains highly debatable.


Tips To Cook A Gluten-Free Meal

When it comes to cooking up a gluten-free meal, there are few important things that you must keep in mind and Food Blogger Aarti Sarin Jain takes us through them, "A gluten-free lunch can be made like any other meal. You just need to remember – no wheat, no rye, no oats and no barley. If you're making an Indian meal replace your chappati with brown rice, red rice or make a gluten-free chappati with ragior maize flour (makkai ka atta). If you're cooking a Chinese meal, avoid noodles and use rice instead which is gluten free and for a Continental lunch replace bread with quinoa, risotto or gluten-free pasta. You should also avoid hing, soy sauce, vinegar and any other store-bought masalas and sauces unless you know they are gluten-free."

Whether you are intolerant to gluten or just want to go off gluten-rich grains for a day, here is a list of gluten-free lunch recipes to try:
Amaranth is an amazing grain to use. It has higher mineral content – more calcium, iron, phosphorus and most importantly manganese than most other vegetables and more digestible proteins than wheat. These tikkis are easy to make and perfect to carry in your lunch box.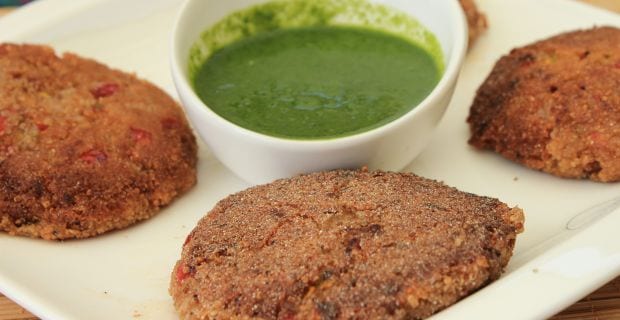 A gluten free tikki made with amaranth seeds and stir fried vegetables that is sure to please your taste buds.
Ragi is rich in calcium and gluten-free and can be easily used to make chappatis. Fill it up with chopped seasonal veggies to it a flavour spin. This Indian bread is made with ragi flour, carrots and mild spices can be your lunch recipe along with a sabzi of your choice or you can also serve Ragi roti with chutney, dahi or pickle.
Easy, healthy, quick and gluten-free, this is perfect for your lunch menu.
Another lovely gluten-free ingredient that is often used during the Navratri fasting season, but why should we have to restrict it only to festivities? Sabudana is available year long and can easily transformed into this wholesome khichdi for lunch.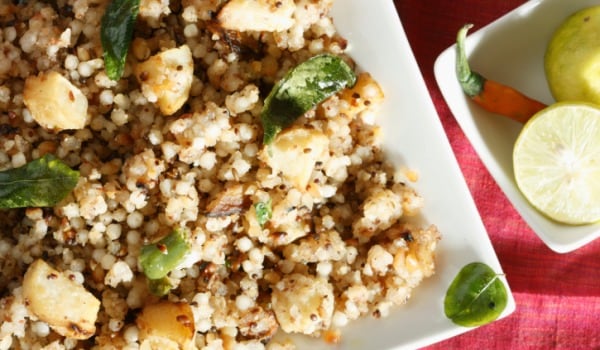 Just 20 minutes and simple ingredients and you'll get a bowl of hot and delicious Sabudana khichdi
Avial is a traditional South Indian dish from Kerala. Light, summery stew with lots of veggies cooke din coconut oil and mustard seeds, served with the traditional southern red rice. This could be your ideal meal on a hot day.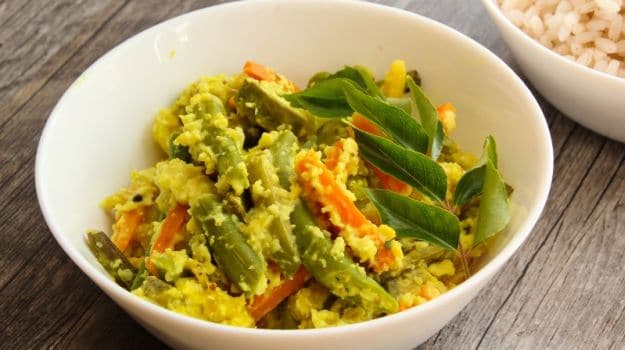 A light South Indian full of veggies, perfect for a gluten-free lunch menu.
Brown is a healthier alternative to your regular white rice and it retains all the essential nutrients in the bran which are lost due to processing. This easy rice dish needs only 30 minutes and is full of flavour!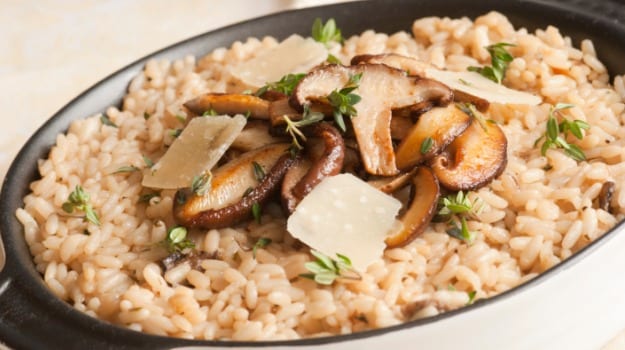 Brown rice having more fibre than whote rice, makes this dish a healthier option for lunch.
A protein rich meal that will keep you full till dinner, this biryani is made with quinoa and juicy chicken chunks. Quinoa is known to be high of fibre and low on calories while it keeps you full for long. This chicken quinoa biryani is mildly flavoured and is perfect for a light lunch.

(Also read: 7 Gluten Free Grains You Should Know About)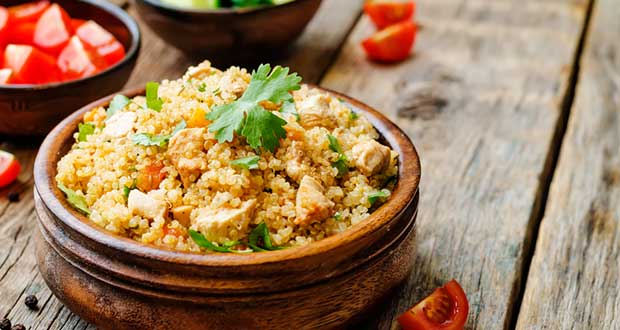 High on protein, low on calories, this quinoa biryani is a perfect meal option.
Bored of your regular menu? Try these intersting Tex-Mex tacos that are made from scratch with jowar flour and are loaded with a spiced chicken filling. Apart from being absolutely gluten-free, a cup of jowar has a whopping 22 grams of protein and is a powerhouse of other essential vitamins, antioxidants and minerals. Do we need any more reason to try this excellent jowar taco recipe?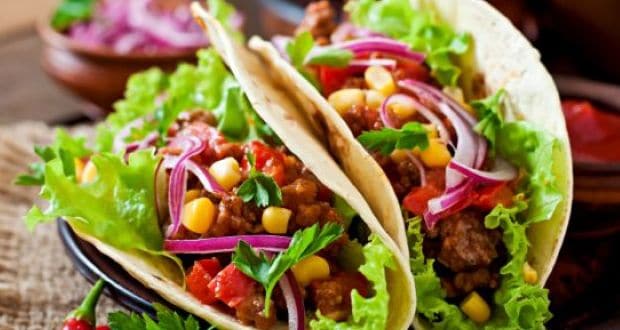 Fill your platter up with spicy chicken, lots of crisp veggies with this jowar taco and indulge!
Another ingredient that is commonly used during Navratris, buckwheat or kuttu is also gluten free. You can use it to make this quick dosa for a South Indian lunch. Here, the filling is not your usual masala aloo but one that is made with arbi.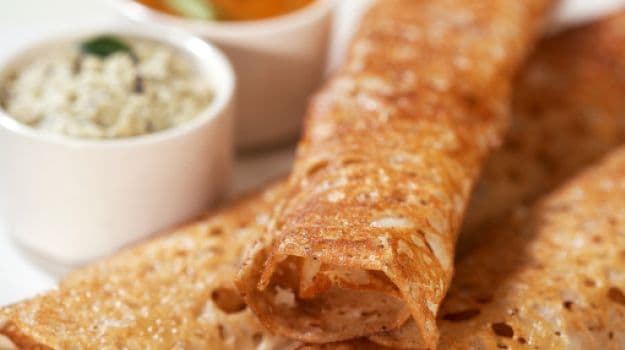 A crisp and healthy kuttu dosa recipe that does not compromise on the taste.
As suggested by Aarti, risotto can be a good break from the usual stuff you eat for lunch. Rice rolled in assorted vegetables, herbs and flavours, garnished with an interesting mooli and raw mango salad. This one is perfect for summer as it full of the tangy flavour raw mangoes.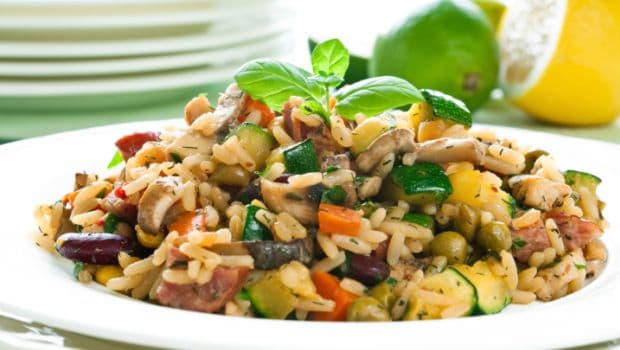 A tangy and tasty risotto recipe with goodness of mango. Enjoy this light and refreshing dish during the summer season.
A popular North Indian dish, aloo ka paratha is a quintessential recipe made in almost every meal from breakfast to dinner in many Indian homes. This one here is made with maize flour, a gluten free flour popular during the winter. You can have your favourite aloo parathas made with maize flour or makki ka atta without compromising on the taste and savour along with an accompaniment of your choice.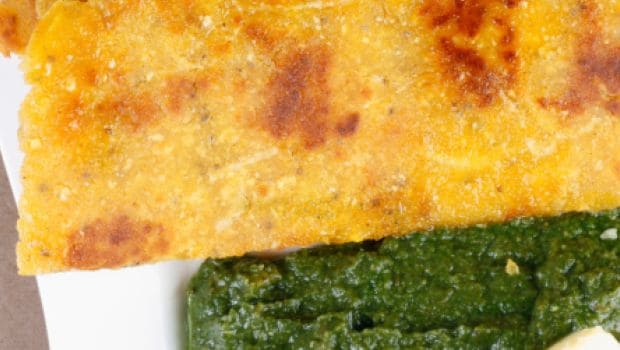 The same, delicious, hot and piping aloo paratha made with a healthier, gluten-free makki ka aata.
Tabbouleh is a middle-eastern vegetarian salad traditionally served as part of a mezze in the Arab world. This nutritious salad has grown its popularity in Western cultures as well over the period of time. Here is a more healthier version of Tabbouleh made with amaranth. Throw in some chickpeas, juicy cucumbers along with tomatoes and serve with pita bread and hummus for a whole meal.
A healthy yet delicious Tabbouleh salad, made absolutely gluten-free!
Quick, easy and delicious, this dosa is a must try! Apart from being gluten free, ragi dosa contains good amounts of fibre and is a rich source of iron, calcium and other minerals.
One such delicious and healthy dish is gluten-free vegan zucchini pasta. Sounds interesting, right? The recipe is not only gluten-free but is also weight-loss-friendly.
Going gluten-free doesn't mean you have to give up on your favorites. Just tweak and experiment in the kitchen and you never know you may land with a masterpiece of your own. Do share your gluten-free recipes with us!