Is
Bangalore
(Bengaluru) still the pub city of the nation? It probably is, given the concentration of
watering holes
that range from being mediocre to outstanding in its densely populated areas. From Koramangala, Indiranagar, the central business district, to even the relatively distant location, there's a pub for everyone in this city. On a quick trip to the city, I ended up getting a taste of the pub culture of the city, with a few repeats and some first times thrown in, and came away quite happy.
1. Monkey Bar
One of the most highly recommended places in the city, Monkey Bar has found its comfortable zone in Indiranagar. Having said that, they also seem to add new things to the menu every now and then. From the newer cocktails section, try the Mando-Villa - mandarin flavoured vodka, vanilla liqueur, Triple Sec, orange juice; and the King Kong - vanilla vodka, banana, cardamom, and fresh cream - which is more like an adult version of a shake I suppose. To eat, the Laal Maas Phulka Tacos, Prawn Pickle, Naga Pork Noodles, and the Butter Chicken Khichdi are worth digging into.
Add: 610, 12th Main, Indiranagar; Meal for two: Rs. 2,500(Shop for delicious healthy snacks on SmartCooky)
2. Watson's
For beer drinkers, Watson's (with an outlet each in Ulsoor, Vasanthnagar, and JP Nagar) is probably the go-to place these days. It's more about the brew (no it's not a microbrewery) and the music here than the food. But scour the menu and you'll find something to pop into your mouth between sips of beer. They have a full bar of course, and I would recommend straight drinks (vodka tonic for instance) than the cocktails. To eat, the Mini Masala Papad is a treat, as is the Sundal - a typical local bar food. And if you want something more substantial, try the Egg Bhurji Pav or Samosa Pav. The Chilli Prawns are decent too. While I don't think this is a place to sit down for dinner, I did spot people getting fuller meals.
Add: Multiple outlets at Ulsoor, JP Nagar and Vasant Nagar; Meal for two: Rs1,500

3. Toit
No one, and I mean no one can leave Bengaluru before making one 'darshan' of Toit. Okay, I might be exaggerating, but there is no other way I could explain the crowd on a Tuesday. One of the city's better-known microbreweries, Toit is spread across three floors (or two and a half rather), and has an interesting range of brews in its kegs. From the sweet malty Basmati Blonde and the slightly citrusy Tintin, to the strong, fruity and spicy Weiss, and Dark Knight - beers here are created for different kinds of taste buds. To eat, the beefy loaded potatoes, nachos, scotch eggs, onion rings, and the fried calamari are only a few of the appetisers that keep flying out of the kitchen. The pizzas here are rather popular too, and I found a special fondness for the Toit special salad.
Add: 298, Namma Metro Pillar 62, 100 Feet Road, Indiranagar; Meal for two: Rs 2,200

4. The Irish House
It's new in town, and is worth a dekko, if you don't mind a trip to Whitefield. From regular drinks to interesting cocktails, The Irish House menu has covered quite a range. I also spotted some Chinese beer on the menu, which I am yet to try. Martinis, Margaritas, Mojitos and Daiquiris will keep you busy, but if you're in the big group, try one of their 'Community Cocktails', which basically means they're sharable. Try the Irish Terminator; it's got vodka, gin, rum, Triple Sec, brandy, grape juice, and grenadine, all of which is topped with beer. From their signature section, the Irish Mule - whisky, ginger bitters, sparkling water - is a good pick. To eat, try the fish and chips (predictable yes), nachos, roast chicken with mashed potatoes, the pulled pork Cuban cigars, and the burgers. They also have 'Community Meals' for groups.
Add: TF-01A, Level 3, VR Mall, Mahadevpura, Whitefield; Meal for two: Rs 2,000


5. Prost Brew Pub
A neighbourhood pub where you go to enjoy the music and beer, Prost is more about its relaxed ambience than the food. They brew their own beer - the Burnt Stone (a stout with grain and caramel flavours) and Cider Rider (it's a bit fruity) being two of the popular ones. And since you must eat something while you drink, the nachos are a good way to go. They also offer platters for sharing - kebabs, mezze, chicken wings, seafood, etc.
Add: 749, 10th Main, 80 Feet Road, 4th Block,Koramangala; Meal for two: Rs 2,000


6. The Biere Club
Easily one of the busiest places at Lavelle Road, The Biere Club, with its quaint décor, constantly changing beer menu and vibrant mood, often finds itself sending people away from the door on weekends. Apart from the beer cocktails (it's a microbrewery after all), and a full bar, they brew lager, ale, stout, wheat, and season's specials. The beers here rarely disappoint. There's a decent menu to complement your drinks - assorted fries of all kinds (from potato, prawns, and onion rings, to chicken, calamari, fish, and bacon), and pub favourites such as nachos, kebabs, and pizzas. The Prawn Popcorn, Moroccan Spiced Chicken, and Assorted Fries with Harissa Mayo are three of the most popular appetisers. And if you're in a large group, you can get a sharing platter.
Add: 20/2, Vittal Mallya Road, Lavelle Road Area; Meal for two: Rs 2,500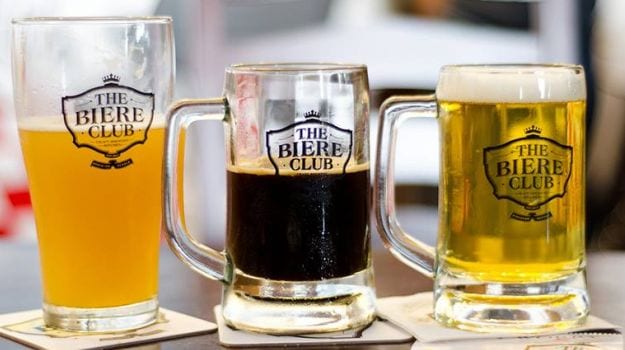 7. Bootlegger
More of a 'young people's hangout', which is right across the street from The Biere Club, Bootlegger has its share of regulars too. The bar menu has a range of interesting concoctions that hover somewhere between predictable and experimental. For instance the Battle of Orleans with bourbon, demerara, absinthe, Peychaud's Bitters, and orange bitters can give you quite the kick. Try the Hemingway Daiquiri too. It's got white rum, lime, grape fruit, and maraschino. They also have quite a few cocktails inspired by tropical flavours. But between all the cocktails, whisky, and rum and cokes, I saw more pint bottle doing the rounds. To eat, the different versions of wings are quite popular here, as is the predictable range of pub food such as Onion Rings, Stuffed Mushrooms, Chilli Cheese Toast, Chilli Pork, and Fried Prawns.
Add: 36, Vittal Mallya Road; Meal for two: Rs 1,500

8. Church Street Social
Find a table here on the weekend, and you'll be a rockstar. Church Street Social is no small place. Spread across two floors with ample seating, it continues to burst at the seams on weekends. Most of their signature cocktails are decent, if you ask them to tone down the sweet and sour mix. Try Aacharoska, which is described as 'Caipiroska in a pickle', Barrel no 12 (Captain Morgan, pineapple juice, grenadine), or the Longest Long Island Iced Tea, and wash them down with Chilli Cheese Toast, Onion Rings, Pork Belly Pops, Potato Skins, or any one of their sharing platters.
Add: 46/1, Cobalt Building, Church Street; Meal for two: Rs 1,800

9. Harry's Bar + Cafe
There are three Harry's Bars in the city and all three menus are the same. The cocktails at Harry's are familiar, yet carry a 'Harry's touch'. Fortunately, the classics remain untouched. The classic mojito is a favourite here, but they also make a decent orange and green tea mojito. Also try the potent Black Scotsman - it's got 100 Pipers, Kahlua and cola, and leaves you with quite a buzz. Harry's is not always overflowing with people, which is a boon in this city. So find a quiet corner if you can, order Masala Peanuts, Chicken Satay, Portofino Shrimps, Chilli Potatoes, and soak in the ambience.
Add: Koramangala, Indiranagar, and Whitefield; Meal for two: Rs 1,800

10. Sotally Tober
Its incomplete-by-design look and the unhurried ambience sure work in its favour. Does it have the best drinks and food in town? Not really. But there are things on the menu you will enjoy. The Sour Chai (whisky, black tea, sweet and sour mix), Tober Chocolate Fudge (tequila, chocolate, Triple Sec, and ice cream), and Monk Pop (dark rum, cherry juice, cola and ice cream) are some of the familiar mixes - albeit designed for the younger population. The appetisers here do well. Try the Indi Masala Fries, SoTo Chilli Toast, Chicken Wings, and crostini, which are a better bet than the mains. But then again, a burger here every now and then is not a bad idea.
Add: 769, 80 Feet Road, Koramangala 4th Block; Meal for two: Rs 1,500

Disclaimer:
The opinions expressed within this article are the personal opinions of the author. NDTV is not responsible for the accuracy, completeness, suitability, or validity of any information on this article. All information is provided on an as-is basis. The information, facts or opinions appearing in the article do not reflect the views of NDTV and NDTV does not assume any responsibility or liability for the same.