The regional south Indian cuisine is one of the most diverse cuisines in the country. Right from crispy vadas to flavourful sambar, to fiery curries and to coconut milk, the cuisine boasts of myriad delicacies that never fail to impress. The coastal delicacies like fish curries, prawn fry and crab meat masala are a hot favourite among non-vegetarians, thanks to the vast coastline that laps almost every southern state. If you are a non-vegetarian who loves to indulge in mouth-watering seafood delicacies, we have got the best of southern recipes for you to try at home! Fresh from the coast to your table, these delicacies are a celebration of flavours.
13 Best South Indian Seafood Recipes To Try:
State from the kitchens of Wayanad, Kerala, Malabari fish curry boasts of the flavours of tamarind, coconut and chillies simmered with seared fish to a tantalizing dish, perfect to satiate a seafood lover's appetite! Click here for the recipe.
Loaded with flavorful, tangy fried fish and aromatic spices along with rich cashew nuts, Malabari fish biryani is dum cooked to perfection. Can it get any better? Find the full recipe here.
A dish sure to set your taste buds ablaze, Andhra crab meat masala has fiery spices and chillies tossed in with mushy crab meat with a hint of lime! Find the full recipe here.
Tangy tamarind, creamy coconut milk paired with spices and herbs makes this delectable fish curry a must-try at your next dinner party! Click here for the recipe.
If you've tried and loved Chettinad chicken curry from the Chettinad region of Tami Nadu, you would definitely love this fiery play of spices in this exciting fish fry recipe! Click here for the recipe.
This banana leaf-wrapped fish smeared with hot and spicy Mangalorean masala made with red chillies, garlic, ginger, star anise and more is baked to perfection. Find the full recipe here.
A perfect combination of spicy and sour, this prawn curry is made with a myriad of flavourful ingredients like tamarind paste, peppercorn, mustard, red chilli and green chilli along with coconut. Marinated prawns cooked in a mix of spices, this one served with steamed rice is a must-try! Click here for the recipe.
A Kerala-style curry with the goodness of creamy coconut milk, fish stock, splutter of mustard and fenugreek seeds, this fish curry is served hot with appams! Find the recipe here.
If you love a hint of spice in your crispy fish fry, this authentic recipe of fish fry from Kerala is sure to impress you. Methi seeds, coriander, ginger and chill lend a spicy flavour to the marination of fish that may be a perfect addition to your snacks platter. Find the full recipe here.
Curry leaves, tamarind, coconut and chillies tossed with fish cubes, indulge in the authentic Malabari spices with this mouth-watering prawn curry from Kerala! Find the recipe here.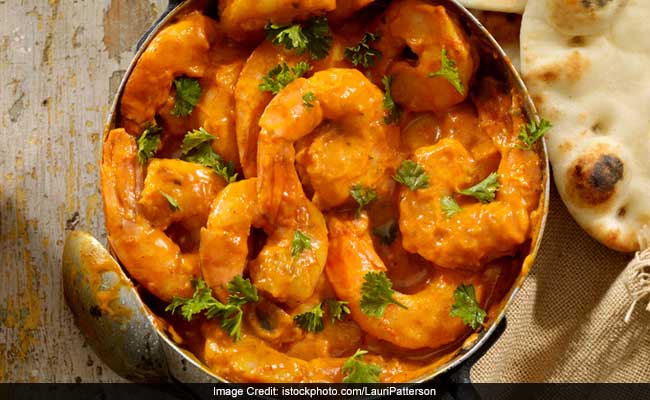 Homemade Konkani masala slathered over fish and baked to flavourful best! This grilled fish with authentic Konkani flavours is perfect for chilly winter nights. Find the full recipe here.
A perfect dish for prawn lovers, this Andhra-style prawn recipe has the flavours of tarty tamarind and spicy red chilli and aromatic spices and coconut. Click here for the recipe.
Malabari spices and herbs seeped deep into juicy prawns, this prawn curry is a combination of tangy lime, creamy coconut milk, fish stock and spicy flavours of pepper, chillies, shallots, fenugreek seeds and curry leaves. Find the full recipe here.


Try these yummy coastal recipes from the southern belt of India at home and share your experience with us in the comments section below.