If I were to tell you, tea can be eaten, you would probably raise an eyebrow. But here are some amazing
desserts
that are based on tea and prove that tea can be eaten with a lot more relish than it is drunk! The best bit? They are super easy to make and can be stored too. Use your afternoon or off-day to bake these
exotic
sounding but made-in-a-jiffy goodies.
1. Lemon and Chamomile Tea MadeleinesPreparation time:
20 minutes
Cooking time:
15 minutes
Ingredients:
- Icing sugar 65gm
- Flour 65gm
- Butter 65gm
- Egg 1
- Milk 2 tsp
- Baking powder 2/5th tsp
- Zest of 2 lemons
- Vanilla (optional)
- Butter for greasing
- Chamomile tea leaves 2 tsp ( infused in milk overnight )
Method:
In a bowl, add
egg
, milk (with tea leaves strained out), zest,
icing sugar
, pinch of salt and whisk well. The batter should be thick pipe-able consistency and not flowy or runny.In another bowl, add flour and
baking powder
and mix with the above egg mixture.Add melted
butter
and whisk well until thick. Pipe in a greased Madeleine mould, dusted with flour and freeze for 5 minutes before baking.Bake for 12 to 13 minutes at 180 degree Celsius until golden brown and mounded in the centre. Cool thoroughly before removing from moulds.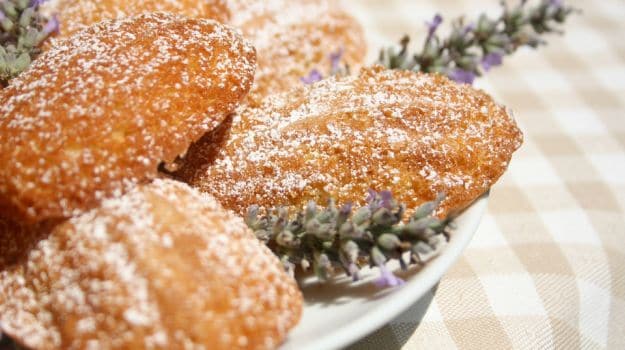 2. Orange Spiced Cake with Earl Grey TeaPreparation time:
25 minutes
Cooking time:
45 minutes + 30 minutes cooling time
Ingredients:
- Condensed milk - 1/2 tin
- Icing Sugar - 3 tbsp
- Oil - 1/2 cup
- Milk - 1/2 cup (to infuse tea)
- Vanilla
- Flour - 1 cup
- Cornflour - 1/4 cup
- Baking soda - 1/2 tsp
- Baking powder - 1/2 tsp
- Orange juice - 1/2 cup
- Candied oranges - 100gm
- Orange zest - 20gm
- Mixed spices (cinnamon, star anise, nutmeg, pepper, cardamom ) - 6gm
- Earl Grey Tea Leaves - 4 tsp (infused overnight in milk)
Method:
Whisk the condensed milk with icing sugar until light and fluffy. Add oil to mix well.Try to avoid a hand blender for mixing oil or else it could form clumps.Add milk infused with
tea leaves
. Then, add in all dry ingredients but ensure that they are sifted. Fold in the orange juice, dusted candied oranges and zest.Ensure candied oranges are dusted well with flour else they will sink to the bottom.Pour this mixture in a greased lined mould and bake at 160 degrees Celsius for 45-50 minutes until a skewer inserted comes out clean.Let the
cake
rest and cool well before unmolding. It's important to let the cake be properly cooled before unmolding as it may break if hot.Decorate with dehydrated
oranges
and
whole spices
.You may also flavour the cake with Cointreau liquor. This cake has a long shelf life and can be stored in the refrigerator for about a fortnight.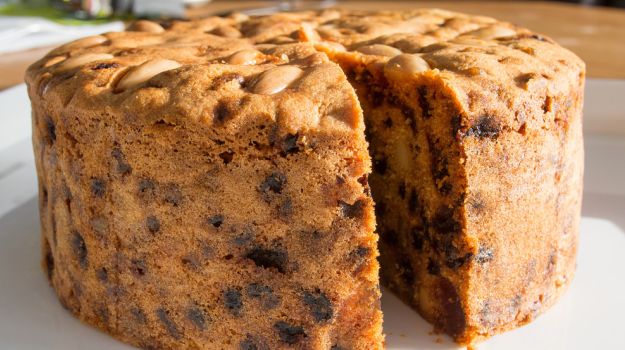 3. Green Tea & Choco chip cookiesPreparation time:
15 minutes
Cooking time:
15 minutes
Ingredients:
- All-purpose flour - 2 cups
- Green tea powder (Matcha) - 1 tbsp
- White sugar - 1/2 cup
- Vanilla extract - 1 tbsp
- Baking soda - 1/2 tsp
- Whole egg - 1
- Egg yolk - 1
- Salt - 1/2 tsp
- Brown sugar - 1/2 cup
- Unsalted butter - 1/2 cup, melted
- White Chocolate chips - 1 cup
Method:
Preheat oven to 165 degrees Celsius. Grease baking sheets or line with parchment paper. Sift flour, matcha, baking soda, and salt together in a bowl.Beat brown sugar, butter, and
white sugar
together in another large bowl using an electric mixer until blended; beat in the vanilla extract, egg, and egg yolk until light and creamy.Mix flour mixture into creamed butter mixture until the dough is just blended; fold in
chocolate chips
using a wooden spoon.You can avoid the chocolate chips if you like, and keep the cookies plain to enjoy the flavour of the matcha. If you like the cookies nutty, you may add a cup of
pistachios
to the blended dough instead of the chocolate chips.Drop
cookie
dough, one heaped tablespoon per cookie, onto the prepared baking sheet 2 to 3 inches apart. Bake in the preheated oven until edges are lightly browned.This should take 8 to 10 minutes. Cool cookies on the baking sheet for 2 to 3 minutes before transferring to a wire rack to cool completely.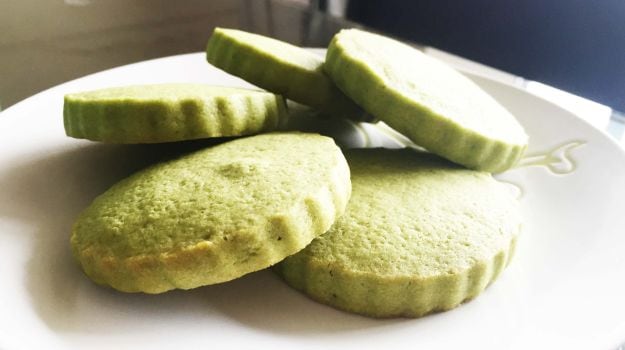 Disclaimer:
The opinions expressed within this article are the personal opinions of the author. NDTV is not responsible for the accuracy, completeness, suitability, or validity of any information on this article. All information is provided on an as-is basis. The information, facts or opinions appearing in the article do not reflect the views of NDTV and NDTV does not assume any responsibility or liability for the same.