While most of us have grown up marveling at the popular cartoon character Popeye, who gets his superhero strength after gorging down a can of
spinach
, in reality, as kids we have often struggled to finish even a few spoons of the green veggie, which is commonly served as a side or curry during lunch meals. It doesn't quite have to do with bad taste, the leaves in fact have a distinctive zingy flavour, but it's probably the unappealing preparations as compared to other dishes that could have caused the disinterest for it.
Spinach rarely features in one's list of favourite veggies, but as an ingredient, it has the capabilities of creating some stellar dishes. Whether you make it into a paste or sauté it, the slightly peppery flavour blends well with other ingredients. But you need to spend a little time to get familiar with the characteristics of the green leafy veggie. Once you do, it's easy to toss it into a number of recipes and add to the myriad flavours.
Spinach, or palak in Hindi, is probably one of the highest sources of vitamins, minerals and antioxidants among food sources. It is a power veggie, which definitely should be included in the daily diet. One of the easiest ways is to make a quick stir-fry, but if you are up for some exploring, there's plenty you could do with it.

One-Pot Spinach Dish
Rice features commonly in Indian cuisine. There are many ways it is prepared along with spices, vegetables and meats to create lip-smacking dishes such as biryani, pulao and the like. Palak Rice is one such dish from the same culinary branch. Although I would like to believe that it is a really smart way to make children eat their greens. I was introduced to it through my mother who presented it as the new 'fried' rice sans soya sauce. And it appealed to me probably because it was different and my friends thought of it as a 'cool' tiffin option. But I eventually did grow up to become fond of it.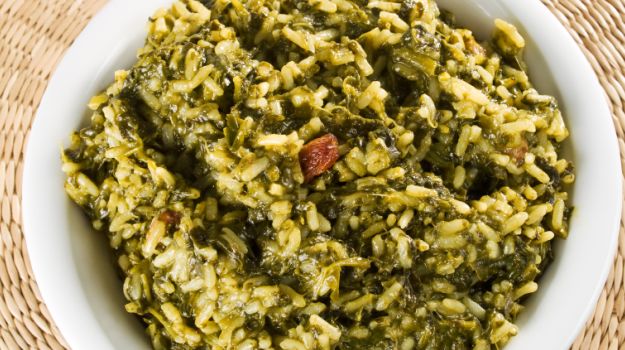 Much like biryani and pulao, this dish too calls in for the same spices and therefore is aromatic and flavourful. While some like to use the spinach as a paste to blend in all the spices, you can also finely chop the vegetable and use it. Spices are essential in this recipe, which is what builds the final flavour of the one-pot dish. I usually make Palak Rice by dry roasting whole spices such as green cardamom, black cardamom, cinnamon, cloves, black pepper, and star anise, and grinding them to make a powder. To it, I add a pinch of mace which spikes up the flavour even more.
There are many ways you can prepare Palak Rice. Just like biryani, you can either cook all the ingredients together and let the flavours develop in a pot, or make the rice and spinach curry separately and layer them together in one final pot and dum cook it for a few minutes to blend in the flavours. I like to follow the first process, and I use a pressure cooker which makes the whole cooking process easy and quick. Top it with a whole bunch of roasted cashews and crispy fried onions (barista), and you have a winner of a dish. And more so when you spoon in some desi ghee during the cooking process. Bet you'll agree that spinach has never tasted this good!

How to Make Palak Rice

Palak Rice
Serves 2
Cooking time: 40 minutes
Ingredients:
1 cup basmati rice
2 medium onions, chopped
2 Tbsp ghee plus extra
1 tsp brown sugar
1 Tbsp ginger-garlic paste, fresh
2 small tomatoes, chopped
Salt to taste
1/2 tsp turmeric powder
1/2 tsp red chilli powder
1/2 tsp coriander powder
1/2 tsp cumin powder
For the spices
1 cinnamon stick
2 green cardamoms
2 black cardamoms
3-4 cloves
1 star anise
A pinch of mace
For the spinach puree
2 cups chopped spinach
1/4 cup grated coconut (optional)
1/2 cup coriander leaves
1-2 green chillies
For the garnish
1 cup crispy fried onions
1 cup roasted cashew nuts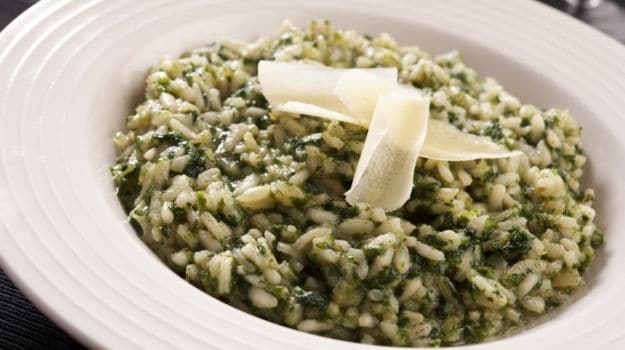 Method:
1. Soak the rice in water for 15 minutes. Keep aide.
2. In a pan, dry roast the whole spices for a few minutes until aromatic. Then let it cool and grind them to make a coarse powder. Keep aside.
3. For the spinach puree, add all the ingredients in a mixer and grind to make a smooth paste.
4. In a pressure cooker, heat ghee and add brown sugar. Let it caramelize and then add the chopped onions. Sauté for 2-3 minutes.
5. Add ginger-garlic paste and tomatoes, turn up the heat and saute for 4-5 minutes until the tomatoes become pulpy and the oil separates.
6. Add salt, turmeric and red chilli powder, and mix well. Then add the spinach paste and let it cook for 4-5 minutes.
7. Add cumin and coriander powders and mix well. Continue cooking for 4-5 minutes.
8. Now add the drained rice and mix well. Add the spice powder and saute for 2-3 minutes.
9. Fill the cooker with 2 cups warm water and add the bay leaves and pressure cook for three whistles.
10. Add a spoon of ghee and mix the rice well.
11. Serve hot topped with fried onions and roasted cashews.