Onam 2021: It's time to bring out giant banana leaves and feast over sumptuous dishes from Kerala as the festival of Onam has begun! Onam is a popular Hindu festival that is celebrated with a lot of gusto in the southern state of Kerala. It is a 10-day long festival during the harvest season that marks the homecoming of Mahabali, a mythical king whose reign was considered a golden era in the history of Kerala. This year, Onam festivities began on August 12th, 2021 and will conclude on August 23rd; the final day being celebrated as Thiruvonam, meaning 'Sacred Onam Day'.
How Is Onam Celebrated?
Onam festivities include many traditions like beautiful flower decorations at home, playing various games, performing several traditional dances along with boat race competition and elephant processions. But, can a festival be ever complete without a grand feast? Onam involves an elaborate meal as part of Onasadya celebration on the day of Thiruvonam. Served on a giant banana leaf, the meal comprises a nine-course meal with about four to five vegetables along with rice, pickles, papad and traditional dessert, payasam.
The Onam Feast
While Onasadya is a very important part of the festival, there are a variety of mouth-watering traditional delicacies apart from it that can be prepared during the Onam festivities. From a sumptuous bowl of avial curry, pachadi, rasam to appam and kadala curry, there is a stream of dishes that are simply irresistible. But can the festivities be sealed without some sweet treats? Of course, not. An Indian festival cannot be celebrated without some traditional sweets making its way to the platter.
So, if you are wondering what traditional desserts to prepare on the occasion of Onam, we've got you covered. Here, we have 4 delectable dishes to make at home and serve your guests while soaking in the festivities.


(Also Read: 10 Best Onam Recipes | Onam Sadhya Recipes And Special Dishes)
Here Are 4 Indian Desserts To Prepare At Home On Onam Festival:
A variation of classic payasam, ada pradhaman is made with ada rice, jaggery and coconut along with dry fruits and nuts such as cashews and raisins, stirred well in coconut milk. Ada pradhaman is a delicious dessert to cook on the occasion of Onam and serve a large gathering.
Onam 2021: A classic dessert from Kerala, popular during the festival of Onam.
A rice-based fried fritter dish from the state of Kerala that derives its name from 'ney' that means ghee and 'appam' that means pancake. Made with raw rice, jaggery, banana, coconut and cardamom, nei appam is fried till crispy and crunchy. Ney appam has always had a special place in all of the important festivals of the state. It is a perfect sweet treat for Onam since it is easy and quick to prepare at home.
Onam Recipes: A delicious sweet, rice-based fried dish from Kerala.
The traditional Indian dessert for the festival of Onam, payasam is an irresistible kheer dish that is offered as prasadam at temples and festive events as well. With rice, cardamom, cashews and raisins cooked together in milk, paal payasam makes for a luscious, creamy dessert. Besides the classic paal payasam, there are various payasam recipes that come with the addition of coconut, moong dal, and other ingredients.


(Also Read: 13 Best South Indian Recipes | Easy South Indian Recipes)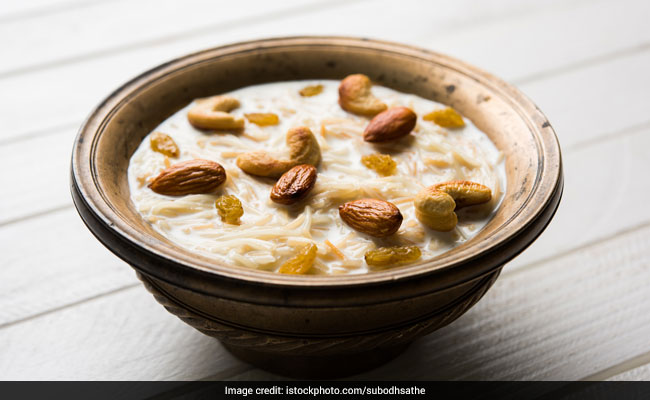 Onam 2021: A delicious, creamy, rice and milk pudding with cashews and raisins.

Photo Credit: iStock.
Sweet balls of goodness! Rava laddu is a simple, easy and quick Indian sweet to prepare for festive occasions like Onam. Roasted and ground rava or semolina is mixed with sugar, cardamom, ghee and dry fruits, then made into ladoos and garnished with nuts and varq. Rava ladoo involves minimal cooking yet is absolutely delicious to enjoy with family and friends.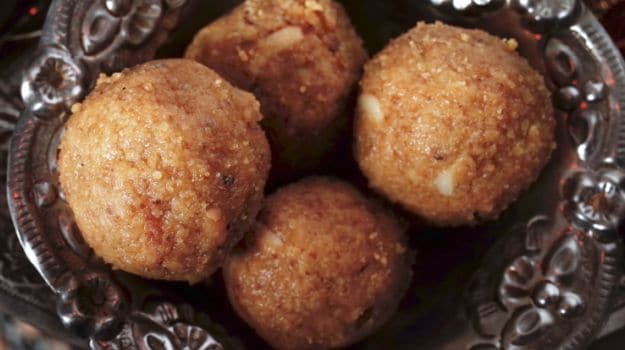 Onam 2020: Delicious semolina ladoo dish made with some crunchy dry fruits.
Make the best of Onam festivities with these delightful Indian desserts and let us know your favourite one in the comments section below.


Happy Onam 2021 to one and all!
About Aanchal MathurAanchal doesn't share food. A cake in her vicinity is sure to disappear in a record time of 10 seconds. Besides loading up on sugar, she loves bingeing on FRIENDS with a plate of momos. Most likely to find her soulmate on a food app.