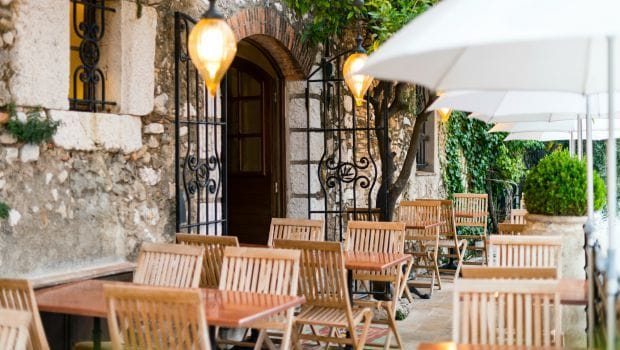 Delhi, the city not only welcomes them with an open heart, but also adapts to the growing population of migrants of a state in more ways than one. In the past few decades the city has opened a plethora of eateries to make the migrants feel at home. We present to you some of the most authentic eateries in Delhi that will virtually take you down to the streets and towns of their corresponding states.

Potbelly Rooftop Cafe (Bihari Cuisine)

Situated in the very vibrant streets of Shahpur Jat, this restaurant brings to you the finest Bihari cuisine in the city. Owing to the high migration rates of people from Bihar, the restaurant is almost always full and is notoriously famous for its authentic chutneys and for its littis that will just melt in your mouth. It serves as the perfect place for those who want to taste good Bihari food but with a pinch of modernism in it.
Where: 116 C, Top Floor, Shahpur Jat

(Also Read: Dine At 6 Of The Most Unusual Restaurants In India)
Suruchi (Rajasthani cuisine)

If you are craving for spicy Rajasthani dal or authentic gatte ki sabzi, Suruchi located in Karol Bagh is just the right place for you. Suruchi is a chain of restaurants that offers its mouth-watering Rajasthani (among other cuisines) food across many joints in the city. You can also try their daal baati and churma and we are sure it will remind you of the best and most authentic dishes from Rajasthan. It is a pure-vegetarian restaurant and the service is evidently very good, so if you are planning to take your family out for a lip-smacking Rajasthani experience in Delhi, you know where to go.
Where: 15A/56, WEA Karol Bagh

(Also Read: 10 Best Quirky Yet Interestingly Themed Restaurants in Mumbai)


Chor Bizzare, Hotel Broadway (Kashmiri cuisine)

If you fancy eating Kashmiri dishes, chances are that you have already been to one of the oldest restaurants in the city that serve Kashmiri food. This restaurant is not only famous for its spicy and authentic mutton roganjosh and nihari gosht but also very well known for its very off-beat ambience. This restaurant located in one of the oldest areas of Delhi has served to some very popular diplomats and dignitaries, so while you are deciding your next go-to place, we suggest you keep this one right at the top of your list.
Where: Hotel Broadway, 4/15/A, Daryaganj

(Also Read: 6 Best Co-working Spaces In Delhi That Are Also Good Eateries)

Maa Taara (Bengali cuisine)

Any guesses on where this restaurant might be located in Delhi? Well, we all know the famous CR Park (Chitranjan Park), which is home to many Bengali families. This restaurant makes sure that their customers are just as smitten by their food as their own home-cooked food. We have heard that their kosha mangsho (mutton curry) will leave you licking your fingers to the last bit.
Where: Shop No: 45, 46, 47, Market No: 2, Chittranjan Park

(Also Read: 7 Places In Delhi That Serve The Best Lassi)


Ama Thakali (Nepalese cuisine)

Now Nepal is definitely not a state from India but this restaurant scores very high when we talk about regional food. Their ornate brass plates and bowls along with a very soothing ambience is just the beginning of the very impressive culinary ride. The chicken or mutton thali, which comes with a good serving of many options, is your best bet to get a taste of authentic Nepalese food. If you are not too hungry, then you can also just order a plate of momos or dumplings and those would be nothing compared to what you have had anywhere else in Delhi.
Where: 1st Floor, House no 40, Majnu Ka Tilla, New Aruna Nagar

(Also Read: 5 Best North Eastern Restaurants In Delhi)


Given the diverse country that we live in, there are so many other regional cuisines that we wanted to tell you about, but first try the ones above and tell us your experience in the comments below.


Delhi is one of the states with the highest in-migrants numbers from across the country. While people from across the country leave their hometowns and migrate to
About Shubham BhatnagarYou can often find Shubham at a small authentic Chinese or Italian restaurant sampling exotic foods and sipping a glass of wine, but he will wolf down a plate of piping hot samosas with equal gusto. However, his love for homemade food trumps all.