7 Best Whiskey Cocktails Recipes
NDTV Food | Updated: September 18, 2016 13:40 IST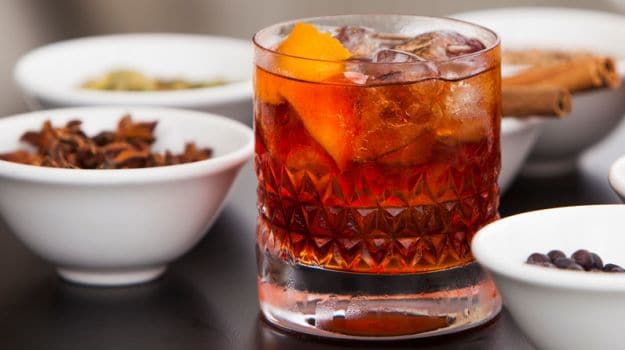 Drinking whiskey straight up isn't your thing? You've come to the right place. Scroll down for our 7 best whiskey cocktails recipes.

Thanks to the popularity of TV shows like Mad Men, classic whiskey cocktails have made a comeback. So if you're not a whiskey aficionado, don't run in the other direction. There are plenty of other ways to enjoy whiskey. Presenting: Our 7 delicious whiskey-based cocktails.

The trick to making great cocktails is to understand what flavours pair well with the base liquor, to achieve that lip-puckering result. When you get that right, there is no end to the number of drinks you can shake up. Many bars and lounges have gone beyond the classic Whiskey Sour, and have started shaking up innovative cocktails. You can do so too by playing around with a few ingredients and experimenting. Or if you need some help to get started, here are the recipes for our top whiskey cocktails -

1. Mint Julep
Recipe by Sherine John, Smokeys BBQ and GrillIngredients:
60 ml Jim Beam
6-8 fresh mint leaves
3 lemon wedges
100 gm crushed ice
Sugar to taste

Method:
1. All you need to do is add the ingredients in a glass, and mix well with ice.
2. Garnish with fresh mint leaves, and there you have it. A refreshing Mint Julep.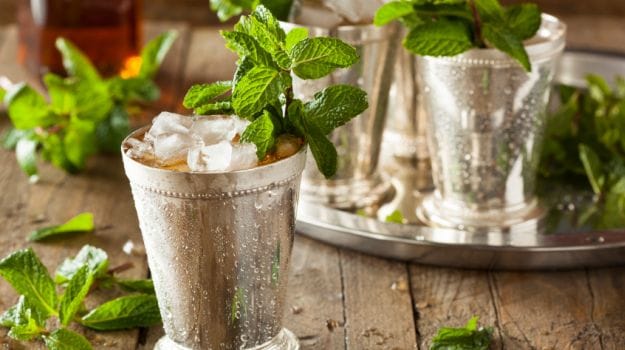 2. Old Fashioned

Recipe by PCO, New Delhi

PCO's Head Bartender Vikram Pal remarks, "We like to keep it classic at PCO. And when it comes to an Old Fashioned, nothing beats Bourbon".

Ingredients:
60 ml Bourbon Whiskey
1 Sugar Cube
3 drops of Angostura Bitters
3 Orange Peels
4-5 cubes of ice

Method:
Muddle the orange peels and Angostura bitters with sugar. Then add 4-5 cubes of ice, Bourbon whiskey and voila! Time to drink up.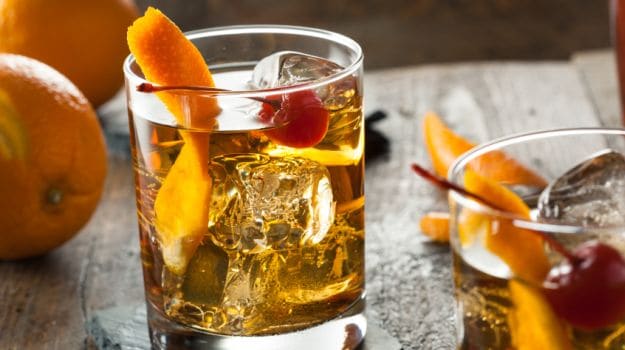 3. Pure Sin
Recipe by Shatbhi Basu, Beverage Consultant and Director of STIR Academy of Bartending

Ingredients:
Crushed Ice
45 ml Irish Whisky
15 ml Irish Creme Liqueur
1 tbsp Cream
1 scoop Vanilla Ice Cream
1 tbsp frozen Raspberries
2 tbsp frozen Strawberries
Chocolate stick, and a sprig of mint to garnish

Method:
1. Add a scoop of crushed ice in a blender.
2. Then throw in all the ingredients and blend till smooth.
3. Pour into a large margarita glass, garnish and serve.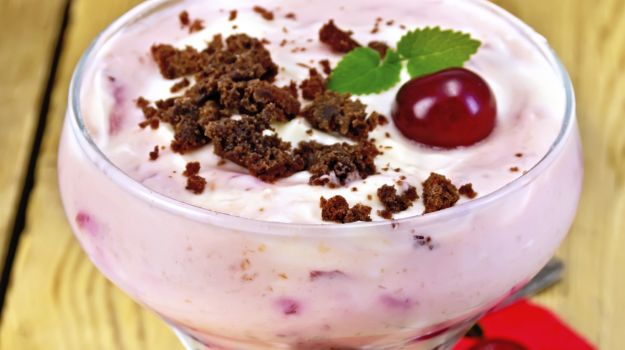 4. Irish Coffee

Ingredients:
50 ml unsweetened, cold whipping cream
2 tbsp soft brown sugar
50 ml Irish whiskey
1 cup freshly brewed coffee
Nutmeg to sprinkle (optional)

Method:
1. Fill a tall glass with boiling hot water, leave to stand and then pour away the water.
2. Whip the cream until the bubbles disappear, and it's just started to thicken and form ribbons underneath the whisk. Put back in the refrigerator.
3. Dissolve the sugar in 2 tablespoons of hot water in a small pan and bring to a boil. Add some freshly brewed coffee and stir. Then remove from heat and stir in the whiskey.
4. Pour the mix of whiskey, sugar and coffee into the bottom of the pre-heated glass. Take the cold cream out of the fridge, whisk once again, then pour it on over the back of a spoon (to prevent it from sinking) until you hit the rim of the glass.
5. Garnish with a dash of grated nutmeg and serve immediately.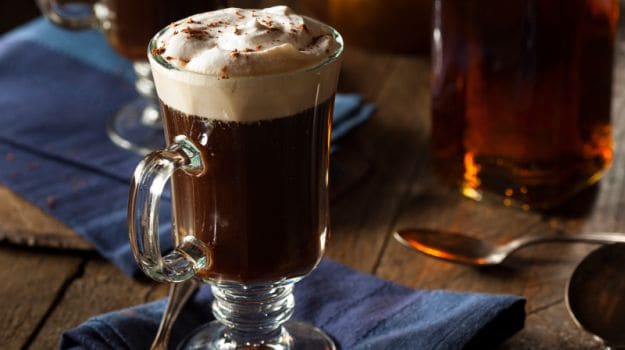 5. Twisted Whiskey Sour
Recipe by Shatbhi Basu, Beverage Consultant and Director of STIR Academy of Bartending

Ingredients:
45 ml Whiskey
20 ml lime juice
30 ml orange juice
10 ml sugar syrup
Half slice Orange, to garnish
2-3 drops of Angostura Bitters
A bucket of ice cubes

Method:
1. Fill 3/4 the shaker with ice.
2. Add all the above mentioned ingredients and shake.
3. Strain into a rocks glass (if possible), filled with ice.
4. Garnish with half a slice of orange.
5. Drizzle a few drops of Angostura bitter, and serve.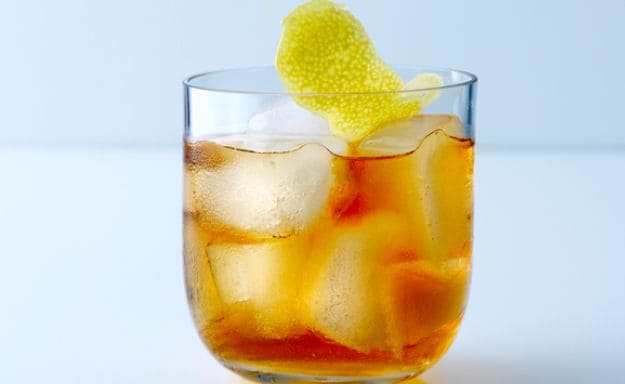 6. Copper Monkey
Recipe by Monkey Bar, New Delhi

Ingredients:
60 ml Whiskey
60 ml Freshly Squeezed Orange Juice
10 ml Passion Fruit Juice
10 ml Passion Fruit Extract
10 ml Lime Juice
Handful of Fresh Mint Leaves
1 cup cubed ice
4 Drops of Angostura bitters
1/2 Orange Slice, to garnish

Method:
1. Add whiskey, orange juice, passion fruit juice and extract, lime juice, fresh mint leaves and ice into a cocktail shaker.
2. Shake well and then pour into a copper tumbler or even a glass of your choice.
3. Garnish with half a slice of orange and 4 drops of bitters.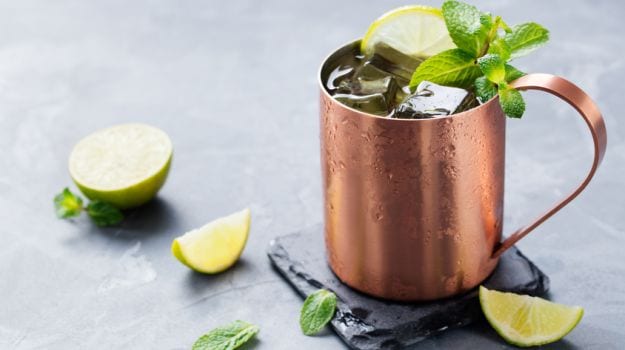 7. Shamrock
Recipe by Shatbhi Basu, Beverage Consultant and Director of STIR Academy of Bartending

Ingredients:
30 ml Irish Single-Malt Whiskey
15 ml Almond Liqueur
30 ml Coffee Liqueur
2-3 drops of Mint Liqueur
30 ml Milk
Splash of Sugar Syrup
Few Ice Cubes
Cherry, to garnish

Method:
1. Chill the glass and rim it with some sugar and mint liqueur.
2. Pour all the ingredients (except the whiskey) in a cocktail shaker.
3. Shake it well, and then fill the glass with ice cubes and pour the whiskey along with the other ingredients. Garnish and serve.

Go on, explore the world of whiskey with our great cocktails.