While most of us start our day with a loaf of
bread
, a headline like this can be more than shocking.
Centre for Science and Environment (CSE
) has come up with very distressing results after testing 38 samples of some of the most readily available pre-packaged breads in the Delhi market.
The Test
The CSE conducted its test on variants of white bread, whole wheat or atta bread, as well as sandwich breads, pizza breads, burger buns and pavs from companies like Harvest Gold, Britannia, Le Marche, KFC, Pizza Hut, Domino's, McDonald's, Slice of Italy and Subway. It was carried out between May and June last year. As a result, a staggering 84 percent of the samples (34 on 38) were found to be laced with carcinogenic and thyroid triggering chemicals, particularly Potassium Bromate and Potassium Iodate.
The test was conducted by CSE's Pollution Monitoring Laboratory. According to the Deputy Director General, CSE, Mr. Chandra Bhushan, "We found 84 per cent samples positive with Potassium Bromate or Iodate. We re-confirmed the presence of Potassium Bromate or Iodate in a few samples through an external third-party laboratory. We checked labels and talked to industry experts and scientists. Our study confirms the widespread use of Potassium Bromate or Iodate as well as the presence of bromate or iodate residues in the final product." He also noted that having just a couple of slices of bread daily can bring us closer to life threatening diseases like cancer and a host of thyroid disorders.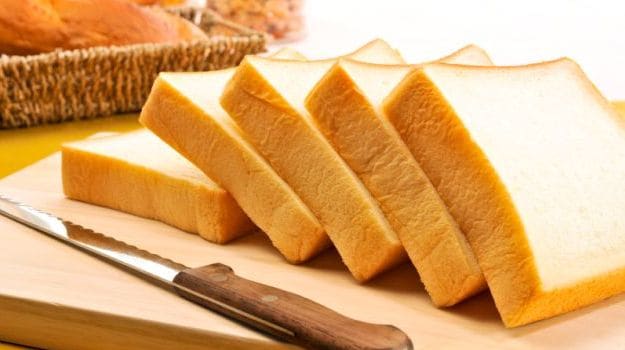 As per the test, the content of chemicals was found to be on the higher side in sandwich breads followed by white bread, pizza bread, pavs and burger buns as opposed to whole wheat breads. According to a PTI report, the chemicals were found in close to "79 per cent (19/24) samples of packaged bread, all samples of white bread, pav, bun and ready-to-eat pizza bread and 75 per cent (3/4) samples of ready-to-eat burger bread." CSE has already pressed for a ban on Potassium Bromate and Potassium Iodate in the country.
"Products of Perfect Bread, Harvest Gold and Britannia were found to contain high levels of Potassium Bromate and/or Iodate. Harvest Gold Sandwich bread had the highest concentration of the chemicals. Products of all popular fast food outlets selling pizza and burger - KFC, Pizza Hut, McDonald's, Subway and Domino's - tested positive for Potassium Bromate or Iodate, but at levels lower than those found in bread, pav and bun" CSE report.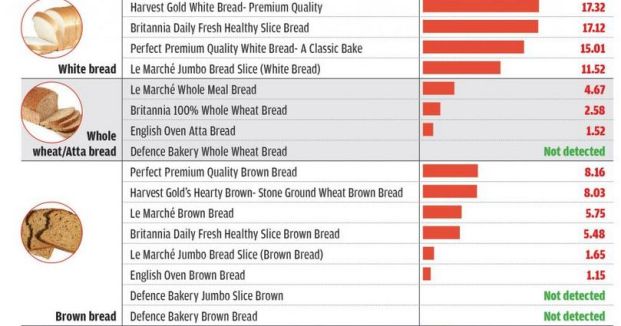 Courtesy: A bite of Cancer, CSE official website

The Chemicals
"According to Indian food regulations, both the chemicals can be used by bread makers and bakeries as flour treatment agents. Potassium Bromate helps achieve high rising and a uniform finish," said CSE. The chemicals usually facilitated baking across the globe until the World Health Organisation identified them as potentially hazardous to human health. This led to many countries banning them though India continues to permit their use in food processing. Neighbouring countries like China and Sri Lanka have banned Potassium Bromate as have Columbia, Peru, Brazil, Canada and Nigeria. The European Union, Australia and New Zealand prohibit use of both the chemicals; however, the United States continues to permit it.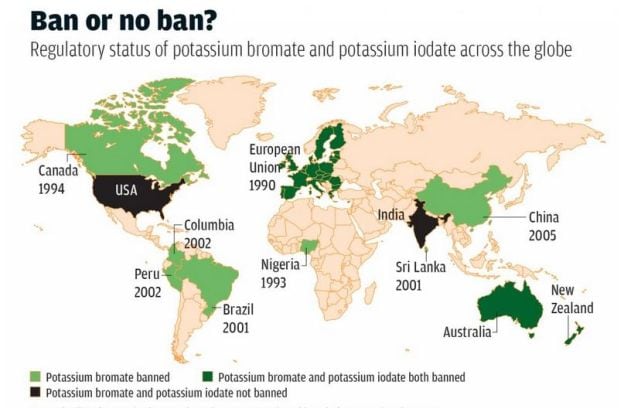 Courtesy: A bite of Cancer, CSE official websiteThe report also clearly mentions that Potassium Bromate can only be used in food processing if "no residue of bromate would be found in the final product."
The Government
The report has a wave of concern in common households as well as in the government circles. Union Health Minister Mr. J.P Nadda has already called for a separate probe into the matter. "I have told my officials to report to me on an urgent basis. There is no need to panic. Very soon we will come out with the (probe) report," noted Mr. Nadda in a statement given to PTI.
The Reactions
Britannia - "All Britannia bread products are in 100 per cent compliance to the existing food safety regulations as stipulated by FSSAI. The CSE report clearly states that the third party lab report did not find Potassium Bromate or Iodate in Britannia Bread samples. Britannia will however scrutinize the possibility of any residual presence of these compounds through any of the primary raw materials used in the bread manufacturing process,"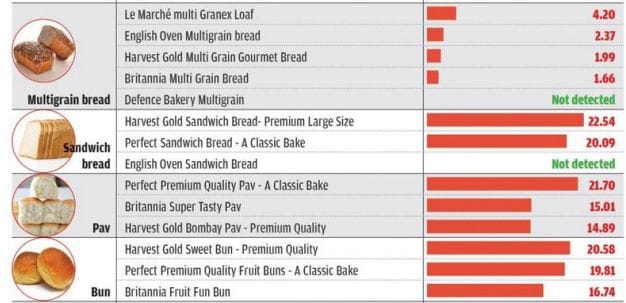 Courtesy: A bite of Cancer, CSE official websiteKFC - "We have stringent processes in place to ensure that the food we serve complies with requirements laid down by FSSAI and is absolutely safe for consumption."
Subway, McDonald's, Pizza Hut and Domino's also rubbished the "accusation" saying that they adhere to the guidelines laid down by the central food regulator, FSSAI.
The permissible limit of both the chemicals in bread is set at 50 parts per million (ppm) and 20 ppm in flour used for bakery and in refined flour or maida on flour mass basis. "This limit set by the FSSAI is for the usage of these chemicals at the processing stage only. There should be absolutely no residual Potassium Bromate or Iodate in the end product, whereas after testing we saw their presence in most breads. Many countries witnessed no major changes in the residual content of both the chemicals in the final product even after reducing the amount at the stage of processing, it therefore lead to the banning of these chemicals. FSSAI has no set standard on the amount of Potassium Bromate and Iodate in the end product, ideally it shouldn't even be there," shared Mr. Amit Khurana, Programme Manager, Food Safety and Toxins, CSE.


Courtesy: A bite of Cancer, CSE official website

The Larger Question
The question mark rests on permitting
additives
that are banned in most countries across the globe. There are no set standards formulated on limiting or permitting these chemicals in end products. The chemicals in question have been termed hazardous to human health by leading global health advisories and bodies like the
WHO
and The International Agency for Research on Cancer, the report therefore is an attempt to throw some light on the mechanism of standardization and formulation by FSSAI and its efficacy.Following CSE's report, FSSAI has passed a decision to scrap Potassium Bromate from the existing list of permitted food additives. "A scientific panel had recommended removal of Potassium Bromate from the list of additives. So we have already decided to take it out from the list. Soon it will be notified. As far as Potassium Iodate is concerned, we are examining the evidence and soon a decision will be taken," CEO, Food Safety and Standards Authority of India (FSSAI), Pawan Kumar Agarwal said."We welcome the move by all means. It should have happened long back," noted Amit Khurana, CSE.
Inputs from PTI and 'A bite of cancer,' a CSE report.