It is a truth universally acknowledged that almost every culture in the world has its own variations of egg. This is certainly true of India, with an almost unsurpassed variety of egg recipes —
bhurjee
, the inimitable
Eggs
Kejriwal,
masala
omelette, and the vast range that the Parsi community offers i.e.
poro, akoori, par eeda
(where the egg is cooked with anything from wafers and cream, to okra and offal). And so it goes for almost anywhere in the world. In my story below, I've gone round the world (figuratively) to bring you a clutch of somewhat lesser- known egg recipes; they make for healthy, filling
breakfasts,
but can be equally turned to a wholesome lunch or dinner.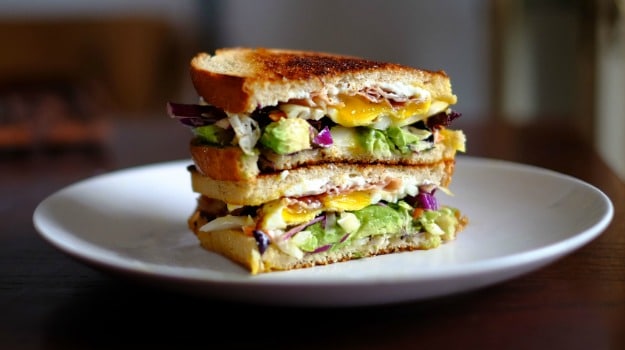 Every culture in the world has its own variations of egg. Photo Credit: Istock
1. Çilbir
Although this recipe pairs two somewhat startling ingredients — poached eggs sitting on a sea of garlicky
yoghurt
—their marriage is rather delectable. Creamy, buttery, moreish, cilbir is one of Turkey's favourite comfort foods.
Eggs 2
Greek yoghurt 1/2 cup
Garlic paste 2 tsp
Salt and pepper, to season
Butter 1.5 tbsp
Dill 1/2 tbsp, chopped
Chilli flakes 1 tsp
Walnuts 1/4 cup, crushed into small shardsPut your eggs to poach. (If the idea of a perfect poach unnerves you, it's alright to substitute with a fried or soft boiled egg.) Meanwhile, melt the butter and stir in the
chilli flakes
, the walnuts and the dill. Set aside. Next, stir the garlic into the yoghurt, and place it in your serving bowl. Add your poached eggs on top the yoghurt, drizzling the melted butter on top of them. Season to taste.
2.Shakshouka
Quite similar to the Parsi dish, tamota par eeda, shakshouka consists of eggs cooked over a
tomato
base. This Israeli dish, with echoes in North African cooking, spun to fame when Chef Yotam Ottolenghi included it in his massively popular cookbook, Plenty.Eggs 2
Oil, to cook
Peppers 1
Onion 1
Tomatoes 4, mashed into a paste
Garlic paste 2 tsp
Chillies 3, finely chopped
Cumin powder 1 tsp
Salt, to taste
Feta cheese, to serve
Parsley 1 tbsp, chopped, to serve
Slice the onion and pepper thinly.Heat the oil in a skillet, and add in the
onion,
pepper, and chillies, cooking for about five minutes until they soften. Next, add in the garlic paste, cumin, and cook for another two minutes. Finally, pour in the tomato with a half cup of water, and cook it all down, simmering, until the mix thickens. This should take around ten to fifteen minutes. Crack eggs over the tomato sauce, and cook until the yolks just set. Sprinkle the feta and parsley over the top, just before serving.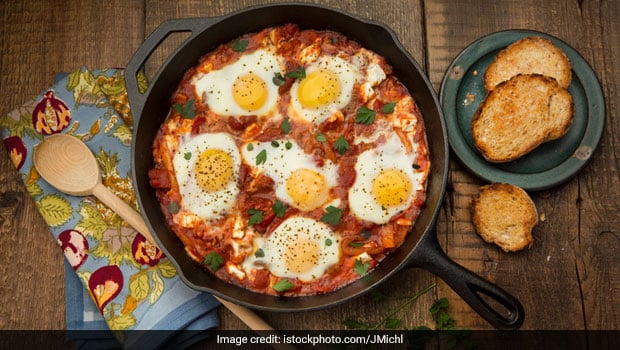 This is an Israeli dish with echoes in North African cooking
3. Huevos Rancheros
Here's a classic Mexican breakfast dish that is exceedingly similar to shakshouka. At its core, huevos rancheros is a dish of eggs and tomato salsa, served over corn tortillas. A delicious breakfast, it can be made even more invigorating by the addition of beans, avocados and
cheese
.Eggs 4
Dry red chillies 2, chopped
Oil
Onion 1, julienned
Garlic cloves 6, chopped
Tomatoes 4, roughly crushed
Chilli sauce 1 tbsp
Coriander 1/4 cup, chopped
Juice of 1 lime
Salt and pepper, to season
Corn tortillas 6
To serve: refried beans, grated cheese, sliced green onions, avocadosPour the oil into a skillet, and heat for 3-4 minutes. Then bung in the tomatoes, cooking for about ten minutes. Add the onion, garlic and chopped chilli, cooking for about ten minutes at a low simmer. Take it off the heat and allow to cool. Blend with a hand blender or in a mixer / grinder until smooth. Stir in the coriander and lime juice, and season. Cook your tortillas until they are golden, i.e. for about two minutes each side. Pile the tomato puree on top.Meanwhile, fry the eggs on a separate skillet, and season. Top the tortilla / tomato with the eggs. Sprinkle the grated cheese on the eggs while they are hot, so the cheese melts. Serve with beans,
avocados
, and green onions.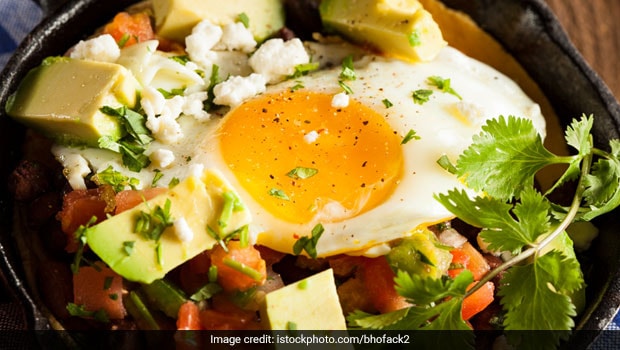 Here's a classic Mexican breakfast dish.
4. Omurice
This Japanese egg preparation consists of soft-scrambled
omelette
that is draped over
fried rice,
and drizzled with sauce. The omelette is lightly cooked, in order to keep its belly soft and full of creamy curds; it is then slit open over the rice, so that the insides ooze out and dress the rice. Butter 1 tbsp
Onion, 1/2 cup, chopped finely
Skinless boneless chicken thigh, diced 1/3 cup
Carrot 1/2 cup, diced
Short grain rice 3⁄4 cup, cooked
Ketchup 3 tbsp, plus more for drizzling
Eggs 3
Salt, to seasonHeat
vegetable oil
in a non stick pan until gently smoking, then pour in the rice, breaking it up and stirring until the rice is pale brown in colour. Keep aside the rice, and add in the diced
carrots
and onions, then the chicken, cooking for about five to six minutes. Then stir in the rice. Mix the ketchup through the rice, making sure it is evenly coated. Then pack the rice tightly into a large enough bowl or katori, invert onto a plate but keep the katori on; this will help mould the rice into a firm shape, and also keep it warm.Finally, onto the omelette. Whisk the eggs, then keep aside. On a clean non stick frying pan, heat a little oil, about 1 tbsp, then pour in the egg mixture, stirring eggs constantly, ideally with chopsticks. Keep shaking the pan gently so the eggs don't stick. Cook the eggs without disturbing them for maybe another 30 seconds, until the egg curds are soft, then fold the omelette towards you to make a sort of loose roll. Cook, seam side down, for another few seconds.Roll it out onto the rice, then slice it open. The belly should be molten and creamy. Drizzle more ketchup over this, and serve.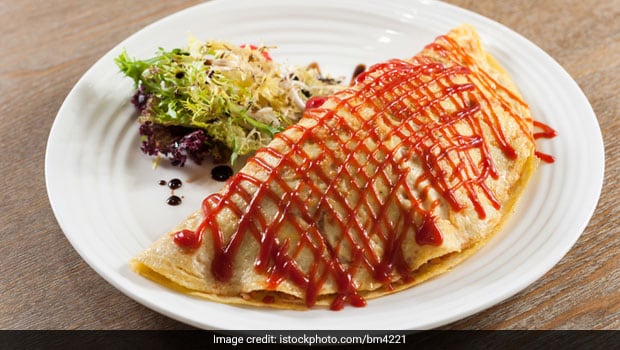 This Japanese egg preparation consists of soft-scrambled omelette
All these recipes are scrummy, and finished in the blink of an eye. Runny, creamy, crunchy, savoury, these dishes are easy enough to make for yourself, and elegant enough to impress guests. The names are intriguingly fresh, but the flavours are familiar and comforting — these are the eggs you didn't know you craved.
About the Author:Meher Mirza is an independent writer and editor, with a focus on food and travel. Formerly with BBC Good Food India, she loves anime, animals and artsy things but also comics, technology and death metal.Disclaimer:The opinions expressed within this article are the personal opinions of the author. NDTV is not responsible for the accuracy, completeness, suitability, or validity of any information on this article. All information is provided on an as-is basis. The information, facts or opinions appearing in the article do not reflect the views of NDTV and NDTV does not assume any responsibility or liability for the same.(Except for the headline, this story has not been edited by NDTV staff and is published from a syndicated feed.)