Superfood Recipes: Sceptics may call it a fad, but superfoods are here to stay. Step aside from all the marketing gimmicks, and you will actually realise that there is more to those power ingredients. Yes, they are good for health because they come loaded with essential nutrients, which when consumed regularly can have various beneficial effects on our body. But having said so, it definitely doesn't mean that you need to splurge to get your hands on superfoods and rely on imported products. Look around you and you will find plenty of them locally.

It is rightly said that there's nothing like eating locally and seasonally. India is a storehouse of nutritious ingredients which have long been part of our regional cuisines. Some of these ingredients may now be termed as 'superfoods', but the fact is, we just need to get back to our roots and rediscover the same ingredients to follow a healthy diet. Processed foods may make life easier by being an instant food option, but remember that good things in life don't always come easy. Mindful eating is the new mantra. So, to ensure good health, you need to put in a little effort.

To begin with, make a note of the superfoods and then look for them while you go grocery shopping. Pick millets, flours such as ragi, bajra, jowar, soy and amaranth, seeds (pumpkin, watermelon, chia, etc.), vegetables like drumsticks, spinach and other local seasonal favourites, or even broccoli, kale and asparagus from speciality stores for occasional binges, and a mix of fresh fruits and berries. Start experimenting in your kitchen and you will actually have a lot of fun as you learn to add them in your daily diet.


To help you get kick-started, here's a list of our 13 best superfood recipes -
A delightful salad apt for those balmy Sunday brunches with delicious fruits and greens like arugula, romaine and sorrel. The amaranth granola lends in the perfect crunch to the salad.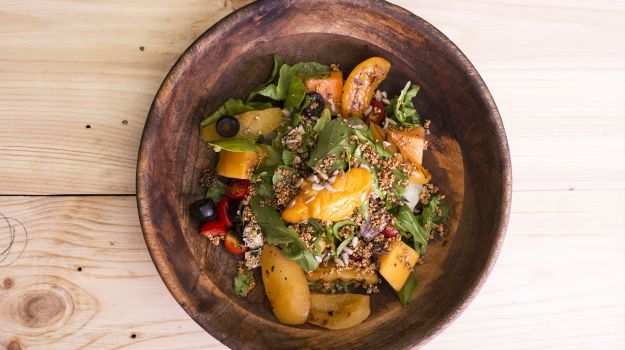 Packed with all things healthy, this salad is a fresh delight to relish.
Nothing like kick starting the day with a delicious breakfast treat. This traditional Russian dish is made using buckwheat. You can top it with cream and smoked salmon and finish with dill or microgreens.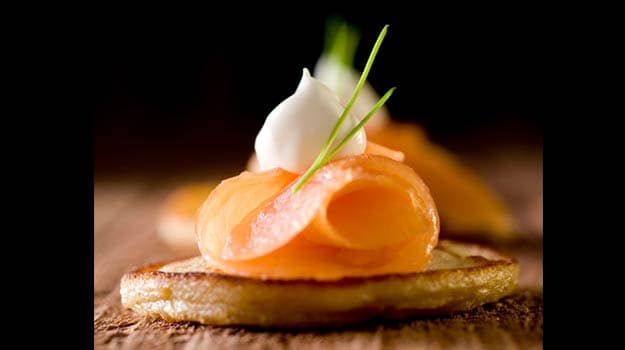 Quite a tricky and long recipe to prepare, but worth every bit.
Shake up a delicious mix of bananas, strawberries and soya milk, along with nutrition loaded flax seeds.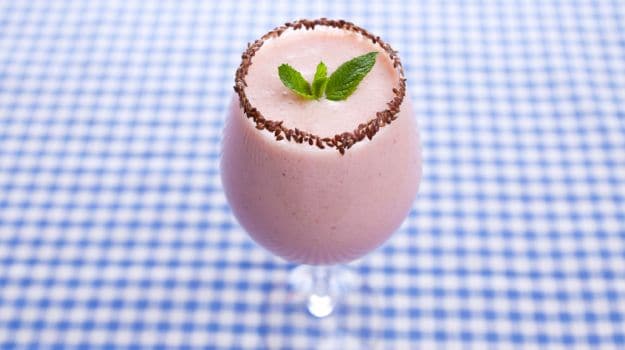 This smoothie is perfect to start your day with.
A low fat and healthy snack with the goodness of millets and ragi. Prepare this mixed millet bhel puri at home with a generous squeeze of lime.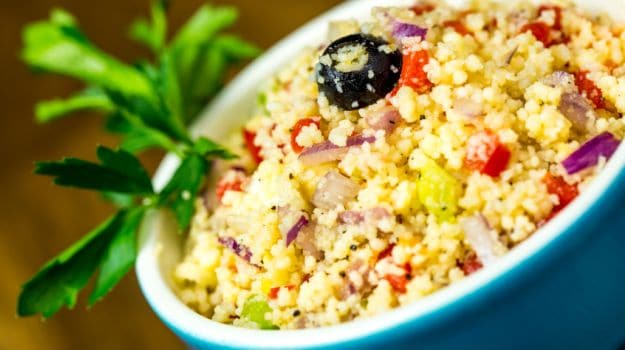 A healthier version of your favourite street snack.
An easy to make coconut curry with the added goodness of avocado and aromatic spices. This avocado coconut curry is best served with rice.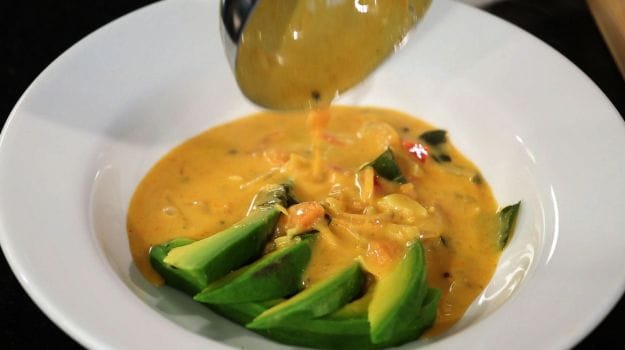 Avocado coconut curry.
A healthy salad with the goodness of pearl barley, pomegranate and avocado. Drizzled with olive oil and lemon juice.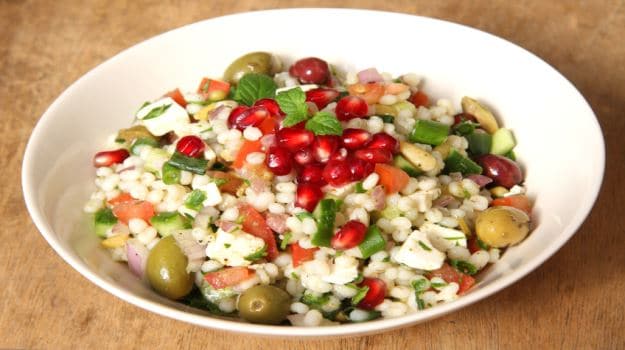 Light, healthy, fulfilling and absolutely delicious!

Salmon steamed and drizzled with a yummy dressing of spring onions, garlic, ginger and groundnut oil. Blanched broccoli tossed with a sesame seed, soy and ginger dressing. This recipe is sure to tantalize your taste buds.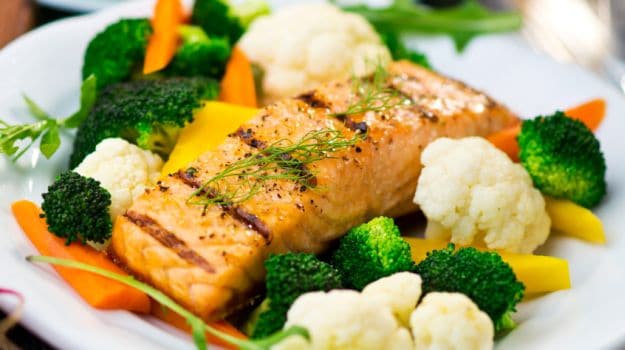 Salmon and broccoli
Walnuts and blueberries take center stage in this nutrient-dense mini energy bite. Perfect for picnics, tea-time treats and mid-day hunger pangs.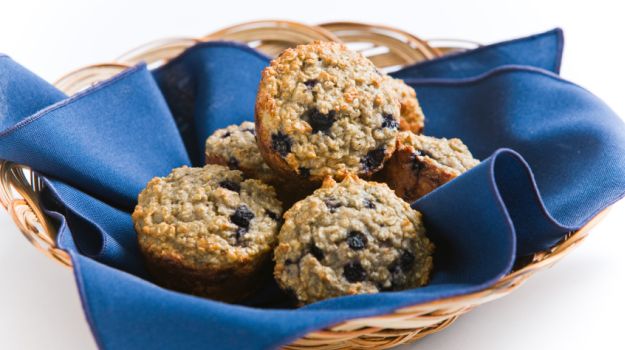 These energy bites are your healthy answer to mid-day hunger pangs.
Ditch the mangoes and lemons that have traditionally been packed in pickle jars, here is a new kid on the block - drumsticks. Don't give this one a miss!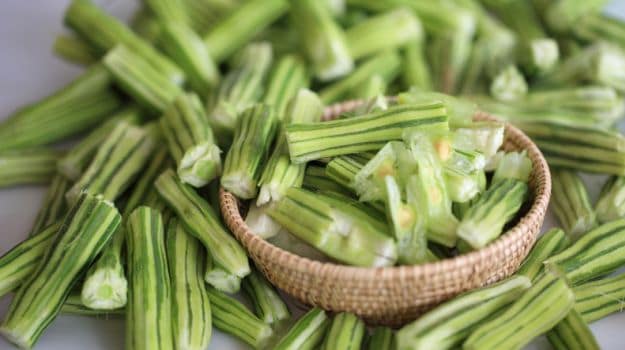 Drumstick pickle.
Pureed lentils (a protein booster) and coconut cream form the base of this unusual yet delectable dessert. Replace white sugar with jaggery for rustic flavours.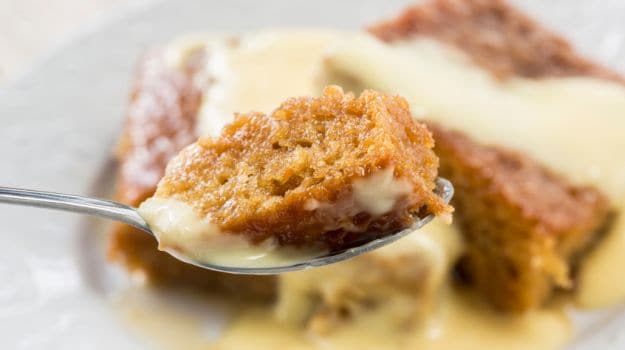 A dessert you won't regret!
Tabbouleh is a mid-eastern salad and in this version it is made with amaranth. Throw in some chickpeas, juicy cucumbers and tomatoes to make a simple yet satisfying meal.
Packed with healthy ingredients, this tabbouleh is sure to get you hooked!'


Looking for healthy breakfast recipes? This oats dosa recipe is a must-try. You can prepare it in minutes and enjoy a wonderful breakfast.


A wholesome meal wih the goodness of barle, this daliya is a savoury mix of mustard seeds, cumin, garlic, curry leaves and chickpeas cooked with vegetable stock and barley. You can prepare his at home for a light meal.


Try out these recipes and let us know how you liked them in the comments section below.