It was a three-day conference on sustainable development of India's mountain states in the capital city of Arunachal Pradesh. It was not just limited to brainstorming sessions as the participants also got to savour some delectable tribal cuisine of the northeastern state.
A food carnival was a delicious addition to the fourth edition of the Sustainable Mountain Development Summit held at the Banquet Hall in Itanagar from October 7 to 9. Organised by the state tourism department in collaboration with Sustainable Development Forum Arunachal Pradesh, the host of the event, the food carnival spread out an eclectic mix of dishes over two days of lunch.
Food lovers tasted tribal dishes of unassuming chefs from rural hinterlands of the state who prepare minimal menus and dishes unheard of. The main course at the carnival was brought by the Tai Khampti tribe of Namsai district known for its organic and hygienic cooking. There were a few organic dishes from other tribes of the state as well.
First there was khao hai, Tai Khampti steamed rice wrapped in a local leaf. "The Tai Khampti people call the leaf tong while other tribes call it ekkam," one of the organisers shared.(Betel Nuts: What Makes it So Popular in the Northeast?)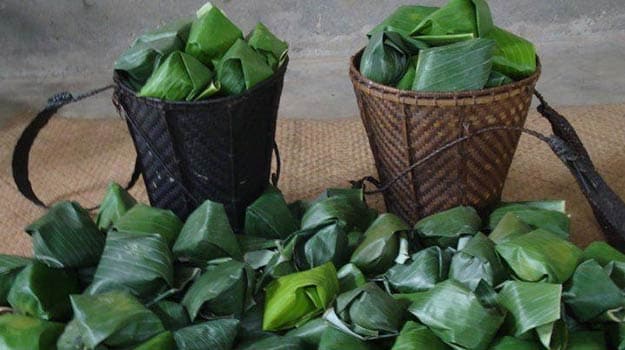 This was accompanied by nou kai noo som, a chicken preparation with tender fermented bamboo shoots. When it is India's northeast, can a pork dish be missing at a food carnival? And sure there were nou moo phan - pork blended with local herbs - and nou moo shen (fried pork prepared with bamboo shoots). For fish-lovers, there was paa nung, (fish blended with local herbs and wrapped in tong/ekkam and steamed).
For vegetarians too, there were a plethora of choices. Noo phan - boiled fresh tender bamboo shoots flavoured with ginger leaves - and the phak kho - seasonal green leafy vegetable - tasted just divine. The pi koi tome or banana flower gravy with colocasia was another delectable addition to the vegetarian spread.
This was just the Tai Khampti part.
Arunachal Pradesh is home to 26 major tribes and over 100 sub-tribes, therefore, organic dishes from some other tribes also found their way to the menu of the sumptuous two-day feast. These included lukter or powdered chilli prepared with chicken or pork and bamboo shoots, amin or gravy rice granules prepared with meat, and baka/kopi boil, a wild eggplant.


There were also various types of bamboo shoot pickles to add to the taste.
The team behind the food carnival was led by Bengia Manna, assistant director, state tourism department; Suwana Mungyak, a lecturer in the food, travel and hospitality department at Rajiv Gandhi Polytechnic College, and S.S. Kar, coordinator of Hunar Se Rozgar Tak (HSRT), a programme initiated by the tourism department, an official statement said.
HSRT trainees from food and beverages services and housekeeping were engaged during the food carnival and they provided their full support and cooperation to the Tai Khampti group which provided the service for the food carnival. According to a statement, the aim of the food carnival was to promote and encourage the lesser known tribal cuisines of the state.
With participants from 11 mountain states, as well as from Nepal and Bhutan, plus a few foreign delegates, the carnival would surely remain a memorable part of the event.