Are you bored of the way you take your
summer desserts
and drinks? Does milk taste the same way every single day? Looking for a new and innovative way to spruce up your drinks and give your desserts a makeover? Don't you worry, Gulkand is your saviour for the day. Its delightful sugar rush and intense
rosy
fragrance will transform your cooking in a way that is beyond imagination. Rich, sweet and oozing with flavour, your rose experience with this relish is sure to get you hooked.
Gulkand, sometimes spelled Gulqand, is a sweet preserve of rose petals. It is believed to be from ancient Indo-Persia, claimed to have originated around 900 B.C. Its original etymology claims to be the same in both Persian and Urdu; Gul, which means 'flower' in both languages, and Qand, which means 'sweet' in Arabic.
Gulkand is an ideal ingredient to beat the summer heat, since it possesses coolant-like properties. It was considered a royal and lavish delicacy in the Indian subcontinent due to its seasonal nature and arduous cooking process. Instead of using the regular rose from your backyard garden, Gulkand utilises the Damask Rose. This variety of rose is popularly used to make perfumes as it has a strong fragrance, thereby apt for the Gulkand recipe. The Damask rose blooms only twice a year, in the summers and in autumn; thereby proving how exclusive Gulkand really was. However, almost any variety of rose can be used to prepare Gulkand, as nearly all varieties are similar in medicinal content.(Also Read: The Power of Rose: It Can Prevent Wrinkles, Acne and Inflammation)
The Making of Gulkand
Gulkand is an easy to prepare delicacy, which can be made at home without much hassle. All that is required are Damask rose petals and sugar. The rose petals are washed and then slightly dried using a towel. Then, the petals and sugar are alternately layered in a clean glass jar with a lid. This jar is kept in sunshine for at least six hours every day, and is stirred slightly to maintain its composition. Within a period of a month, the Gulkand is ready to consume when it would have become a thick, sugary concentrate. Some additional ingredients such as silver foil, cardamom seeds, Prayal Pishti (coral calcium) or Mukta Pishti (powdered pearl) can be put in the Gulkand jar to enhance its coolant properties.
Gulkand is often compared to rose petal jam and comfitures that are easily available in the market. It is far superior in taste not just because of the variety of rose that is used, but also the method of preparing. Gulkand is sun-cooked over a period of at least one month; thereby imparting a rich, dense, floral flavour to the delicacy. Jams and confitures, on the contrary, are manufactured using standardised rose petals in sugar syrup. They are continuously stirred on a burning gas stove, and are usually ready to consume within a couple of hours. This gives them a uni-dimensional flavour, vis-a-vis the Gulkand. Also, the nutrients of rose flowers are conserved in the sun-cooking method of Gulkand, which is not the case for a standard manufactured rose jam.
(Also Read:
7 Exciting Ways to Use Jams and Marmalades
)
What are its Health Benefits?
Gulkand is actually considered a medicine in Ayurveda. It is primarily known for its cooling properties, which is beneficial for those with excessive heat in their body. In addition to being a natural coolant, it has several other benefits, which include-
Improves memory and eyesight
Helps in the process of digestion
Relieves lethargy, itching, inflammation and redness
Removes toxins and purifies the blood
Aids in relieving constipation, acidity, gastritis and indigestion
Using Gulkand in Cooking
Pickles and preserves are generally used as an accompaniment to the main meal. Gulkand, however, can be had on its own as well, since it has a unique taste and intense flavour. Gulkand can also be used as a star ingredient for various new and innovative desserts and drinks as well, some of which include-
Paan, a popular digestive dessert of North India, it uses Gulkand as one of its main ingredients.
Gulkand Peda is also a famous and refreshing sweet dish. This has a varak-coated layer of khoya, which is stuffed with Gulkand. This also has a paan-like flavour.
Gulkand Shake, which can be made easily to spruce up the regular boring milk. What's more, Gulkand adds to milk's protein content as well.
Gulkand Thandai Smoothie, another drink made by combining milk and Gulkand, along with the classic Indian dry-fruit syrup, Thandai.
India desserts like Gulkand Rolls, Gulkand Rabri, Gulkand Ice Cream, Gulkand Kheer, etc.
Gulnut Cigars, which are crispy rolls of maida filled with Gulkand and the choicest nuts.
Lauki aur Gulkand ki Burfi, which is a heavenly dessert with the goodness of lauki and the fragrance of Gulkand.
Aam aur Gulkand ki Chutney, which has the sour raw mango paired with the sweet Gulkand.
Gulkand Gilori, which are almond flavoured rolls stuffed with Gulkand.
Paan truffles with Gulkand centres, which is an eclectic dessert and mouth-freshener rolled into one.
Gulkand cupcakes, which is an eggless cupcake recipe with the sweet rose preserve stuffed inside.
Here are some Gulkand recipes for you to try -Gulkand Cupcakes
Recipe by Chef Swasti Aggarwal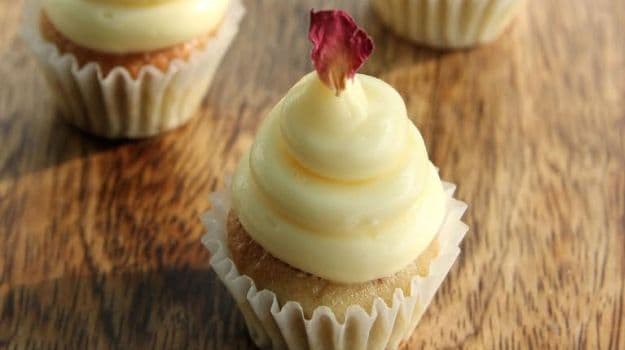 An easy-to-bake, eggless cupcake recipe with the aroma and flavour of the sweet rose petal preserve - gulkand. These beauties can be quickly whipped up for a festive dinner party.
Lauki Gulkand ki Burfi
Recipe by Chef Amit Dash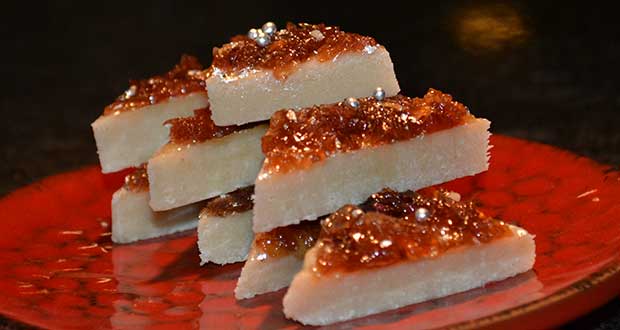 The distinct flavours of bottle gourd and gulkand come together to make this unique dessert that will surprise everyone.