The
holy
month of
Ramadan
is here. The
festivities
have also begun in full fore. It is a
fardh
or
farz
(duty) of every
good
Muslim
to observe the
ritualistic
fasts. Ramadan is the ninth month of the
Islamic
calender. The word 'Ramadan' comes from the
Arabic
word 'ramida' or 'ar-ramad', which means
scorching
heat
or dryness. It was in this pious and taxing month that the Holy Quran was revealed to Prophet Muhammad. To commemorate the revelation, Muslims also abstain from sinful speech and behaviour and inculcate a
spirit
of
charity
and brotherhood amongst themselves.
The fasts are kept through the daylight. And the meals are consumed only twice a day, before sunrise (Sehri), and after sunset (Iftar). In the evenings, families gather and break their fast together. It is a custom to break the fast and start Iftar in the evening with a rose flavoureddrink. Rose also finds its way into many desserts and traditional delicacies.
Celebrity Chef Sadaf Hussain says, "Our prophet was fond of fragrance, and one such fragrance was musk which was found in paradise and the other famous fragrance was rose and the place is referred to as gulistan (land of roses). Even Shakespeare in his book, Macbeth has mentioned this as "the perfume of Arabia".
He adds, "Traditionally Muslims have been using natural colors and fragrance in their houses as well as food. You will find that a lot of Muslims do not use deodorants or perfumes because these contain certain percentage of alcohol and hence they prefer a natural and organic fragrance which is call attar or ittar. Because these are organic they also used in food to make the food smell good. In fact, if you will go to old Delhi or traditional Muslim places, you can easily locate attar shops.
On the importance of Gulab jal, Chef Hussain says, "Gulab jal was also used during the Victorian era to give a nice aroma in icing. President James Munroe's favorite cookie has rose water as one of it's main and essential ingredients. Gulab Jal was also one of the major commercial items during 8th and 9th century. Traditional Muslim households use rose water in many dishes like Biryani, Sevai, Sharbat, Kebabs, Kheer, Rabri or Kulfi"
Chef Osama Jalali, Owner of The Masala Trail says, "Rose leaves a cool impression in the body, which is why it is abundantly used in summers. Rooh Afza holds immense cultural significance during Iftaar; it is consumed as sherbat, in water or in milk. Rose essence is also dominantly used in desserts like kheer, phirni and falooda in some preparations. Rose also serves as great novelty to the common affair; its petals are commonly used in the garnish, as it gives a more royal look to the dish."Here are some delicious rose flavoured recipes for you to try -
1. Rose Petal Rice
Recipe by Marut Sikka
A sweet rice dish, cooked in milk, sugar, saffron and fresh rose petals. It has a delicate aroma and a mild flavour.2. Gulab Phirni
Recipe by Marut Sikka
The festive favourite phirni, with a fragrant twist of rose. Milk thickened with rice flour and flavoured with cardamom, saffron, rose water and rose petal powder. We see you slurping already!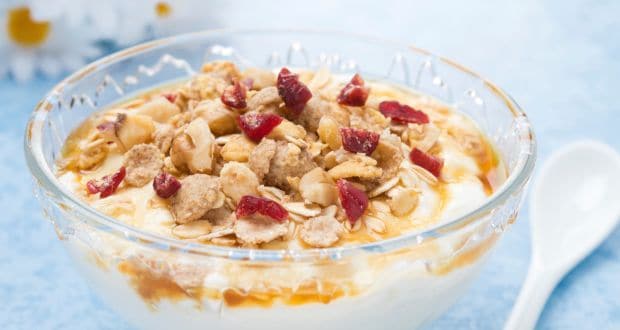 3. Rose Petal Sorbet
Recipe by Roopa Gulati
Beat the heat with this cool and refreshing rose and lime sorbet served with a light meringue.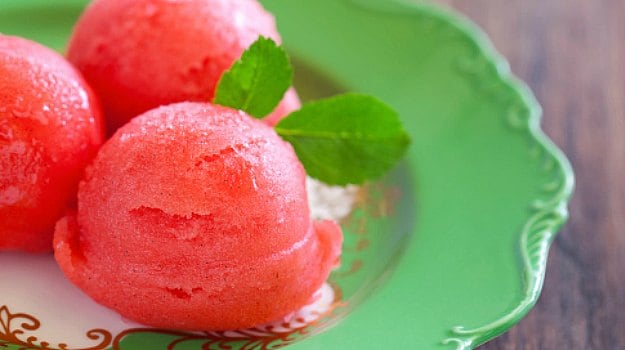 4. Gulkand Cupcake
Recipe by Swasti Aggarwal
Whip up these easy-to-bake eggless beauties packing the aroma and flavour of the sweet rose petal preserve - gulkand. A perfect end to your dinner table feast.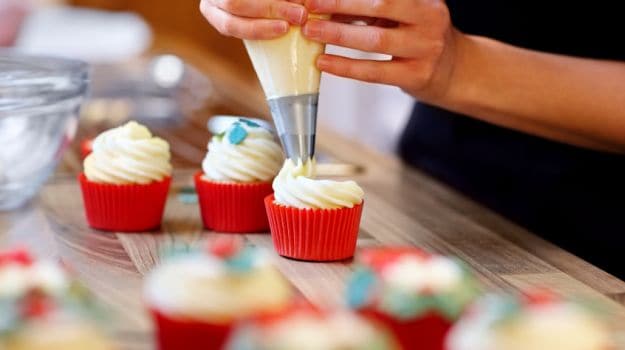 5. Rose Meringue with Fruit Cream and Dates
Recipe by Ashay Dhopatkar
It is said that Prophet Muhammad broke his fast by consuming three dates and water. On the other hand rose is commonly used as one of the significant ingredients in many traditional Ramadan Iftar delicacies. Combining the signature favourites of the season: rose and dates, is this sinfully savoury dessert.
Ingredients:
For Meringue -
Egg Whites 5
Sugar 200g
Rose water 10ml
A few fresh clean rose petals
Lemon juice - a few drops
Salt - a pinch
For the Fruit Cream
Diced Mangoes
Scooped custard apple
Whipped Cream
Vanilla essence
Chopped Dates
Method:
1. Whisk the egg whites at low speed with the salt and a few drops of lemon juice for about 3 minutes till the egg white starts to form slight peaks.
2. Add the sugar gradually whisking it faster. Once all the sugar is added, whisk at a higher speed till you get stiff peaks.
3. Add the rose essence and torn bits go rose petal. Fold it in and add to a piping bag.
4. Pipe on a parchment paper over a tray in ring shapes and bake in at oven pre heated at 90 degree C for 1:40 minutes.
5. Take them out and allow to cool.
6. For the fruit cream: chill all the ingredients in the fridge and fold in together at the last minute.
To serve: Place the ring in the middle of a plate and scoop the fruit cream in the centre. Garnish with chopped pistachios and silver leaf. Serve cold.
6. Royal Falooda
Recipe by Niru Gupta
Break your Roza with this chilled and loaded drink, packing with the goodness of milk, cornflour and rose syrup/sherbet. Topped with Falooda and ice-cream, the chiller respite is an absolute treat after a day long fast.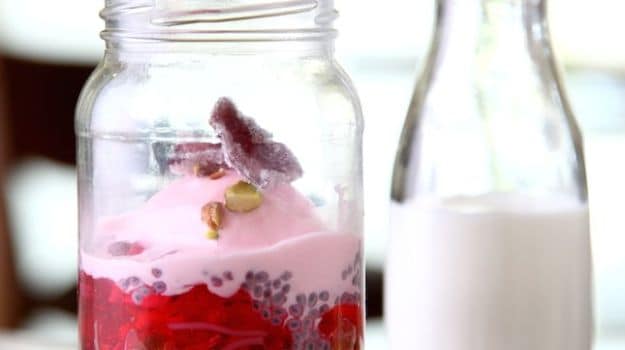 Enjoying good food with friends and family makes any occasion even more special. We hope you enjoy these dishes with your loved ones to make the festivities brighter.
About Sushmita SenguptaSharing a strong penchant for food, Sushmita loves all things good, cheesy and greasy. Her other favourite pastime activities other than discussing food includes, reading, watching movies and binge-watching TV shows.