Image via conceptkitchen2025 official websiteFuturama excites me! If you Google the term you will get its precise meaning as "(a) an exhibition or display that attempts to depict certain aspects or elements of life in the future; (b) a comprehensive projection of the future." I am not a fan of science fiction; I won't attempt to rake any debate or controversy by stating my plausible reasons for the same. All I would want to add is that I like 'imagining' the future. We all like to predict things - it's a dominant part of human nature. The politics, state of affairs, climate change, increasing population, food security and others - all these and much more, combined together, give us an almost soothsaying-like capacity on things and events that may follow.When I try to gauge deep into the near future, I feel helpless and utterly sad. While there are still some of the remotest parts of the country in want of permanent water and electricity supply, the urban life is nothing short of a bane; contaminated water and now having a need to buy an air purifier! Keeping all these in mind, I don't even try to think of the distant future. While the damage done to our environment is a mammoth, our remedial steps are not only late in time but also snail paced. I fear the current rate of ongoing damage would outpace the rate of remedy.
Talking of remedial actions, aren't we on a constant lookout for something better and more efficient? Something which will conserve all natural resources, energy and at the same time serve our purpose? In an age where concept models are released way before in time and when experts try to device an image of life on an alternative planet, a group of people have come up with a ground-breaking view of how our kitchens would and should look in 2025.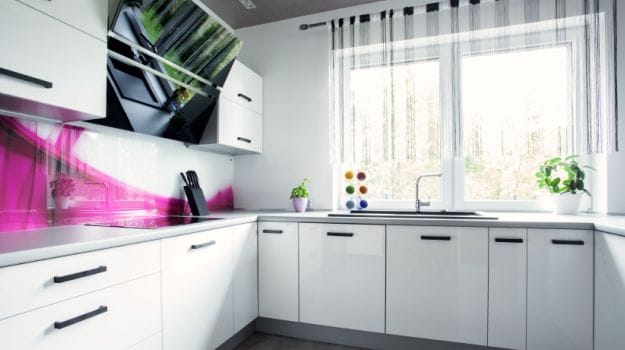 IKEA, a group of multinational companies founded in Sweden is also apparently the largest furniture retailer in the world. Apart from dealing in ready-to-assemble furniture the group also deals in home accessories. The group, in collaboration with an international design firm IDEO and industrial design teams from Lund University and Eindhoven University of Technology, came up with a project to design the 'future kitchen.'
"In August 2013, IKEA invited students from the School of Industrial Design at the Ingvar Kamprad Design Center, Lund University, and the Industrial Design department at Eindhoven University of Technology to answer the questions: What will life around food look like in 2025? And will we be able to help people live a healthier, more sustainable lifestyle? One outcome of the 18 month long collaboration is the Concept Kitchen 2025 exhibition at IKEA Temporary, which was opened in April 9, Milan. The exhibition was just one part of an ongoing investigation by IKEA into how people's relationship to food is changing. It serves to tangibly show what we might be doing in 2025: how we'll be growing our food, storing it; how we'll be cooking, eating, living and working in the kitchen," via conceptkitchen2025 official website.

'Concept Kitchen 2025'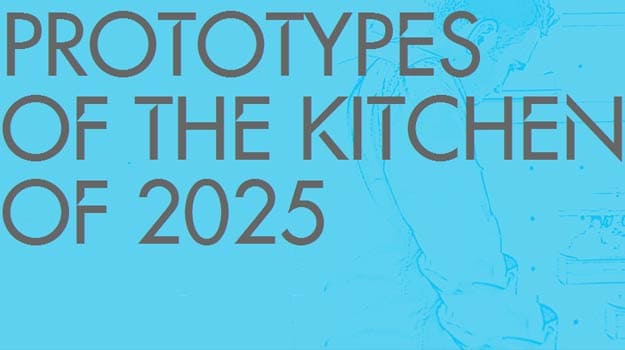 Image via conceptkitchen2025 official website
The project gives a realistic peek into what our kitchens may look like in a decade's time. The central idea of the project is of course
food
, and also, how over the course of time, not only our
food habits
but the practice of cooking and eating food is undergoing drastic changes. Here's a look at what, according to the project, will change in ten years from now, plus why and how does our kitchen need to change and adapt in the process:1. Because our lives are getting more urban day by day and this will continue.2. Water, energy and other natural resources will be under pressure. There is and shall be a sense of paucity felt with respect to them.3. Food will become expensive with
rising food prices
.4. A shift from thinking '
meat'
to thinking '
protein
' in our daily meals.5. A need for smaller homes, multi-functional spaces, dynamic kitchens.6. Turning inwards:
home delivery
; online shopping; work-from-home.7. Ubiquitous technology: computers everywhere8. Western
food culture
will slowly incorporate Asian food concepts in kitchen9. Converging
taste
preferences. According to the project website, the future will have, "tastes more diverse locally, but more homogeneous globally. We'll have more diversity, but less specialization".Keeping the following points in mind the team conceived an idea of kitchen as a melting pot. Kitchen will cease to be a space exclusive to cooking or probably eating. Years from now, not only will you cook, speed-cook, eat together in your
kitchen
but may also want to work (while your beans are getting baked) or watch your favourite show or surf net. Kitchen is bound to become a much happening space than now.

The Dynamic Table"The dining table has always been the heart of the kitchen, a place for preparing food, and eating it. But as the world changes, so will our needs. That means that the table of the future will be designed to do so much more: it's our preparation surface, hob, dining table, work bench and children's play area," as explained on their website.
Here's a video explaining what more your quintessential dining table will turn to.

Smart Storing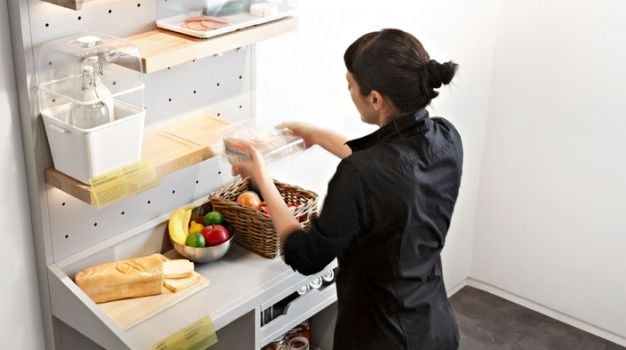 Store efficiently with electronically embedded mechanism that helps in keeping ingredient fresh, is visual at the same time reduces wastage.Image via gizmag
The team chose to call it 'storing visually', "Near-instantaneous food delivery from autonomous vehicles and drones means the end of the weekly shop, so we'll store less, but it'll be higher quality. While existing fridges waste energy and hide our food, a modern pantry makes food visible, keeping us mindful and inspired by the food we've got around us - so we'll waste less of it. It's 'Casual technology' - unobtrusive, embedded, yet aware, helping us to save energy and food waste," said the official conceptkitchen 2025 website.
The team conceptualized a pantry that has wooden shelves and terracotta storage boxes that are enabled with smart induction cooling technology to keep food items fresh according to their property with the help of wireless technology.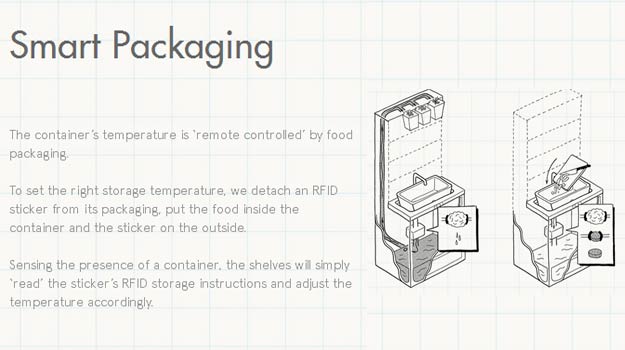 Image via conceptkitchen2025 official website
Managing Waste
The kitchen of tomorrow will let you manage your ingredients and resources optimally, minimizing all possibilities of food wastage.
Here's how our kitchens may enable us to dispose and manage waste more efficiently in future.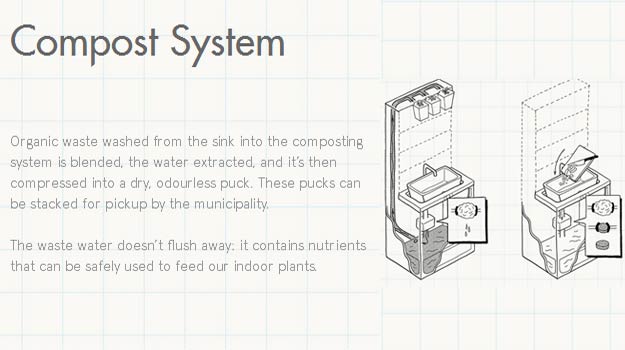 Image via conceptkitchen2025 official website
The emphasis would be on reusing and recycling.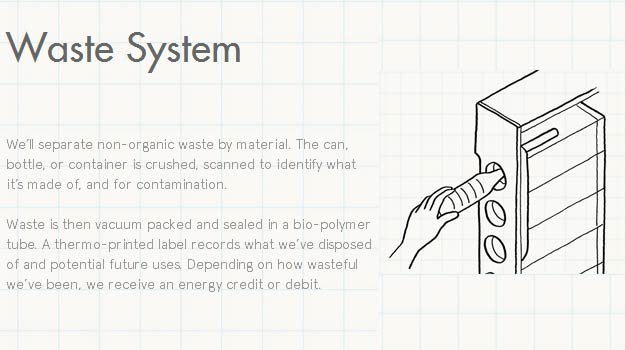 Image via conceptkitchen2025 official website
Saving Water
"Water's set to become more precious in the next ten years, so we'll need to use it more responsibly. A 'Mindful design' solution makes us conscious of our everyday decisions, and helps us make better-informed choices about how we use water. "
The team has devised two distinct ways of treating water and checking its wastage.
The Grey and Black Water System divided water from sink into two, one kind that can be re-used for watering plants and the other type (contaminated) that will be further sent through sewage pipes for chemical treatment. No water is wasted.
Tell us what you think of this in the comment box below. Also, what would you like your future kitchen to have?
Future is exciting, uncertain and beautiful; never forget to plan a few things in advance for the best of one and all!