The soggy monsoons call for an added pinch of spice on our plates to enliven musty days. While white or brown rice may be your staple for lunch, you could try pepping them up into a delicious dish of pulao with a good twist of veggies and spices. While the usual pulao dishes take us around an hour to prepare (we agree that requires a lot of clock-gazing and patience), do not be daunted by them. Because we have got for you some pulao recipes that are high on taste and low in cooking time. Spare only half an hour today and make these luscious dishes to spread warmth on the dining table.


(Also Read: Restaurant-Style Pulao: Kashmiri Mushroom Pulao Recipe By Mealability's Chef Is A Must-Try During (Watch Recipe Video)
Here Are Some Pulao Recipes For You | Easy Pulao Recipes
1) Pashtooni Zarda Pulao
Try this rich and aromatic pulao stuffed with whole spices like cinnamon, cardamom, fennel seeds, and bay leaves. The soft rice is bejeweled with crunchy nuts that give it a wonderful texture. Here is the recipe.
2) Tawa Sabz Pulao


A healthy and nutritious recipe made with a combination of fresh and delicious vegetables roasted on a hot pan and mixed in with plain white rice and refreshing mint. Click here for the full recipe.
(Also Read: Watch: How To Make Tawa Pulao Or Pav Bhaji Pulao In Mumbai-Style)


3) Vegetable Pulao


If you are looking for a delicious one-pot meal that will ensure your kids eat all their vegetables, we got you covered. Add the greens as per your choice. You can also give it a punch of rich flavours by including cardamom, cumin, and turmeric. Check the recipe is here.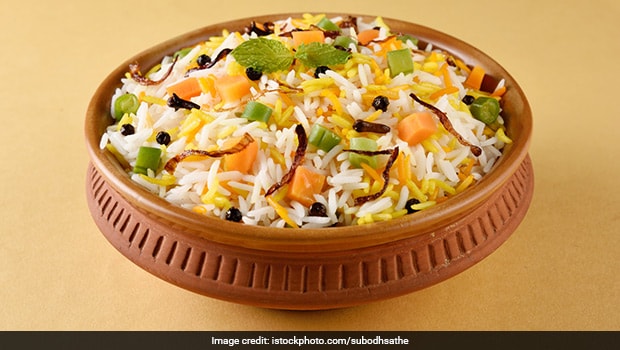 4) Aloo Matar Pulao


This is an easy-to-cook item prepared using peas and boiled potatoes spiced with cumin seeds, ginger, coriander powder, and garam masala. Take a look at the recipe.
5) Sprout And Spinach Pulao


A nutritious spin on regular pulao made with the goodness of spinach and a mix of different sprouts cooked in a host of desi spices for a healthy meal. Here is the recipe.
6) Coconut Milk Pulao


Try this drool-worthy and simple pulao recipe made using rich coconut milk and tangy tomatoes. Spice it up by adding green chillies, cloves, and cinnamon. Check it out.
7) Kashmiri Pulao


Well, this is our all-time favourite. A sweet and mildly spicy dish from Kashmir cooked in milk and cream. Cardamom, bay leaves, and cloves add richness to the item. Don't forget to top it with a mix of crunchy nuts while serving. Recipe is here, take a look at it!
8. Rajma Pulao


If you're someone who loves rajma, then this rajma pulao is a must-try! What sets is apart from other rajma chawal is its preparation style. It tastes best when served with raita and salad. Click here for the recipe.
9. Chana Dal Pulao


This recipe is made using gram dal, rice and a mix of flavourful spices. It is ideal to make on days when you want to eat something light yet delicious. Click here for the recipe.
Make these easy pulao recipes in just half an hour and let us know how you liked them.