The lockdown due to Coronavirus has led to people staying at home. Along with this, all the restaurants and eateries have temporarily shut their operations, leaving the foodie in us craving! While some restaurants have the delivery option available, it is not safe to order in the current situation where everyone is advised to observe social distancing. The best practice to adopt in these times is to cook whatever you like at home.


If you have been active on social media of late, you must have come across two kinds of posts -one where someone is cooking their favourite food; and two, where someone posting a picture of their favourite food! And so we decided to ask our followers what are the foods they are missing during the lockdown. The response was overwhelming and left us craving too!


Since we don't know what the future holds in terms of the lockdown, we thought why not motivate out readers to cook all those favourite foods at home with our step-by-step recipes! So here we are with 11 best recipes of everything you've been craving all this while.
(Also Read: Readers' Choice: 20 Best Dosa Places In India That You Voted For)
1. Momos
Honestly, we are not surprised that momos made it to this list. Soft, succulent and juicy, momos are one of the most popular street foods in India. Momos are basically dumplings filled with veggies, meat or paneer that are then steamed or fried to crisp. If you don't have momos steamer, then you can also prepare them in an idli maker. Here's a super easy vegetable momos recipe you can try at home. And if you've been craving juicy and succulent chicken momos, we have a chicken momos recipe here too.
2. Gol Gappe/Paani Puri
Didn't you slurp at the mention of tantalising gol gappe or paani puri? Who doesn't like those crispy and hollow gol gappas stuffed with spicy potato, onion, chickpeas masala and dipped in a spicy mint- or tamarind-flavoured or water! In this season of lockdown when your favourite gol gappa wala won't be available, we've got you covered with an easy gol gappa recipe here that you can try at home.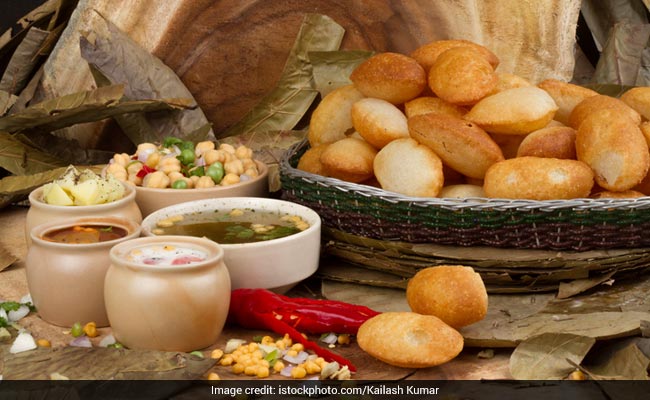 3. Shawarma
This Middle-Eastern delight has a massive fan following! The juicy Lebanese wrap of pita bread or Khubz, stuffed with generous filling of well-grilled meat, cucumber and tomatoes is served with mayonnaise. And guess what you can even make a moth-watering shawarma roll at home with our super easy chicken shawarma recipe here.
4. Seekh Kebab
The aromatic and melt-in-mouth texture of kebabs is simply irresistible. No wonder people have been missing out on one of the most popular kebabs, seekh kebabs, in the lockdown period. But fret not, we've got you a baked seekh kebab recipe to try at home.
5. Pizza
The cheesy Italian delight can easily be a comfort food on a game night. But what to do when you favourite pizza place can't deliver? Bake your own with this super easy pizza recipe at home. Have fun with your favourite veggies or choice of meat, seasonings or oodles of cheese! Find the recipe of pizza here.
6. Butter Chicken
A hot favourite amongst non-vegetarians, butter chicken is a quintessential chicken curry that is made with delicious tender chicken pieces, marinated in a spice mix and then cooked in a flavourful and creamy tomato curry. A highly popular dish across restaurants, you can now make it at home too with our super easy butter chicken recipe here.


(Also Read: 21 Butter Chicken Places In Delhi-NCR You Shouldn't Miss)
7. Sev Puri
A heavenly chaat option, sev puri is a vibrant mix of sev with an assortment of onions, tomatoes, coriander leaves, diced potatoes and spices such as garlic, green chilli and tamarind; served on small, round and crispy papdis. It is topped with mouth-watering chutneys that make it a top favourite of desis around the world. Here is how you can try a multigrain sev puri at home.
8. Pasta
Another Italian delight that we simply can't get over, pastas with its different varieties of shapes and sauces can bring alive anyone's gloomy day. While all the exotic pasta places might be shut but you can still relive the culinary magic of that creamy alfredo or a spicy arrabiata right inide your kitchen! Here's an alfredo pasta recipe you can try at home and if you love those spicy flavours, find the recipe of penne arrabiata here.
9. Chole Bhature
Spicy and irresistibly flavourful, chole bhature somehow find its place on every foodie list! The northern India, specifically, has a penchant for this greasy delight. While we have countless go-to options for the best chole bhatures around town, you can prepare them at home too. Find the recipe of chole bhature here.
10. Biryani
The name is enough for us to Google where to order the best biryani from but before that, have you thought you can even cook that utterly delicious mutton, chicken or veg biryani right at home? And as tough as it may sound, it is fairly easy and simple! Here is a list of our best biryani recipes you can try at home.


(Also Read: Readers' Choice: 16 Of The Best Biryani Places In India)
11. Waffles
Crispy, firm yet soft and moist, waffles never fails to satisfy our sweet tooth! With its characteristic shape of hollow cavity and blocks and a batter cooked between two patterns, the dessert has taken over us like nothing else. Add to it your favourite flavours, from hazelnut to vanilla or strawberry and you can relish this in breakfast to even as a post-lunch dessert. Find the recipe of classic waffles here.
We know how the lockdown and the time of pandemic can be stressful in more than one ways, but cooking at home can be both fun and relieving. And with these recipes you even get to gorge on your favourite food too! So don your chef hat and try these recipes at home. Don't forget to share your experiences in the comments section below.
About Aanchal MathurAanchal doesn't share food. A cake in her vicinity is sure to disappear in a record time of 10 seconds. Besides loading up on sugar, she loves bingeing on FRIENDS with a plate of momos. Most likely to find her soulmate on a food app.