Thai cuisine
is quite popular and focuses on the texture, color, taste and fineness of the dish. Thai curries are made of various curry pastes. They can be vegetarian and non-vegetarian. The non-vegetarian ones can also be made up of
seafood
or
chicken
and meat. Thai curries are typically cooked in coconut milk with a curry paste which is made up of chillies,
onions
,
garlic
and lemon grass and a good mix of herbs that are responsible for the enticing aroma.Whether to order red or green Thai curry at a restaurant, is a topic of some confusion. Which one should you order? Do you know the difference between the two variants of the popular Asian curry? Here's how you can decide which one is more appropriate for you taste.
Red Thai curry
is made of 20 red chillies that give it a beautiful red colour. It is cooked with dried red chilli that is soaked to remove the harshness and the heat from it. Soaking the chillies also lends an excellent flavor to the dish. Thai red curry is very soupy as the chilli paste is mixed with coconut milk or water. The curry varies from region to region. In Thailand, the red chillies can be hotter than they are in India or vice versa, depending on where the chillies were grown. Hence, the taste of the curry prepared in the subcontinent is a little different from what it tastes in Thailand. However, the ingredients remain the same.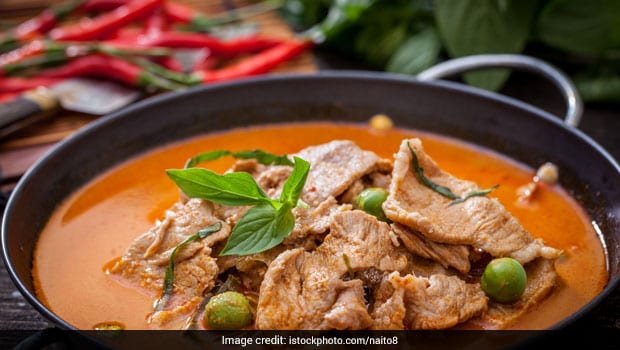 Red Thai curry is made of 20 red chillies.
Green Thai curry
is more or less similar to the red Thai curry, except that it gets its signature colour from the green chillies. Thai green curries also have basil, coriander and lime leaf added to them, to enhance the flavor and green tinge. In South Thailand bird's eye chillies are added in green Thai curry, which makes it spicier and hotter than the red Thai curry.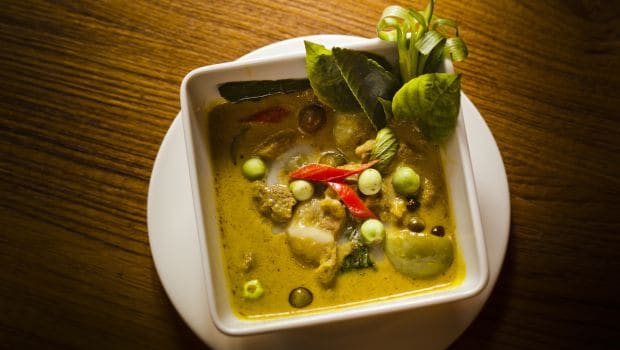 Thai green curries have basil, coriander and lime leaf.
You can add vegetables, seafood, chicken, meat or anything else to both these Thai curries to customize them as per your taste. There is a
yellow Thai curry
as well which lies somewhere in between these two, in terms of spiciness. The yellow curry contains turmeric which lends it the beautiful yellow colour that it has. It often looks like an Indian curry but the presence of the coconut milk gives it that typical Thai flavor.One should not confuse the Indian and the Thai curry. Indian curries are characterized by their mixture of a lot of different spices, including chilli powder, turmeric, coriander,
garam masala
etc. We hope this piece helps you decide which Thai curry you would want to order at a restaurant the next time!
Disclaimer:
The opinions expressed within this article are the personal opinions of the author. NDTV is not responsible for the accuracy, completeness, suitability, or validity of any information on this article. All information is provided on an as-is basis. The information, facts or opinions appearing in the article do not reflect the views of NDTV and NDTV does not assume any responsibility or liability for the same