Here's a list of the 10 best Thai foods.

"Just the fragrance of Thai food makes me hungry. It's my comfort food, food for my soul", says Chef Veena Arora, The Spice Route, The Imperial Hotel, Delhi. Thai food is like a celebration of the fresh and fragrant.

Ever wondered what makes this cuisine so special? It's perhaps the rich curries or the explosion of flavours that make it such a rage across the globe. Home-Chef Malini Sawhney says, "Thai cuisine is all about balancing bold flavours - a unique mix of hot, sour, sweet and bitter tastes. And my personal favourite ingredient? Coconut milk. It works brilliantly to accentuate the piquancy of Thai food". Exotic notes are brought about in each dish by blending aromatic lemongrass, kaffir lime leaves and galangal.

The use of fresh herbs and spices adds a distinct flavour and texture to Thai cuisine. One of the most interesting techniques commonly used in cooking Thai food is the pounding of herbs, instead of chopping them. This not only infuses the meal with fresh aroma, but also ensures that all essential oils and medicinal properties are retained.

Just like Deborah Cater had rightly put, "You have to taste a culture to understand it". Presenting: Our top 10 Thai food recipes, without further ado. From a scrumptiously simple Som Tum Salad to a heavenly Massaman Curry, every dish is indeed a gastronomic delight. Start cooking, stop drooling!



1. Thai Noodle Soup
Recipe by Nikhil and Natasha Chib

"Chicken soup is good for the soul" — and the Thai version does wonders for your taste buds too. Cooked with chicken and broccoli, and flavoured with fried garlic and coconut milk, this wholesome soup is sure to draw recipe requests at your next get-together.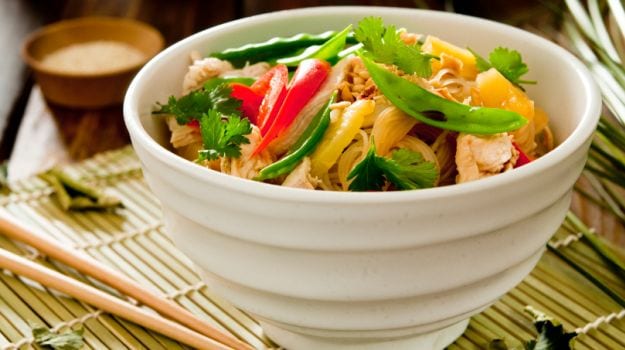 2. Gka Prow a.k.a Basil Chicken
Recipe by Rocky Singh

This heavenly one-plate dish is made in a piping hot wok loaded with lots of holy basil leaves, large fresh chilli, minced chicken, soy sauce, oyster sauce, black pepper, chopped garlic and palm sugar. Serve piping hot with steamed rice.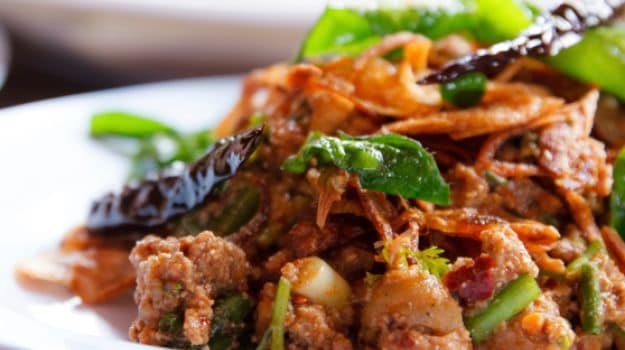 3. Hot Yellow Curry with Vegetables
Recipes by Varun Tuli

Note: This is the stuff dreams are made of. Impress your guests no end with this ambrosial Thai yellow curry, cooked with coconut and vegetables. Spicy, easy and nothing short of spectacular!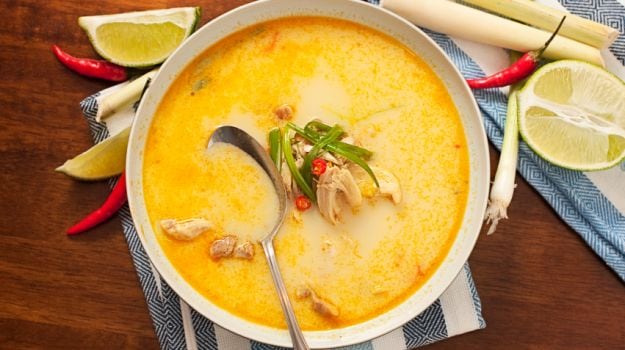 4. Raw Papaya Salad
Recipe by Samir Modi

This Som Tum salad is as delicious as it is fiery. Toss shaved papaya into a mortar and pestle with carrots, tomatoes, red chillies, lemon juice and soy sauce for that zesty flavour. Garnish with crushed peanuts before serving.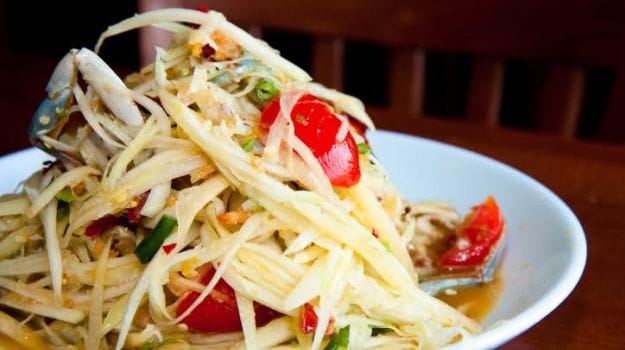 5. Sticky Rice with Mango
Recipe by Chef Veena Arora

This delicious Thai dessert is commonly known as 'Khao Neow Ma Muang', and combines mangoes, sticky rice and creamy coconut milk. Warning: It's incredibly sweet, but then again, so are the best things in life.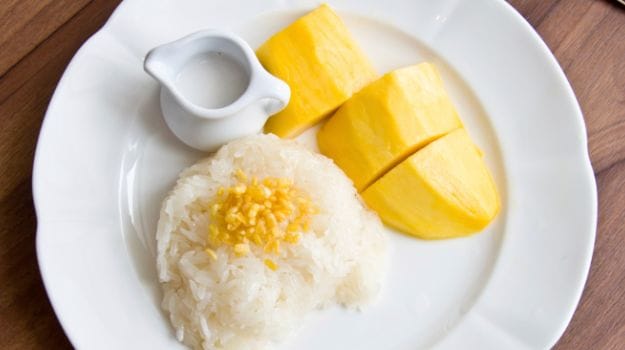 6. Chicken and Tofu Satay
Recipe by Nikhil and Natasha Chib

Marinated in oriental flavours and grilled to perfection, serve this Thai appetiser with a tangy peanut sauce and bask in the glory of your party.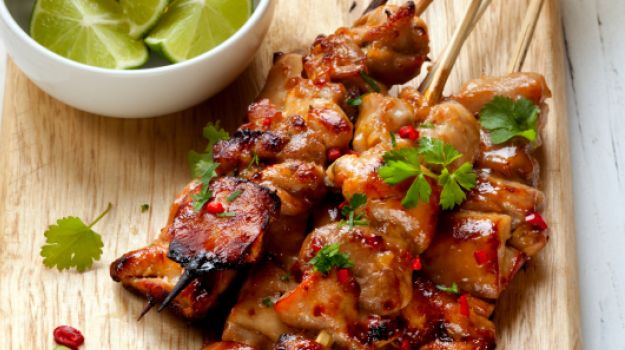 7. Rocky's Pad Thai
Recipe by Rocky Singh

Recreate the brilliance of Pad Thai wherever you are, all thanks to Rocky Singh. It's a delicious mix of flat rice noodles tossed with chicken, prawns, onions, bean sprouts, garlic, and tamarind.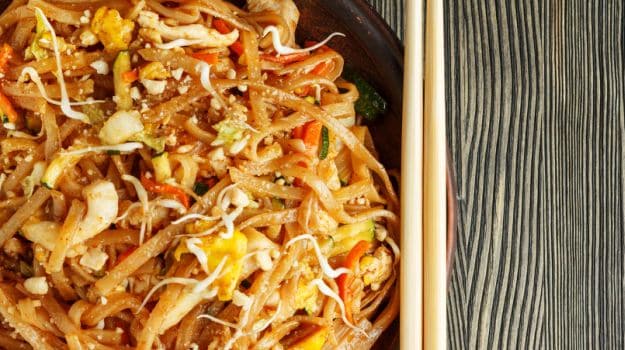 8. Thai Steamed Fish
Recipe by Seema Chandra

Fish fillets steamed in a range of assorted oriental flavours and drizzled with a sweet and sour sauce. High on flavour, low on calories and oh so easy. Did we mention that it's downright divine?




9. Massaman Curry (Thai Muslim Curry)
Recipe by Nikhil and Natasha Chib

I admit, Massaman is my favourite curry. The delectable combination of potatoes, chicken, coconut milk, cashews, cardamom, peanuts, cinnamon, lime and bay leaves only leaves me craving for more.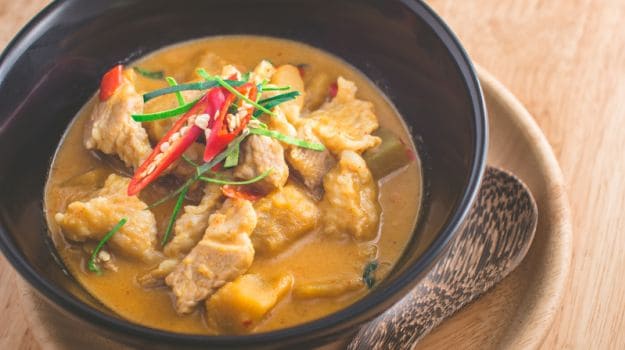 10. Thai Fish Cakes with Pineapple Chutney
Recipe by Vicky Ratnani

Coated with breadcrumbs and fried golden, these Thai Fish Cakes are the perfect way to woo your loved ones. Spruce it up with a sweet pineapple chutney to balance the flavours.