Republic day is just around the corner and the preparations for it have begun in full swing. On 26th January 2018, India would be celebrating its 69th Republic day. With 29 states, seven union territories and multiple ethnicities - it wouldn't be wrong to call India a mini continent in its own. If you ask us, food has played its own sweet role in unifying a country as broad and diverse as ours. Indians have always been famous for their penchant for something '
meetha
'. In
meetha
too, there is a certain bias towards laddos that one can't deny. Be it any happy or auspicious occasion, one has to have ladoos to make the event even sweeter and special. Historically speaking too, ladoos have been given the status of some of the oldest foods from the Indian subcontinent. Some historians also claim that
ladoos
were never meant to be a sweetmeat as we see them today. Ladoos were originally invented for medicinal purposes by the father of Indian surgery and medicine Susruta. Back in the 4th century B.C, Susruta began serving his patients '
Til Ka Ladoo
' as an antiseptic to treat his patients. The combination of sesame seeds, jaggery and peanuts was known to have immense healing properties.
1. Thaggu Ki Laddo
It is not all about industries and machines in Kanpur. The city boasts of its own culinary treasure troves that are worth talking about. One such iconic Kanpuri gem is "Thaggu ke Ladoo". The word, 'Thaggu' in Hindi comes from the word 'Thug' which means to cheat or a person who cheats you. They also have a tagline which says - 'Aisa Koi Saga Nahi, Jisko Hamne Thaga Nahi' that literally translates to "There is No Relative or Person Who We Have Not Cheated!" Yes you heard us, this particular sweet shop is out there 'cheating' its customers for over eight decades now and no one seems to have a problem with that.
You may want to call it the unique name and tagline a marketing gimmick, but the history of the shop and the reason behind the unique name would melt your heart. The person who started the sweet shop was a great follower of Mahatma Gandhi. Once he attended his speech in Delhi where Gandhiji remarked that sugar is 'white poison' which can pave way to several deadly diseases. They were being tricked by the British into buying it. This put him in a dilemma because he wanted to avoid using sugar but there was no way to prepare these ladoos without it; sugar was not only readily available, but also very cheap. It was then that he took to calling the laddoos 'Thaggu Ke Ladoo' to hint that the customers were being tricked and to warn them in advance. Little did he know, that his unique precautionary warning would become his biggest USP.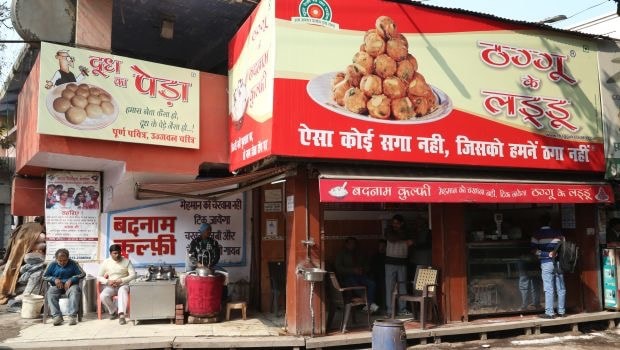 2. Gondh ka LadooGondh in Hindi means 'gum'. Gondh ke ladoo means, ladoos made of gum. Surprised? Dont be. The gum used in these special ladoos is the edible variety which is collected from the Babhul tree. Made with edible gum(gondh), desi ghee, sugar, raisins, dry fruits, nutmeg and cardamom; the ladoo is high in calories and is required to meet the extra calories needed by a new mother while she's breastfeeding the new-born. The laddoo is believed to speed up recovery and provide her with vital nutrients to regain her strength after delivering a child. The Gondh ka laddoo is also enjoyed during the winter months as it is known to warm the body. It is popular in Maharashtra as Dinkache Ladoo. 'Dink' in Marathi means edible gum.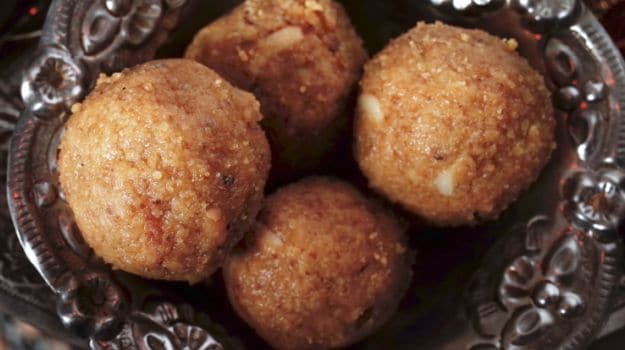 Gondh ke ladoo means, ladoos made of gum
3. Methi Ka Ladoo
Now when it comes to ladoos, one would think of them to be a mix of
sugary
ingredients, a dash of aromatic spices ar Best. In any case, one would hardly associate 'methi' with ladoo. But
Methi ladoo
is a traditional ladoo which is traditionally prepared during winters for its warming properties. The Indian traditional sweet made with fenugreek seeds, ginger, saunf and jaggery is considered to be very healthy specifically for nursing mothers, as it helps in
breast milk
production too.
Methi ladoo is a traditional ladoo
4. Bandar LadooThe ladoo gets its name from the migrated Rajput clan who settled as 'Bondilis' in Machilipatanam. They shifted their base from Bundelkhand in Rajasthan to Machilipatanam after the 1857 Sepoy mutiny. Locals have learnt the art of preparing the laddoo from Rajput families,and made the Bandar Ladoo their own and even won the GI Tag for the sweet in the year 2017. The ladoo is made of bengal gram flour, jaggery syrup and ghee.
Bandar Ladoo is made of bengal gram flour, jaggery syrup and ghee.

5. Ram Ladoo
One of Delhi's favourite street food- Ram Ladoo has nothing that you would want to associate with a Ladoo. Its not sweet. It is savoury. It doesn't have nuts or ghee. It is instead fried in oil and served with the topping of sliced raddish, slathered over with coriander chutney and chaat masala. So what makes it a ladoo then? Perhaps its resemblance to one. Made of Bengal gram flour or Moong dal flour, this bite sized snack, makes for a popular street food in the North.
Its not sweet. It is savoury. It doesn't have nuts or ghee. It is instead fried in oil
How many of these Unique Ladoos have you had? Do let us know in the comments section! Here's wishing you all a Happy Republic Day in advance.
About Sushmita SenguptaSharing a strong penchant for food, Sushmita loves all things good, cheesy and greasy. Her other favourite pastime activities other than discussing food includes, reading, watching movies and binge-watching TV shows.