There are days when you want to indulge to your heart's content and feast like there is no tomorrow, and then there are days you want to go light on your tummy with a piping hot bowl of soup. Wanting to curl up in bed, sipping into the warm and soothing delight does not make you any less of a foodie; in fact, it is a great way to cleanse your body. Soups are also an ideal choice for those trying to fight cold, cough and flu as they help the body replenish all lost nutrients. Another great benefit of soups that is making a buzz in the world of nutrition is its role in burning fat.

Here's how soups make for a good bet for weight loss:

The liquid quotient of the soup, not only keeps you hydrated but also satiated for a long time without the cost of too many calories.
There is enough room to experiment with soups. You can throw in your favourite veggies, meat, herbs and spices to make yourself a healthy and weight-loss friendly delight. Choose veggies that are high in fibre.
Souping ensures you do not lose out on healthy fibres, as is the case with juicing.
Don't shy away from sprucing up your soup with your favourite spices. Hot spices like black pepper, cinnamon, and paprika are said to aid weight loss due to their metabolism boosting properties.

Here are delicious soup recipes you can make at home for that may assist weight loss:




This soup is a delectable concoction of cucumber with spices and herbs like basil, cilantro, garlic and a tangy bit of lime. The cold soup also packs the goodness of garlic, romaine lettuce and olive oil.


(Also Read: Cucumber Nutrition: Amazing Cucumber Nutritional Facts And Health Benefits)


2. Spiced spinach soup with cottage cheese croutons



Packed with the goodness of spinach, dill leaves, fenugreek leaves, coriander and mustard seeds, this aromatic soup is a powerhouse of weight-loss friendly fibres. The chaat masala-flavoured cottage cheese croutons is another healthy and delicious addition that makes this soup a must-try.


3. 2 Bean And Chicken Soup Recipe



Chicken has a huge fan following in the world of health and nutrition. Chicken is packed with lean protein that helps you keep satiated for a longer time.The combination of beans and tomato further takes the nutritional content of the food to an all-time high.
(Also Read:
10 Quick & Easy Chicken Recipes
)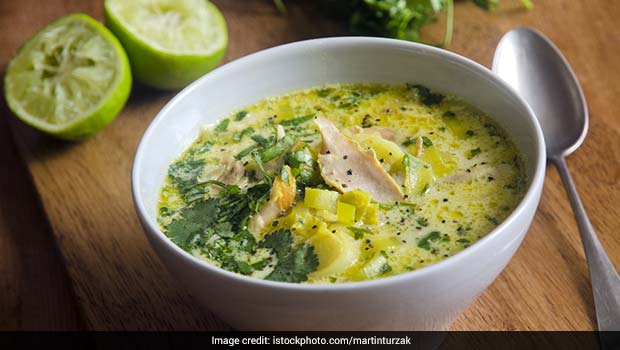 Much has been said about the weight loss benefits of both carrot and tomato. Packed with good quality fibres, this hearty blend is a delicious way to shed those pounds. To give it a healthier twist, ditch the cream garnishing.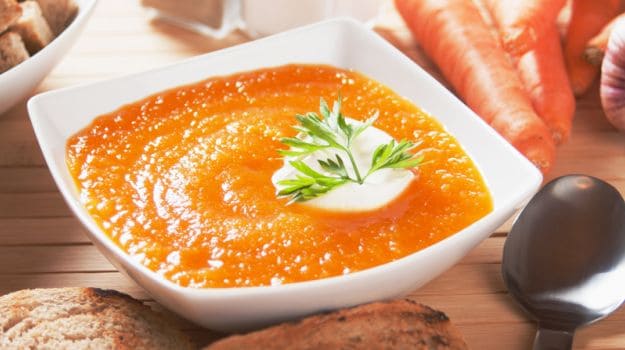 Apart from being ever-so delectable in taste, moong dal is packed with weight loss-friendly protein and fibres too. This Indian soup made of lentils and soothing spices is a great way to lose weight without compromising on your taste buds.


(Also Read: Moong Dal For Weight Loss: Here's How India's Favourite Dal Can Help You Burn Fat)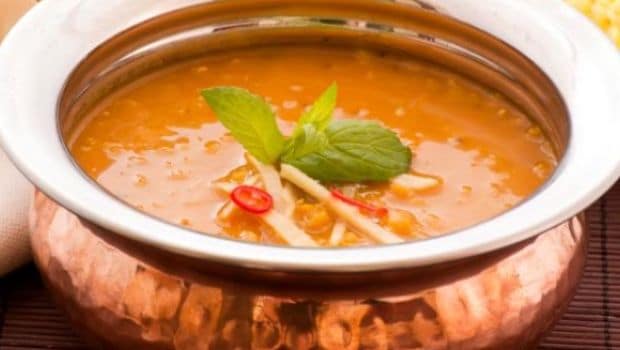 Wise choices and weight loss go hand in hand. Make sure you only make use of healthy ingredients while cooking your soup. Clear soups are a better pick for weight loss than the cream-based one. Also, steer clear of croutons as they are fried and may hamper your weight loss plans.
About Sushmita SenguptaSharing a strong penchant for food, Sushmita loves all things good, cheesy and greasy. Her other favourite pastime activities other than discussing food includes, reading, watching movies and binge-watching TV shows.