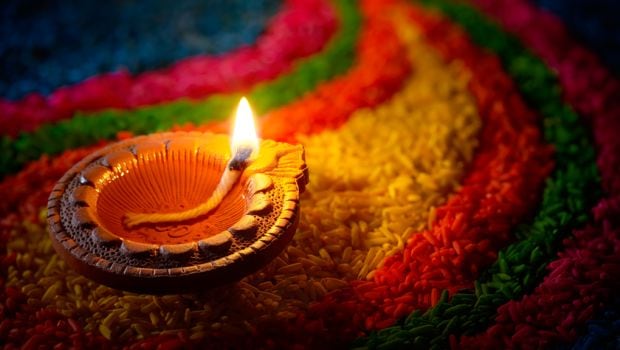 Diwali as a child, waking up before dawn, rushing through a mandatory oil bath (still a tradition in many homes in Tamil Nadu) and bleary eyed until the fireworks rang in the festive spirit.

Diwali back then in Chennai was a community event, neighbours became family irrespective of religion or caste. Almost all our fireworks would be pooled into a common 'war chest', the cacophony and the fun wouldn't stop. As kids back then, we didn't worry about sound pollution or infiltration of Chinese fireworks, (and sadly) had no idea about child labour used to manufacture fireworks. There was only one thing that could stop our resolve to 'bomb' the neighbourhood and it always worked. The irresistible allure of the Diwali sweet platter!

Today, many of Chennai's sweet shops have 'Diwali festive packs', it's almost a TV dinner or a Maggi noodles type instant solution. Walk in the night before Diwali and buy a pre-packaged Diwali solution. It's incredibly convenient but old-timers argue how it has diluted the Diwali charm. That charm usually involved prepping for the festival a few days in advance with sweets and savouries being prepared ahead of the festival. The tough part as kids was being unable to lay our fingers on the goodies until Diwali. Each community within South India (except in Kerala where it's not widely celebrated) has Diwali rituals and 'poojas' and Diwali sweets are always in the mix. It's still common for friends and neighbours to exchange Diwali sweets and savouries except these days not all sweets are home made. Calorie counters be damned, in many homes its customary to have an array of at least ten different sweets and three or four savouries. It's probably the reason why many homes in Tamil Nadu kick Diwali off with a mouthful of a special Diwali Legiyam or Marundhu (Medicine) on an empty stomach. It looks and tastes quite similar to Dabur Chyawanprash and combines over 20 ingredients that include everything from dried ginger to ajwain to black pepper and dates. Probably an antidote for the unrelenting sugar orgy that lasts through Diwali. The list of sweets don't necessarily follow any pattern or tradition. In many cases, the kids at home end up deciding the list of Diwali sweets based on their favourites and yet there are some sweets that almost end up being a constant. Many of these sweets can be bought around the year in sweet shops in Chennai or Bengaluru: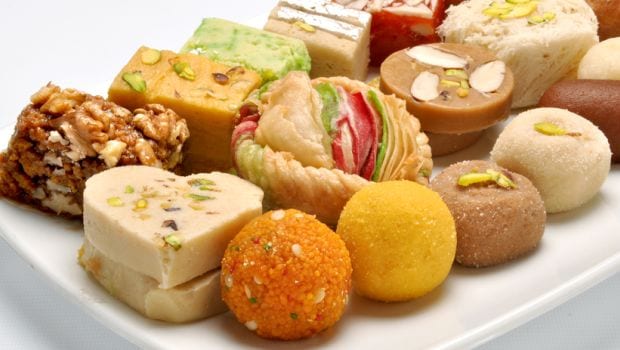 Mysore Pak: It might date back just over a hundred years, yet many people in the South view this as a very traditional sweet. Just three ingredients – sugar, ghee and chickpea flour, come together to create a sweet that melts in your mouth.

Halwas: From the rich badam halwa (with finely ground almonds) to the sticky wheat halwa, most Diwali sweet platters or sweet boxes usually feature at least one type of halwa, especially in Tamil Nadu.

Adhirasam: Probably one of the most traditional sweet dishes from Tamil Nadu (similar to the Kajaya in Karnataka or the Ariselu in Andhra Pradesh). There are inscriptions that date back to Krishnadevaraya's reign about this sweet crafted with rice flour and jaggery. It's a quintessential Diwali treat and involves a laborious cooking process. (See recipe below)

Badhusha: This soft yet crunchy maida pastry is similar to the Balushahi from Southern Bihar and a sweet dish that's popular almost across the subcontinent. It's a sweet that's commonly made for festive occasions across Tamil Nadu, Karnataka and Andhra Pradesh. (See recipe below)

The Savouries: These provide the perfect break from the surfeit of sweets during Diwali. It's common to find the 'mixture' that combines everything from boondi to besan flour and cashews with fried curry leaves. There are also a wide variety of murukku (that takes its name from its 'twisted' shape in Tamil) or Chakli (in Kannada) or Chakralu (Telugu) that are made from rice flour or chickpea flour.

Badhusha Recipe


Ingredients:

• Maida: 1 cup
• Ghee: ½ cup
• Fresh curd: 3 tbsp
• Baking powder: a pinch
• Sugar: 1 cup
• Oil: Enough to deep fry

Method:

1. Beat curd, ghee, baking powder and maida, knead it to a tight soft dough.

2. Cover with a moist cloth for 15 minutes.

3. Apply oil on your palm, knead again to make small 'pedas' with the dough and gently press in the centre.

4. Put 1/4 cup water in a pan and heat. Add sugar, stirring it to a thick two string consistency.

5. Now place oil on slow fire and fry the pedas one at a time. Gently pierce with a fork in the middle to ensure they get cooked evenly. This is the key step to make sure they are cooked well in the centre.

6. Flip it when one side turns golden; remove from the pan once both sides are done and then remove excess oil.

7. When the pedas are just warm, gently toss them in the syrup till they glisten.


Adhirasam Recipe


Ingredients:

• Raw rice: 1 ½ cups
• Jaggery: 1 cup
• Sesame seeds: -1 tbsp
• Cardamom powder: 2 pinches
• Ghee: 1 tbsp
• Oil: Enough for deep frying

Method:

1. Wash and soak rice for at least two hours. Drain, spread over a white cotton cloth for 30 minutes. Do not let it dry for too long. The adhirasam needs the moisture.

2. Grind it in 2 batches in a blender to a coarse flour. Sieve the flour and press the flour down gently so that it locks the moisture.

3. Meanwhile, powder the jaggery and heat it with water (enough to immerse the jaggery).

4. Once it's completely dissolved, filter it to remove impurities. Start heating the jaggery syrup.

5. Boil in medium flame and stir occasionally. Keep checking the syrup consistency by adding water housed in a small bowl till it gets thick enough to be able to form a ball with your fingers. Start adding it to the flour gradually. Add sesame seeds, cardamom powder and dry ginger powder (optional) to the flour. You may not need all the syrup.

6. Mix in a dough and keep aside overnight.

7. Knead and make small balls, press on butter paper and fry in oil (gingelly oil or refined oil) or ghee in a low flame.


About the Author:

Ashwin Rajagopalan is a cross cultural training expert and lifestyle writer. When he's not writing about food, he thinks about gadgets, trends and travel experiences. He enjoys communicating across cultures and borders in his weekday work avatar as a content and editorial consultant for a global major and one of India's only cross cultural trainers.

Disclaimer:

The opinions expressed within this article are the personal opinions of the author. NDTV is not responsible for the accuracy, completeness, suitability, or validity of any information on this article. All information is provided on an as-is basis. The information, facts or opinions appearing in the article do not reflect the views of NDTV and NDTV does not assume any responsibility or liability for the same.



I still remember
About Ashwin RajagopalanI am the proverbial slashie - a content architect, writer, speaker and cultural intelligence coach. School lunch boxes are usually the beginning of our culinary discoveries.That curiosity hasn't waned. It's only got stronger as I've explored culinary cultures, street food and fine dining restaurants across the world. I've discovered cultures and destinations through culinary motifs. I am equally passionate about writing on consumer tech and travel.