Diwali
is a season of hosting and feasting. But invariably, with so much entertaining comes the sometimes irritating aspect of achieving that fine balance between being a great host versus not losing your peace of mind. There really is no point spending festive times slogging in the kitchen. So, here are a few
mithais
that you can cheat your guests into imagining they take a lot of effort. Work smart, party hard! And yes,
Happy Diwali
!
1. Spiced Rice Kheer with Apple Compote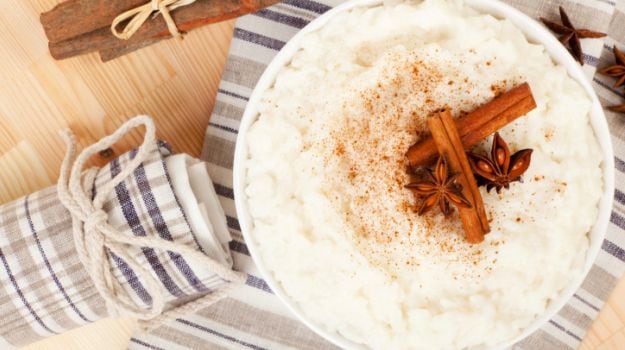 Preparation Time: 15 minutes
Cooking Time: 40 minutes
Storage/Shelf Life: In refrigerator for 2 days
Ingredients:
- 250gms rice
- 2 tsp cornflour
- 500ml skimmed milk
- 400gm condensed milk
- 1 3-inch cinnamon stick
- 6 cardamoms, crushed (not powdered)
- 1 whole nutmeg
- 1 star anise, pounded to a powder
- 3 apples, peeled and diced (you could even use a mixture of fruits, or replace apples with pears or even berries)
- Juice of 1 lemon
- 1/2 cup water
- 3 tablespoons honey
Method:
1. Make a paste of the cornflour with a little of the milk until smooth - add only enough milk to make it smooth and not runny.
2. Add this paste to a saucepan with the remaining milk, condensed milk, cinnamon, cardamom, grated nutmeg and star anise powder. Stir till it is a smooth mixture, then bring to a simmer on low heat. Leave to infuse and in a separate container, cook the rice thoroughly till soft.
3. Add the cooked rice to the cornflour-milk slurry and let it bubble till thick and creamy for about half an hour. Stirring consistently will enhance the creamy texture.
4. To make the compote, pour lemon juice over sliced apples and toss. Pour the water in a heavy pan and add the apples. Cover and cook over medium heat for 15 minutes, stirring once every five minutes to prevent the apples from sticking to the pan. Crush the apple slush while continuing to stir and cook for another five minutes, or till the excess water evaporates, leaving a pasty texture. Remove from heat, any honey and mix. This compote can also be stored in the fridge for up to two days. Bring the compote to room temperature before garnishing the spice kheer with it.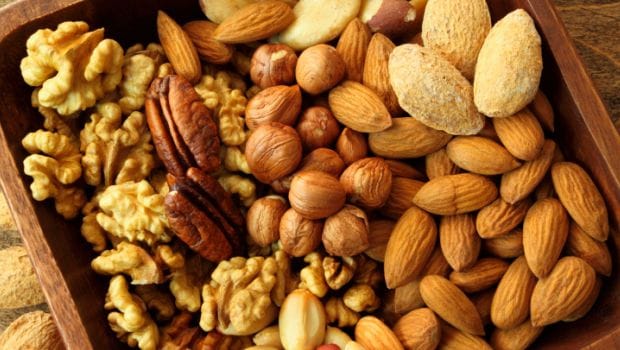 2. Nut & Raisin Drops
Preparation Time: 15 minutes
Cooking Time: 20 minutes
Storage/ Shelf Life: In refrigerator for 7 days
Ingredients:
- 1cup raisins
- 1 cup pistachios, shelled
- 1 cup unsalted, de-husked peanuts
- 1/2 cup ground hazelnuts
- 1 tsp green cardamom powder
- 1/2 cup sugar
- 2 tsp ghee
Method:
1. Thoroughly wash raisins to remove any trace of oil that may have been added to increase shelf life. Dry thoroughly.
2. Roast in ghee till they puff up slightly.
3. Wash and dry roast the nuts. Set aside to cool. Powder them to a fine texture.
4. Blend the raisins with sugar and cardamom powder to as smooth a texture as possible in a blender, without adding water.
5. Add the nut powder to the raising blend and blitz once more. Lightly grease your palms and make into small bite-sized balls.
6. Store in an airtight container in the refrigerator. They have a shelf life of about a week.

3. Almond & Rose Bites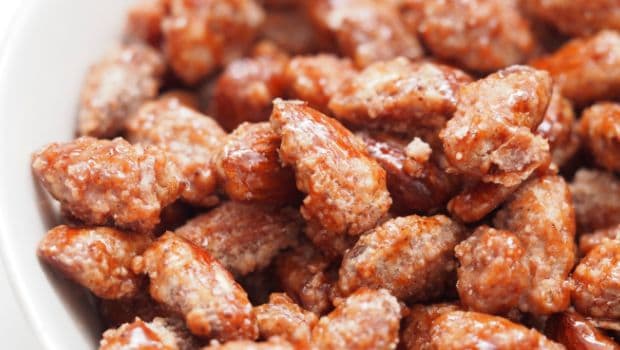 Preparation Time: 10 minutes
Cooking Time: 20 minutes
Ingredients:
- Almonds - 2 cups
- Milk - 1 cup
- Sugar - 2 cups
- Water - 1/4 cup
- Cardamom powder - 1 tsp
- Saffron strands - 6-7
- Dried rose petals, crushed coarsely - 1 tsp
- Unsalted butter for greasing
Method:
1. Blanch the almonds by soaking them in boiling water for 10 minutes. As soon as you remove them from hot water, dip them in cold water for another 2 minutes. Peel the skin off. Grind the almonds into a smooth paste with the milk in a blender. Set aside.
2. Spread butter paper on a tray. Make one-string sugar syrup by boiling the sugar with water in a heavy pan, stirring constantly. Add the almond paste to the sugar syrup and stir well to avoid lumps. Add the cardamom powder, saffron strands, rose petals and mix well. Continue to stir the mixture on low heat. The correct consistency is when the mixture froths and becomes off-white instead of white.
3. Turn off the flame and immediately transfer the contents to the greased tray. If you are not quick enough in transferring the almond paste, the bites won't have a creamy texture. Once the mixture cools down, cut into pieces using a knife and leave it to cool further to room temperature.
4. Once completely cooled down, you can separate out the pieces using a knife and store in an air tight container. Before serving, garnish with fresh rose petals.
Disclaimer:
The opinions expressed within this article are the personal opinions of the author. NDTV is not responsible for the accuracy, completeness, suitability, or validity of any information on this article. All information is provided on an as-is basis. The information, facts or opinions appearing in the article do not reflect the views of NDTV and NDTV does not assume any responsibility or liability for the same