Easy Cutlet Recipes: On weekends, you can leisurely enjoy evening snack time. You have time to savor your tea or coffee, accompanied by your favorite treats. If you're having a tea party, there might be a range of appetisers to choose from, and one snack that should make it to your table is cutlets. You can never go wrong with crisp and flavorful cutlets. While there are many classics that are sure hits, don't be afraid to experiment. Try your hand at making different types of cutlets at home, and you are sure to find a new favorite. Get started with the recipes below.
Here Are 5 Easy Recipes For Unique Cutlets You Must Try:
1. Poha Cutlets:
Want a new way to enjoy poha? Then make tasty poha cutlets for your next meal. There are many versions of this snack, but this one contains poha, potatoes, capsicums, and a range of spices. Pair these cutlets with hari chutney or ketchup and lose yourself in their crispy goodness. Watch the recipe video here.
Also Read: Chickpea Cutlet, Oat Cutlet And More: 5 High-Protein Cutlet Recipes You Must Try
2. Veg Sevai Cutlets:
This snack stands out because of its special coating, which is made of vermicelli (sevai or semiya). In this delicacy, mixed veggies, cheese, nuts, and raisins come together for an unforgettable experience. Taste these semiya cutlets once, and you might not want to make any other. Here's the complete recipe.
3. Mushroom Cutlets:
Tired of making the same old dishes with mushrooms? Then channel their yumminess towards making these cutlets. Multiple Indian spices are used to flavor this snack, giving it a delectable desi twist. You don't want to miss out on this one. Click here for the step-by-step recipe.
Also Read: Cheese Cutlet, Rice Cutlet And More: 7 Vegetarian Cutlet Recipes That Spells Indulgence
4. Rice and Potato Cutlets:
Have leftover rice? Then mash it along with potatoes to make extra crisp cutlets. Potato snacks are always well-liked, and this cutlet will be no different. You can serve it with different types of dips and sauces to bring some variety to your table. Watch the recipe video here.
5. Ragi Cutlets:
Wish to impress your guests with a cutlet that's delicious and healthy? Then ragi cutlet will come to your rescue. As you may know, this millet is packed with nutrients and fiber. In these cutlets, ragi is combined with veggies and a simple masala mix. These wholesome treats can be pan-fried or deep-fried when you're feeling indulgent. Find the full recipe here.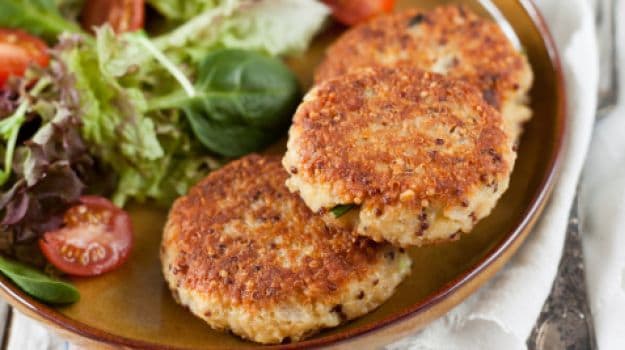 To ensure that your cutlets turn out perfect, there are certain points you need to keep in mind. They pertain to mashing ingredients, coating them properly, as well as cooking them at the right temperature. We have listed 5 important tips that can help you make the best cutlets. Click here to read them.
About Toshita SahniToshita is fuelled by wordplay, wanderlust, wonderment and Alliteration. When she is not blissfully contemplating her next meal, she enjoys reading novels and roaming around the city.