Gujarati Sweets: The state of Gujarat that lies in the Western Indian region of India has a lot more than just khakhras and fafdas, and is yet to be explored more. The palate-pleasing combination of sweet and sour flavours of Gujarati food is what makes the cuisine distinct and from others and cannot be packed into just a few dishes. Dhoklas, bhakarwadi and khandvi are some of the most popular snacks from the famed Gujarati cuisine that you might have tried at various restaurants but there are a number of other treats that are best tried at a traditional Gujarati home. and that is


When we talk of Gujarati food, the extravagant Gujarati thali makes its way into our minds. The thali comprises various subzis, rotis made from various grains (bajra, maida), farsan, rice, lentils and sweet. The idea is to bring as many contrasting flavours together into one meal.


Besides all the amazing snacks, Gujarati cuisine offers a host of delectable Gujarati sweets recipes as well that are hard to miss! From basundi, shrikhand to exquisite mohanthal, you wouldn't find these at a regular restaurant. The best way to relish them is to prepare fresh at home and to make that easier, we've got you the best of Gujarati sweets recipes with a step-by-step process to prepare at home.
Here Are The 5 Best Gujarati Sweets Recipes To Try At Home:
Basundi is sweet thickened milk flavoured with cardamom and a host of dry fruits. This milk-based dessert is popular not just in Gujarat but across parts of Maharashtra as well. It can be a perfect dessert to prepare at home post a hearty dinner.
Gujarati Sweet Recipes: Basundi is a dessert commonly made in Maharashtra, Gujarat and Karnataka.
Hung curd sweetened with sugar and flavoured with cardamom and saffron makes for this traditional Indian sweet of shrikhand that is also a part of the famous Gujarati thali. Also known as matho, this luscious dessert is also served in various Gujarati weddings and also offered as prasad in various temples and on festive occasions. With a rich, creamy texture and flavour, shrikhand is a favourite across all age groups.


(Also Read: Shrikhand: The Creamy And Flavourful Gujarati Dessert Is A Must-Have This Summer!)
Gujarati Sweet Recipes: Shrikhand has a delicious yogurt topped with Elaichi powder.
With rich flavours of besan, khoya and cardamom, mohanthal is a delightful Gujarati sweet that is often prepared on various auspicious occasions and festivals like Diwali. Square-shaped barfis made of gram flour, milk and nuts give an enticing flavour to this Gujarati sweet recipe that is simply irresistible.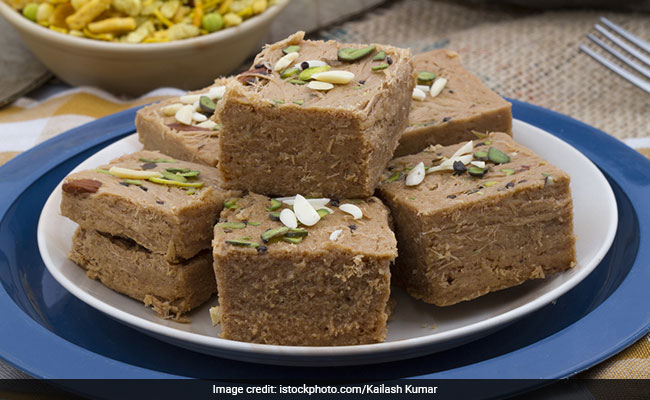 Gujarati Sweet Recipes: Mohanthal is an Indian dessert prepared in many auspicious occasions.
A Surat special, ghari, for the same reason is also known as 'Surati Ghari'. Made with fresh dough, milk, ghee, sugar and a hint of rosewater, ghari is shaped into round balls with a sweet stuffing of dates. Most often consumed on the festival of Chandni Padva, it is also found in many varieties like kesar, pista, almonds and mawa.
Gujarati Sweet Recipes: The crispy outer layer made of flour encloses sweet dates sauteed in ghee in this sweet treat from Surat.
Also known as 'Keri no ras', it is a delicious sweet treat made from mango pulp and flavoured with different ingredients such as saffron, sonth or cardamom. In Gujarat, aamras is often served with crispy hot pooris and dry moong dal during the summer season. Besides being a staple in Gujarat, aamras is popular in parts of Rajasthan and Maharashtra as well.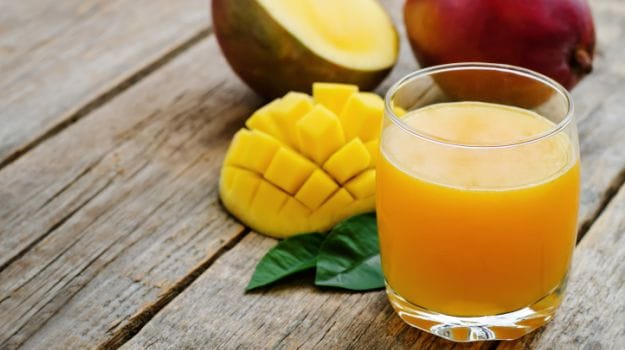 Gujarati Sweet Recipes: Mango season would be devoid of all its glory if you don't try this classic accompaniment along with those hot and crisp pooris.
With these five scrumptious Gujarati sweets to relish at home, you wouldn't need to look beyond! Try these easy recipes at home and let us know your favourite one in the comments section below.
About Aanchal MathurAanchal doesn't share food. A cake in her vicinity is sure to disappear in a record time of 10 seconds. Besides loading up on sugar, she loves bingeing on FRIENDS with a plate of momos. Most likely to find her soulmate on a food app.