Watermelon Recipes: Come summers and there are umpteen refreshing summer fruits that storm the market. From luscious mangoes to litchis and the juicy watermelon, there are various fruits that help the body rejuvenate in the scorching heat. Juicy, sweet and ever-so-delightful, there is absolutely nothing that beats the joy of biting into a watermelon wedge on a hot summer day. Including watermelon recipes in your diet is the best way to replenish the body fluid that is lost through the day.


Summers are known for the abundance of invigorating fruit recipes that are prepared at home to beat the heat. From satiating smoothies to refreshing coolers, watermelon is one such fruit that is versatile even beyond that. You can blend the sweet pulp to a drink or whip it up with sweet honey and yogurt or even toss it with feta and olives for a salad. Watermelon recipes are gaining popularity day by day.


Besides being a versatile fruit, this summer melon has amazing health properties that make it a top choice to include in your diet. Before we take you through delightful watermelon recipes, let's see the numerous health benefits it offers.
(Also Read: How To Cut Watermelon: Step By Step Tutorial To Avoid The Fuss)


1. Stay Hydrated: According to nutritionists, watermelons are 92% of water by weight, which further help you stay hydrated throughout the day.


2. Aids Weight Loss: Watermelons are known to be low in calories; in fact, it is a negative calorie fruit that tends to burn more calories during digestion than it inherently contains.


3. Rich In Nutrients: With abundance of Vitamins B-6, A, C, magnesium, phosphorus and potassium, watermelon makes for a delicious fruit to binge on.


4. Promotes Vision: Besides other nutrients, the blush red colour of the melon comes from lycopene, a nutrient found in many red veggies and fruits that is great for vision and also promotes heart health.


With all this and more, watermelon is the perfect balance of tasty and healthy. Here we have curated a host of watermelon recipes for you to prepare at home and beat the summer heat.
Here are 7 Best Watermelon Recipes To Prepare At Home:
A mix of all things fruity and spicy! This different yet delicious watermelon curry is a perfect blend of watermelon, mangoes, paneer and black beans with a host of chillies and spices such as garam masala, red chilli, turmeric, cloves, cardamom, cumin, black pepper, cinnamon, tomato puree along with a tang of lime, fresh basil and garnish of radish and chives.
Watermelon Recipes: A range of spices and beans are infused with watermelon juice, tomato puree, paneer and mango slices.
A super healthy bowl of salad packed with the goodness of watermelon cubes along with pomegranate juice, bell peppers, cucumbers, flaxseeds, lettuce, pistachios and parsley tossed with a delicious mix of mustard seeds, oregano, jeera, salt and pepper. Pack this up for work when mid-day hunger pangs strike or start your day with this healthy bowl.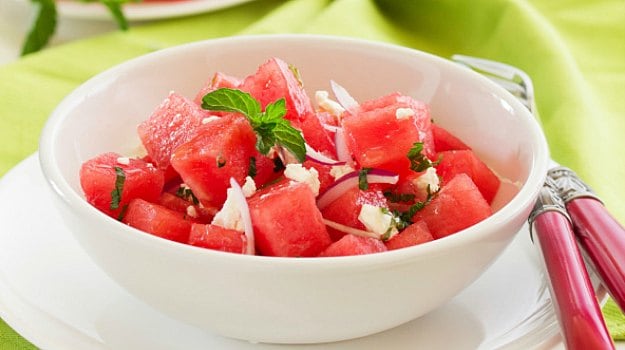 Watermelon Recipes: A quick serving of a refreshing salad with hydrating ingredients.
Tangy kokum, pulpy watermelon along with fresh cucumber, bell pepper and lemon infused together overnight and blended into a chilled, smooth drink that would refresh your body in the scorching summer heat. The goodness of kokum along with watermelon is a perfect mix this season.
Watwrmelon Recipes: A refreshing and delicious blend of kokum and watermelon for a chilled, savoury soup during the monsoon season!
Watermelon and coconut made into an ice-cream! An exotic watermelon recipe made into a sorbet packed with the flavours of freshly made papaya sauce and rosewater infused in coconut milk and garnished with a drizzle of balsamic glaze.
Watermelon Recipes: Unfreeze your taste buds with this exotic sorbet made with rich flavors of water melon and coconut.
A chilled and spicy watermelon soup that can instantly tantalise your taste buds. Pureed watermelon and fresh mint blended well and sautéed with a flavourful ginger-garlic paste and chilli flakes, chilled for a few hours and served with ice cubes and a sprig of mint on top. This watermelon soup is simply a perfect summer delight to relish with family and friends.


(Also Read: 11 Best Soup Recipes - A Meal in Minutes | 11 Top Soup Recipes)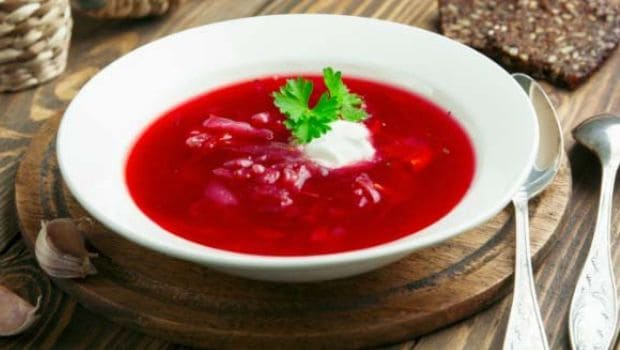 Watermelon Recipe: What is more summery than a crisp, chilled watermelon?
During summer days, watermelon is one of the most consumed tropical fruit. It's light and refreshing and to beat the heat and quench your thirst. So, here's an easy and a quick recipe to beat the heat. Just blend everything together till smooth and serve chilled. Sugar can also be added (optional).
A rich yogurt or milk-based preparation, blended with fruits and veggies of your choice, smoothies are a favourite during summer season.
Make the most of the summer melon with these delightful watermelon recipes this season and let us know your favourite one in the comments section below.
About Aanchal MathurAanchal doesn't share food. A cake in her vicinity is sure to disappear in a record time of 10 seconds. Besides loading up on sugar, she loves bingeing on FRIENDS with a plate of momos. Most likely to find her soulmate on a food app.