Mango Dessert Recipes: Come summers and you'd see fresh mangoes thronging the fruit markets. There is nothing more satisfying than indulging in a pulpy, soft, juicy and luscious mango and that is why the king of fruits is truly a favourite across all age groups. During the sweltering summer heat, chilled and sweet mangoes come as quite a relief. From mango salad, mango desserts to juices or ever-so-delicious aamras, mango can be used to prepare various delicacies. They aren't just a fruit to binge on, but have also been a huge part of all our summer vacation memories. I still remember how during the childhood my mother used to slice dasheri aam or how my sibling and I used to gorge on juicy chausa aam in the peak afternoon post-lunch. Mango has been a part of many such childhood memories that all of us remember and continues to be an indispensable part of our summers.
Mango Nutrition Facts
Mango (aam) isn't just about the luscious texture and mouth-watering flavour, it also boasts of a number of health benefits that would give you just another reason to indulge in the delicious summer fruit. While excess of anything might not be a good idea, even if it is a mango, one can keep a healthy balance by eating in moderation. Mangoes are packed with a good amount of vitamin A and C, besides being rich in calcium, potassium and phosphorus. As per United States Department of Agriculture, a 100 gram of mango packs about just 60 calories and is perfect to include in your summer diet.


With all that flavour and health benefits, you'll be surprised at how versatile this fruit is. There are a lot of easy mango recipes that you can prepare at home. While aamras, mango salads and pickles are done to the core, unique mango desserts have taken over the summer season. For a dessert lover like me, it is a delight to relish ambrosial mango desserts that are also easy to prepare at home. From mango pudding recipes and healthy mango recipes to blissful panna cotta and kheer, we've got it all to please your taste buds.
Here are 9 Mango Dessert Recipes To Prepare At Home:
A sinful and healthy mango dessert packed with the goodness of chia seeds, flaxseeds, matcha, coconut milk and mint leaves. This mango pudding recipe is an excellent vegan alternative to prepare easily at home for a post-meal indulgence for a Sunday brunch or dinner party. Crunchy and sweet with luscious diced mango on top, this mango dessert is sure to get stuck in your mind for long.


(Also Read: 11 Best Pudding Recipes | Easy Pudding Recipes)
Mango Dessert Recipes:​ Indulge in this sinful mango dessert to fully enjoy the summer season but in an absolutely healthy way!
Two most loved Indian foods, kulfi and mango, come together for an exquisite dessert recipe that will melt in your mouth instantly. It is made with white chocolate, cooking cream, mango puree, cardamom powder and rose water. All these are mixed together and refrigerated to set and further frozen in a sphere mould. Topped with pistachios, mango sponge, raspberry puree and rose petals, this is an innovative mango dessert to try at home.
Mango Dessert Recipes: Mango and Kulfi are the summer essential that any food enthusiast cannot deny.
Classic mango dessert recipe that never fails to delight us! Here is a mango ice-cream recipe that is easy-to-make at home with handful of simple ingredients. Milk, custard powder and sugar mixed together with the vanilla essence along with a blend of cream, castor sugar, mango puree and chopped mangoes. Refrigerated to chilled, this ice-cream is going to be the kid's favourite dessert at home.


(Also Read: 8 Easy Homemade Ice Cream Recipes | Easy Ice Cream Recipes)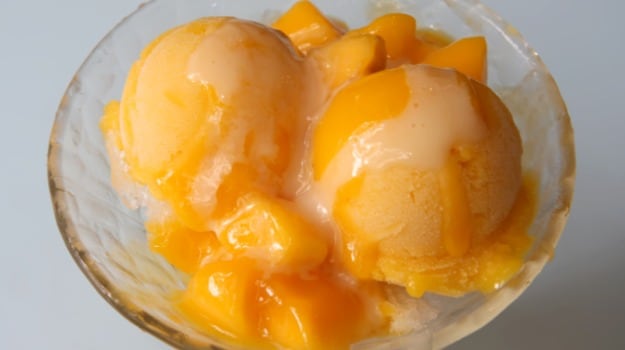 Mango Desserts Recipes: An easy, home made and delicious mango ice cream for your sweet tooth.
A perfectly baked cake with a delicious meringue layer on top, this mango cake has the goodness of lemon zest and mango juice and luscious layers of mascarpone cheese and mango puree in between. It is a cake for every occasion that can be prepared at home easily and quickly!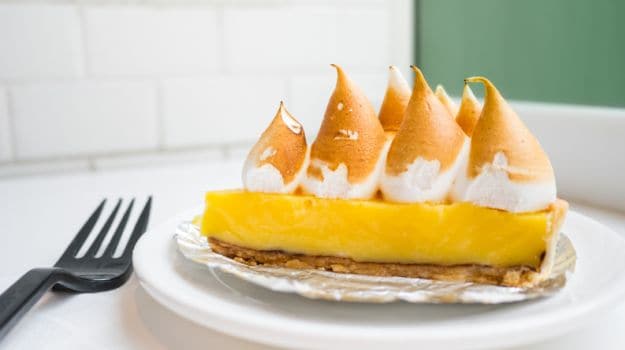 Mango Dessert Recipes: Mango flavored cake with meringue served with a thick layer of mango puree & mascarpone dressing between layers.
The favourite Indian dessert, kheer made with the intense flavours of saffron, mango puree stirred with milk and rice. With the added flavours of crunchy almonds, raisins and cardamom, this mango kheer recipe looks like the perfect option to prepare for a family get-together this summer season.
Mango Desserts Recipes Indian: A fruity twist to an all time favorite Indian dessert. Enjoy this rich and creamy mango and mint kheer recipe.
A summery twist to the Italian delight! Panna cotta is a melt-in-mouth dessert made with sweetened cream thickened with gelatin. Here is a decadent panna cotta recipe made with a mix of mango cream and coconut cream and topped with mango slices and mint leaves. A real crowd pleaser!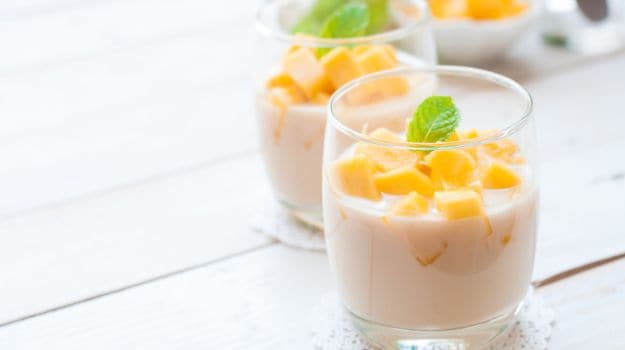 Mango Dessert Recipes:​ Indulge in this sweet delight, made of fresh cream, gelatin, sugar and the king of fruits- mango!
A comforting mango dessert, amrakhand is a luscious, mango-flavoured shrikhand- which is a smooth dessert in itself from North India, prepared with strained yogurt. Amrakhand brings the juicy freshness of mango pulp and the creamy hung curd together with a fragrance of cardamom along with nutmeg and sugar. This delight is served chilled. This is a super easy recipe that you can prepare in just few minutes.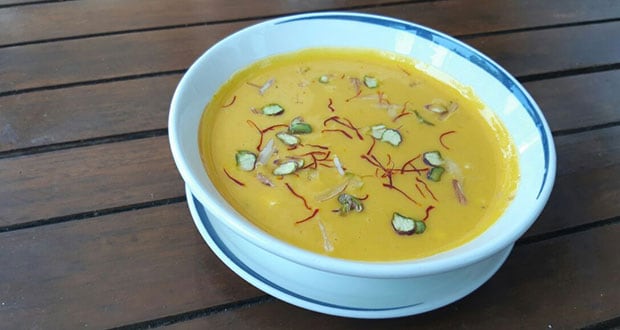 Mango Dessert Recipes: Amrakhand is a popular dish in Maharashtra.
Mango Phirni is a delicious and creamy indian pudding made with sweet mangoes and rice. Mango Phirni is one such variation of many fusion recipes of North Indian dessert Phirni.
Make the most of mangoes this summer season with this delightful kalakand recipe. Easy, quick and absolutely delicious!
So make the most of summer season and indulge yourself in the magic of mangoes with these heavenly mango dessert recipes. Let us know your favourite one in the comments section below.
About Aanchal MathurAanchal doesn't share food. A cake in her vicinity is sure to disappear in a record time of 10 seconds. Besides loading up on sugar, she loves bingeing on FRIENDS with a plate of momos. Most likely to find her soulmate on a food app.