There's nothing like the joy of gifting, especially if it involves delicious treats, which make the experience sweeter. Come the last month of the year and everyone's in a festive spirit, taking
vacations
and/or celebrating with near and dear ones. It is indeed a time for merriment, and to play Santa by pampering your friends and family with special gifts.So have you been thinking about interesting gifting options for this festive
season
? How about breaking away from the ordinary and doing something exciting? How about toiling a little in the
kitchen
to whip up sinful gifts for your close ones? It is a lot of fun and a great way to show them your love and gratitude. Moreover, there are so many tempting treats you can put together at the comfort of your home. If you have kids then you can even engage them in the DIY task, and together wrap up edible gifts in pretty boxes or baskets.
How to Get Started
While you may want to go out of your way to impress by trying your hands at creating a plethora of sinful treats, it is important to remember that they should be easy to pack without getting ruined. Of course you want your gifts looking picture perfect once they are unwrapped by your friends and family. If you can create treats that can last for a few days without having to refrigerate them, then that's an added bonus.
Cookies
, brownies, home-made
chocolates
, caramelised
nuts
, spiced nuts, and the like make the best gifts as they are easy to prepare, don't get spoilt easily and can be packed conveniently in a number of options – place them in a box, tie them up with ribbons in a plastic sheet, fill them up in glass jars, wrap them individually/smaller portions in decorative papers, etc.Pastry Chef Vinesh Johny of Lavonne (Baking Academy, Café and Patisserie in Bangalore) says, "I think an easy way to make edible gifts at home is to use dessert jars. You can create sinful
desserts
, keeping in mind the flavour and colours of the season and bottle them. Another great idea is to fill up a glass jar with all the ingredients (except for the milk, or use
milk powder
) that are required to make a nice home-made spiced hot chocolate. All your friend or relative needs to do is to add some
milk
and relish the treat. It will be a nice touch for the winter."Chef Kainaz Messman of Mumbai's much-loved Theobroma says, "Making edible gifts is a lot of fun. Keep in mind the people for whom you are making the gifts, being aware of their food preferences and also what ingredients are freshly available at that time of the year. I would pick a home-made jam with a mix of
seasonal fruits
; jujubes, they are so easy and children love to make and eat them; cookies to hang on the Christmas tree, which you can spruce up with interesting decorations; cookie butters or even fruit butters and
home-made breads
; chocolate truffles in myriad flavours and toppings; and festive cakes."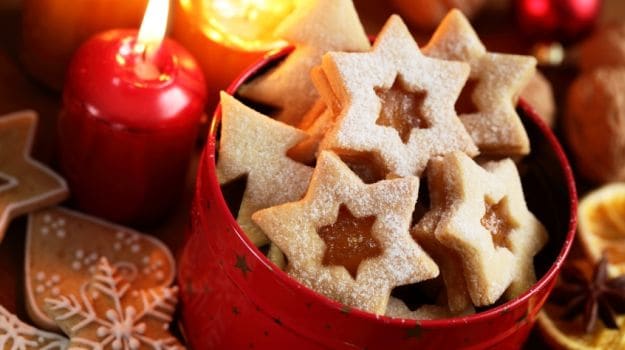 Another point to remember is that the edible gifts should be easy to unwrap and eaten right away. Truth be told, how many of us can stop ourselves from indulging, especially during the festive season? So make them bite-sized or in smaller portions, and convenient to handle. Doing so will also make them easy to share, so that more people can savour your hard work.
Edible Gifts
To get you started at home, we present 10 sinful recipes that are easy to rustle up and guaranteed to impress. Remember to pack them up prettily!
1. Chocolate Fudge
Recipe by Chef Niru Gupta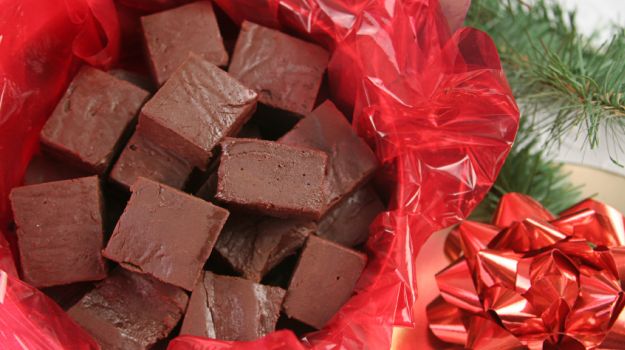 There's nothing like decadent fudge for the festive season. Loaded with nuts or doused in alcohol, they are easy to prepare at home. Cut them into small cubes and fill up the jars.
For the recipe, click
here.
2. Christmas Cookies
Recipe by Chef Divya Burman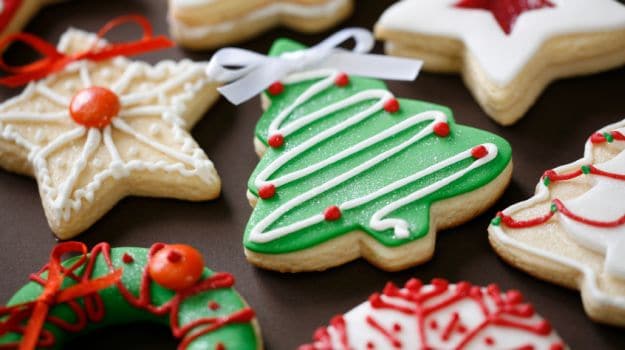 This is bound to be a fun activity with the little ones. Shape the cookies according to the Christmas theme - tree, snow flakes, santa - and decorate them with colourful icing and sprinklers.
For the recipe, click
here
.
3. Ginger Snaps
Recipe by Chef Roopa Gulati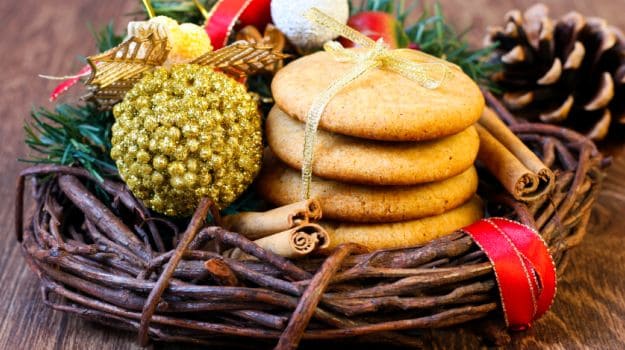 These cookies taste best when combined with whipped cream and sugared fruits. You can make the sugared fruits and pack them along with the cookies in a pouch or a little glass jar.
For the recipe, click
here.
4. Pralines
Recipe by Chef Niru Gupta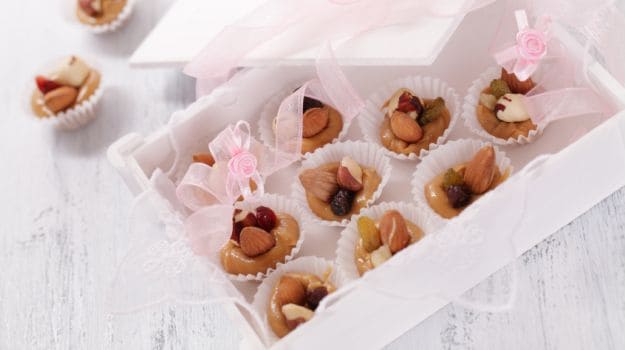 Crunchy sweet treats made of nuts, caramelized sugar and cream. These are easy and fuss-free to make and sure to spread some cheer around.
For the recipe, click
here.
5. Cinnamon Rolls
Recipe by Chef Nishtha Asrani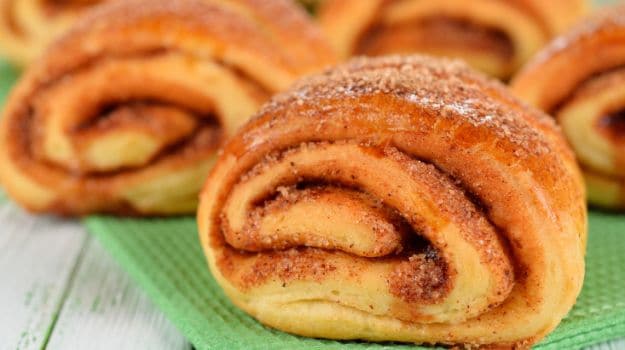 Crisp on the outside, warm and soft on the inside, the spicy note of cinnamon filled in these rolls makes them divine. Contrary to what you think, they are very easy to prepare at home.
For the recipe, click
here.
6. Marshmallows
Recipe by Chef Niru Gupta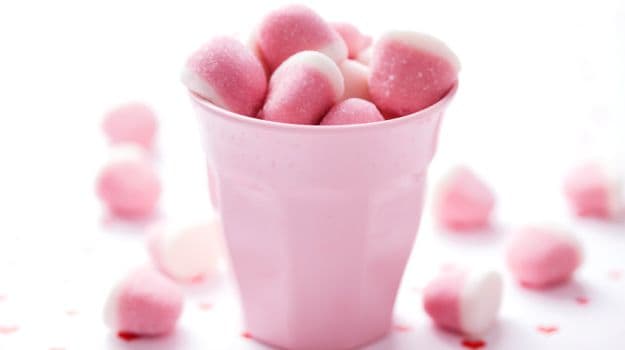 Who doesn't love marshmallows? Make this childhood favourite at home with basic ingredients like gelatin, corn syrup and sugar. Pack them up in beautiful wrappers and make close ones happy.
For the recipe, click
here.
7. Rum Balls
Recipe by Chef Niru Gupta
This all-time favourite treat can be made in a number of ways. Coat the rum balls with cocoa powder, powdered nuts, desiccated coconut or sprinklers. You can also play around with the liquor and do your own heady twists.
For the recipe, click
here.
8. Meringue
Recipe by Chef Joey Mathew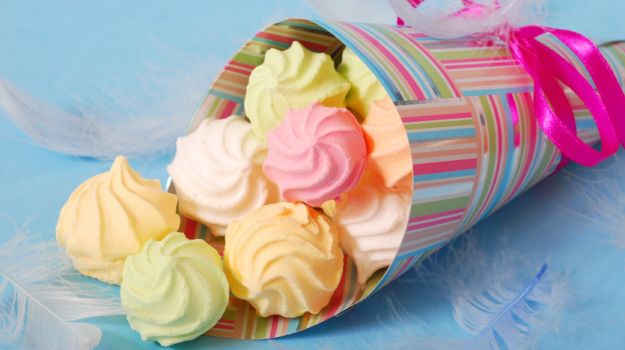 This recipe calls for mangoes, but you can skip them and make the meringues in different colours and send them as a gift. If you like, pack a cream filling along with the meringues so that your friends can make a sinful treat out of it.
For the recipe, click
here.
9. Turkish Jujubes
Recipe by Chef Niru Gupta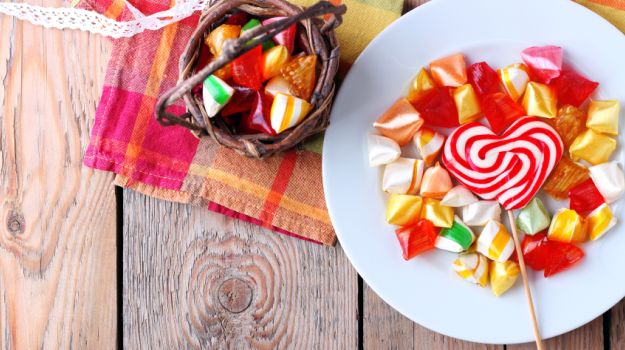 Chewy and fruity, jujube candy is one of the most popular childhood treats. Make them in bright colours and pack them in attractive wrappers. Who can say no?
For the recipe, click
here.
10. Plum Cake
Recipe by Chef Niru Gupta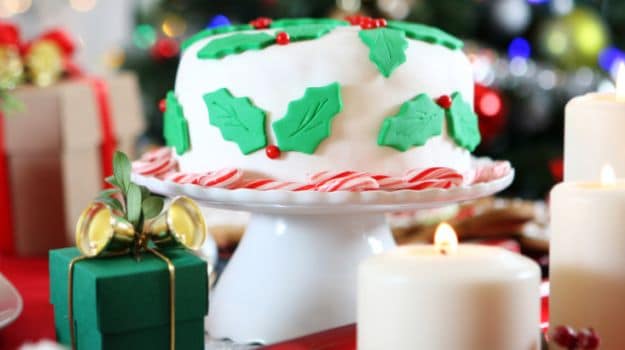 A fruity and nutty cake with the goodness of dried cherries, almonds, raisins and many more dried fruits. No Christmas gathering is complete with this treat.
For the recipe, click
here.