Navratri Thali at SodaBottleOpenerWalaNavratri is here again, it is the time to indulge in a nine-day long festival of fasting and feasting. Navratri is arguably one of the biggest festivals according to the Hindu calendar. The festivities are observed twice a year, once during the onset of summers and the other just before Dussehra. Navratri celebrates goddess Durga and her nine avataars. Each day is dedicated to a distinct goddess. Many observe a nine-day long fast consuming only permitted food items including dairy, fruits and a selection of ingredients barring grains and pulses. Many also only fast during the first and last day of the nine-day long festival. Some staunch devotees also observe nirjala vrat wherein they refrain from eating or drinking anything.
Navratri is also seen as a period wherein a lot of people go on a strict vegetarian diet, especially in North India. If one notices, every year, Navratri falls during the change of season. From an Ayurvedic perspective, foods like meat, grains, alcohol, onion, garlic etc. should be avoided during a seasonal change. It is that time of the year when our bodies tend to have low immunity and we are more prone to falling sick. A typical navratri meal is low on spices and oil and high in dietary fibre and essential nutrients. It is studded with ingredients like amaranth, potatoes, dairy products, fruits and nuts, sabudana, coconut and a selection of other veggies.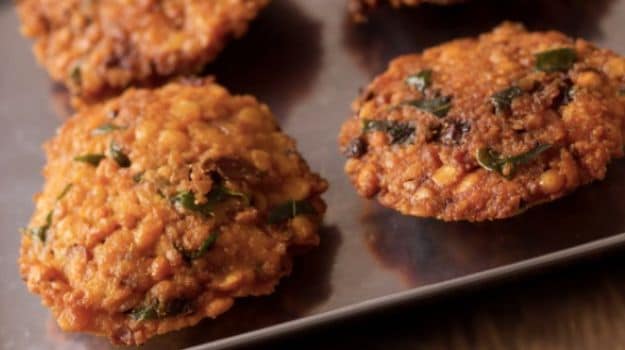 Sabudana tikkis, commonly eaten during navratris

Undeniably, navratri food is a typical no-onion-no-garlic affair. While many might not fancy their food without these ingredients, surprisingly, the simple vrat ka khana tastes quite delectable and beyond the regular. There is just so much that can be done with the earthy buckwheat or amaranth flour or with sabudana and water chestnuts. Restaurants in the capital city have already piled their kitchen counters high with navratri friendly ingredients to cater to those who are on a strict fasting diet as well as for the ones who won't mind trying the subtle and stunning flavours of a traditional vrat meal.
Just in case you want to take someone out for a navratri meal or want to savour the flavours yourself, head this way please. We've handpicked a selection of exclusive and unique deals and special menus in restaurants across the capital city.

1. Anupama Sweets
This popular vegetarian restaurant nestled in Kailash colony market will be offering a Navratri special thali throughout the festival. On offer: potato curry, sitaphal ki sabzi, 4 pooris, chawal, chena rasgulla and salad.
Where: Kailash Colony Market
When: 8th to 15th April 2016
Price: Rs. 220 (exclusive of taxes)

2. SodaBottleOpenerWala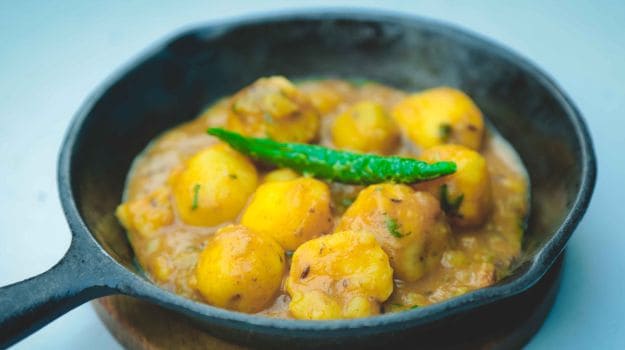 Popular for their Parsi and Mumbai-ya fare, Soda Bottle Opener Wala now takes the game a notch up. The restaurant has organized Navratra Bhonu starting from the 8th of April till the 16th. What to expect? A three course vrat meal. You can choose your starter, main course and dessert. A la carte options are also available. We bet you will be full till the brim when there is so much on offer - Sabudana Papad,Kera na Cutlets, Gwarfali, Khattu Meethu Kaddu, Aloo Sabzi, Kuttu Atta Puri and Vrat ke Chawal and the classic Sabudana ki Kheer along with Vrat ka Falooda with Ice Cream too.
Where: Khan Market and CyberHub at Gurgaon
When: 8th to 16th April 2016
Price: Rs. 450 (exclusive of taxes)

3. Ek Bar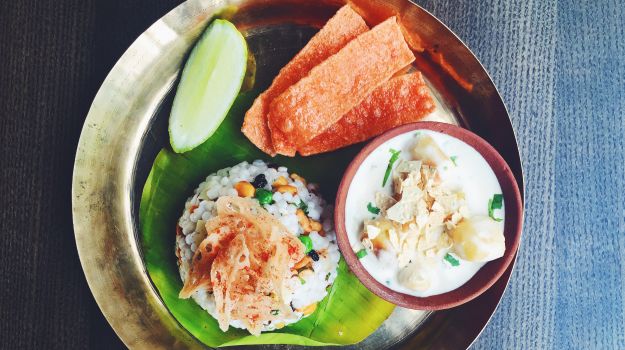 If you plan to be in or around Defence Colony anytime soon, do not skip giving Ek Bar a visit. They will keep you fueled with their special navratri platters - the chota (mini) and bada (large) thalis. What's on the menu? From buckwheat dosa, sweet potato chops, quinoa and desi grain pulao, green banana kofta curry, dates infused tapioca phirni and much much more!
Where: D 17 first floor Defence Colony , New Delhi - 24
When: 8th to 16th April 2016
Price: Rs. 350-450 (exclusive of taxes)

4. Kathputli
The restaurant carries a navratri special menu on all days during the festival including shikanji, chaach, masala shakarkandi, sabudana tikki, pethe ki sabzi, singhara puri, kuttu paratha and dudhiya halwa to name a few.
Where: 35, Defence Colony Market, Defence Colony, New Delhi 110024
When: 8th to 15th April 2016
Price: Rs. 580 (exclusive of taxes)

5. Shraman
The restaurant is known for its mouthwatering North Indian preparations, Gujarati dishes and Rajasthani items. This navratri, the restaurant has on offer 9 different thalis for each of the nine days. You can enjoy a range of vegetarian items including sabudana papad, mixed pakore, lauki ki sabzi, dahi wale aloo, samwat rice, kuttu poori, sabudana kheer, etc. Every day, the thali will have something different to offer, "For example, if today you are getting sabudana kheer, tomorrow you will get papaya kheer, other items will change too," shared a restaurant personnel. The restaurant also has a special navratri snack platter which has mixed pakoras, sabudana vada, arbi kebab and paneer tikka.
Where: The Ashok Hotel, Chanakyapuri
When: 8th to 16th April 2016
Price: Rs.599 for thali; 499 for snacks platter, a la carte option also available (exclusive of taxes)

6. Fio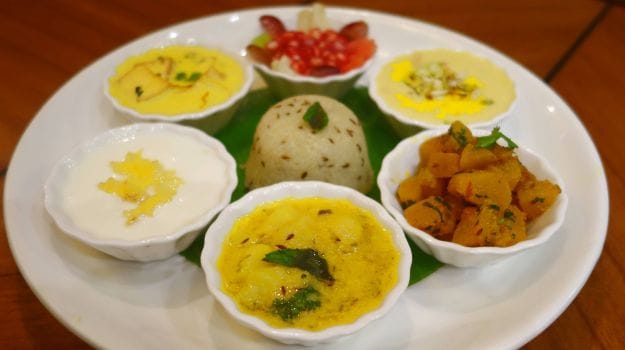 The chefs at Fio Cookhouse have brought to you, a sumptuous mix of traditional vrat preparations sans onion or garlic. Sample the traditional fare with the navratri thali that includes fruit salad, pineapple raita, sabudana & peanut tikki, aloo ki launji, yakhni paneer, pethe ki sabzi, kuttu ppoori, zeera rice and apple kheer.
Where: Garden of Five Senses and Epicuria Mall at Nehru Place
When: 8th to 15th April 2016
Price: Rs. 699 (exclusive of taxes)

7. The Hungry Monkey
Chefs at The Hungry Monkey have worked with different flavours and textures to arrive at an innovative and all vegetarian navratri special menu. Fill yourself up with scrummy spinach and buckwheat crepes, tapioca sago croquettes, cumin dusted cottage cheese and a lot more.
Where: B 6/6 DDA Market, opposite Deer Park, Safdarjung Enclave
When: 8th to 13th April 2016
Price: NA

8. Pride Plaza Hotel, Aerocity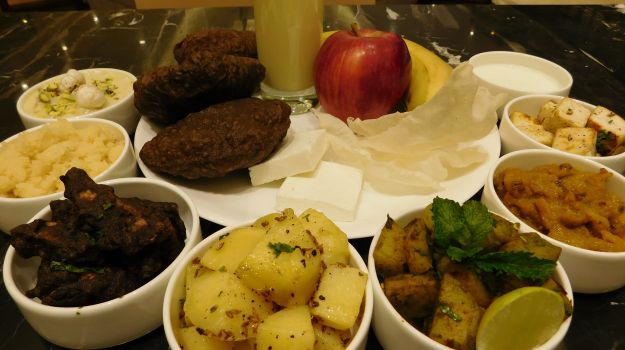 Celebrating the auspicious festival of navratri, Pride Plaza hotel brings to you a specially crafted navratri menu. The array of delicacies to adorn your table would include beetroot or nachni ki puri, kamal kakdi nachni ke pakode, Royal cumin Aur kachche kele ki sabzi, Shakarkandi aur pudine ki chat, Pista Sabudana aur Makhana ki kheer and others.
Where: Aseet 5 A, Hospitality District, Delhi Aerocity, IGI Airport, New Delhi, Delhi 110037
When: 7th to 16th April 2016; Lunch 12:30 noon - 3:30 pm
Price for 2: Rs. 1600 (exclusive of taxes)

9. Dhaba, The Claridges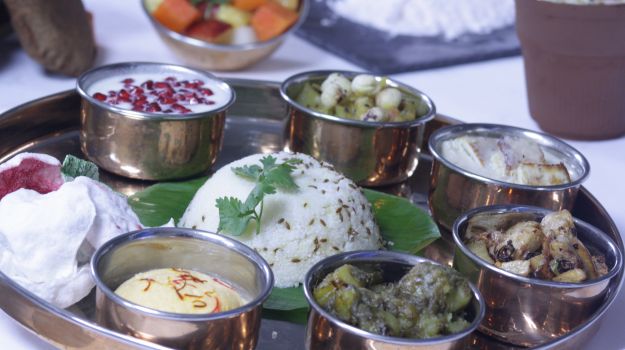 Singhade aate ki puri, sabudana papad, paneer teh, samak ghee bhat, aloo makhane ki bhaji, sookhi chatpati arbi, shakarkandi ki chaat, meethi lassi and the list goes on! What else do you fancy when it comes to a wholesome, mouthwatering navratri feast, that too wrapped around the traditional dhaba ambience.
Where: 12 A.P.J Abdul Kalam Road, New Delhi, 110011
When: 8th to 15th April 2016
Price: Rs. 1695 (exclusive of taxes)

10. Guppy by ai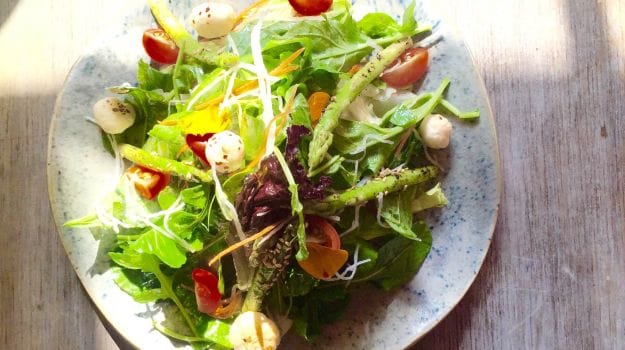 For all those who can't live without their sushi rolls and pan-Asian food, Guppy is doing it navratri style by introducing an all vegetarian menu. What's on offer is pure fancy, Asian food done all vegetarian. Pick and choose from Nasu Dengaki inspired Grilled Aubergine. Tempura, Grilled Portobello Steak, Rice Paper Rolls among other yummy dishes.
Where: 28, Main Market, Lodhi Colony, New Delhi - 03
When: 8th to 16th April 2016
Price for two: Rs. 1800 (exclusive of taxes)10.