Happy Thanksgiving 2016! It's time to
feast
and there's nothing better than having a range of pies to celebrate with.
I've been an enormous fan of pies ever since I lived for a little bit in London. There's something unbelievably moreish about biting into a crumbly, flaky, golden pie crust with a burst of silky-soft meat and creamy filling within, when the weather is frosty and foggy outside. I've had the chicken pot pie, the steak and Guinness pie, the slightly bizarre stargazy pie (with fish heads poking out of the pie crust, gazing, so to speak, at the sky), fish pie, pasties and that's just skimming the surface. These are all savoury although come Thanksgiving, my American friends would bring out an array of sweet pies - pumpkin pie, sweet potato pie, chocolate and marshmallow pie, pecan pie, apple pies and others. There are so many!
How to Make Pies
A good pie crust comes only with lashings of ice-cold butter. You cannot stint on the butter and you have to make sure that it does not melt at all. In fact, also keeping the flour cold would be even better!For sweet pies, a quick crushed biscuit crust works well (ginger, shortbread, Marie, ParleG etc) but for savoury pies, you have to do the work and make a shortcrust shell. All purpose flour has been the mainstay of (sweet and savoury) pie crusts thus far, but nowadays it has become de rigueur to substitute it with almond flour, wheat flour, even oat flour for a gluten free crust. For sweet pies, feel free to lace your shell with flavouring, like coconut or cinnamon.
Let your dough chill and rest in a fridge, preferably overnight or longer. When finally rolling it out, you need lots of flour and a very light touch. This is not chapati dough to be kneaded and tossed around! Fold the bottom layer of your dough under the sides of your baking pan to avoid shrinkage. For best results, blind bake the dough, but this is not necessary at all. And lastly, brush over with beaten egg or egg yolk for a warm, golden crust
Let's start with a pie crust recipe that works for sweet and savoury (with one little tweak), sweet and savoury fillings, and a shortcut, no-bake pie.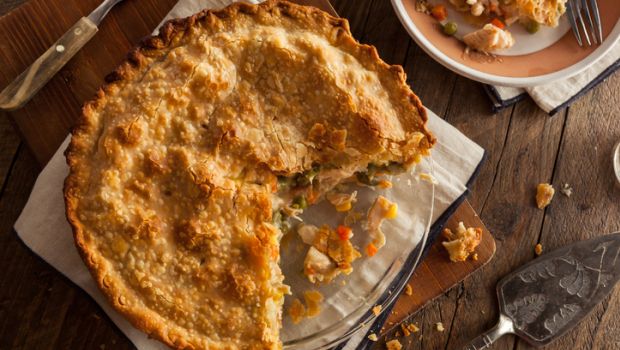 Pie Pastry
If you are making this dough for a sweet pastry, add two teaspoons of sugar in with the salt. You may even choose to leave the salt out completely.
Ingredients:
350g + extra all-purpose flour
1 tsp salt
275g butter
5 Tbsp ice cold water
1 egg, beaten
Method:
1. First, thoroughly blend your salt and flour together in the food processor.
2. Cut the butter into evenly-sized cubes, place them evenly on top of the dry ingredients in your food processor, and then mix in short bursts. Do this until the dough becomes clumpy and wet, and no flour remains. This may take a while.
3. Now bring out the dough and place onto a heavily-floured surface. Add the cold water in, spoon by spoon, gently folding to make sure it is all absorbed. Then divide the dough into two portions (one for the bottom of the pie and one for the top) and roll both the pieces into discs. Wrap these discs separately in cling film and let them rest in the fridge for at least two hours.
4. When you are ready to bake, bring out the dough and roll it out, in one direction, on a surface that has been heavily floured. Do this gently and do not flip it around too much like a chapati. Lay the dough on to your baking pan, making sure that it goes all round the sides, letting it hang over the rim. Prick it all the way round with a fork. Pour your filling into the dough and then unfurl the second disk in the same way to make a crust for the top. For a sweet pie, you can even make a wonderful criss-cross lattice design if you prefer.
5. Lightly brush the egg on top the pastry (this egg wash will give your pastry that gorgeous golden glow), and cut four slits into the dough on the top. Bake in a preheated oven until golden (approximately an hour at 400 degrees).
Best Pie Recipes
Almost everything goes well with this creamy pie recipe. You can substitute lobster or chicken for prawns. If you are using chicken, you may add in carrots and mushrooms into the filling. You can even try a vegetarian pie, with mushrooms. For the recipe, click here.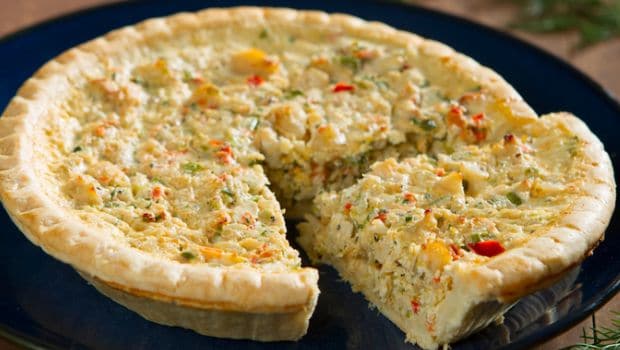 This one is a typical sweet Thanksgiving pie, although it took a bit of getting used to, at first. My Indian taste buds were not accustomed to eating sweet potato as a sweet pie! For this recipe, you can use either the biscuit crust or the more traditional pie crust above. Click here.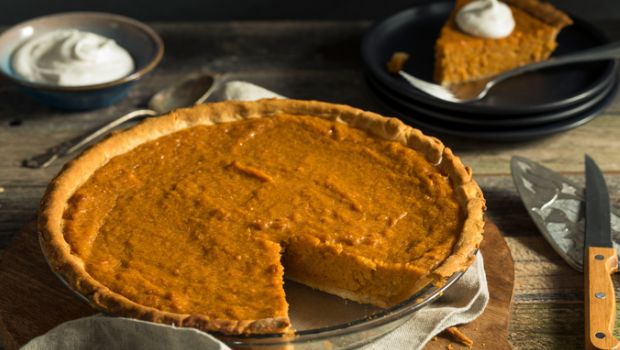 here.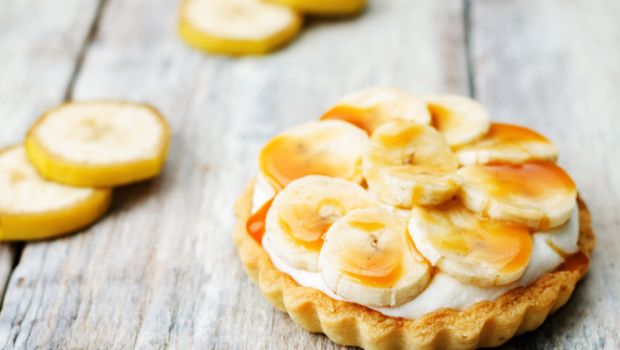 4. Pecan Pie
Recipe by Chef Niru Gupta
The classic pecan pie requires corn syrup but this version of the pie uses maple syrup and brown sugar. The vanilla and butter enhance the flavour of the pecans. Enjoy it with scoop of ice cream. For the recipe, click here.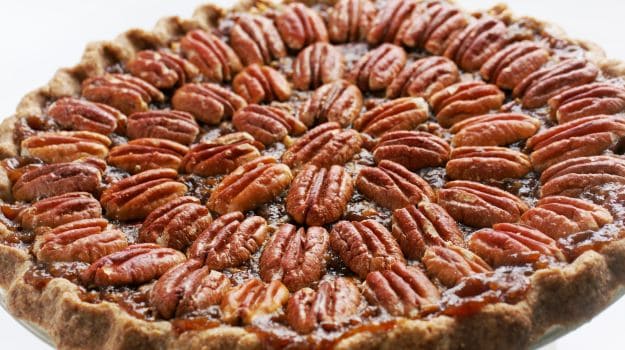 5. Pumpkin and Spinach Pie
Recipe by Chef Vicky Ratnani
Freshly made pie dough filled in with a diverse mixture ranging from peppers, pumpkin, herbs to cottage cheese, leeks and celery, baked and served with salad. For the recipe, click here.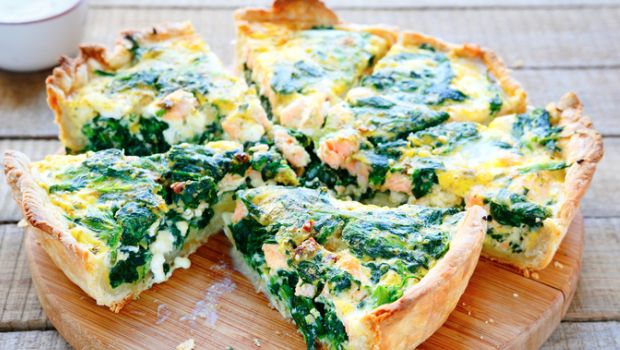 Nutty and fruity at the same time, walnuts and dates are baked in a pastry shell. It's a perfect winter treat. For the recipe, click here.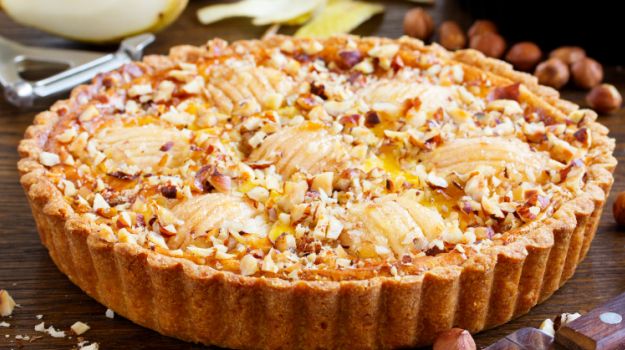 7. Old Fashioned Apple Pie
Recipe by Chef Prem Kumar Pogakula, The Imperial
Thanksgiving is never complete without relishing a slice of freshly baked apple pie. Top it with some whipped cream and enjoy. For the recipe, click here.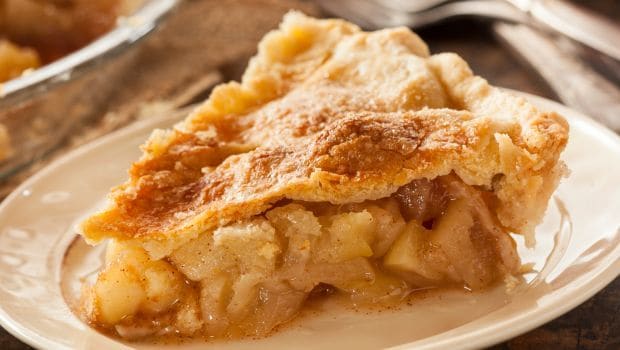 About the Author:
Meher Mirza is an independent writer and editor, with a focus on food and travel. Formerly with BBC Good Food India, she loves anime, animals and artsy things but also comics, technology and death metal.
Disclaimer:
The opinions expressed within this article are the personal opinions of the author. NDTV is not responsible for the accuracy, completeness, suitability, or validity of any information on this article. All information is provided on an as-is basis. The information, facts or opinions appearing in the article do not reflect the views of NDTV and NDTV does not assume any responsibility or liability for the same.