"As much as I love relishing juicy, tender, perfectly cooked chicken breast, I dread cooking some on my own. Cooking chicken breast is like my kryptonite, the more I love it, the more I resist cooking it because I can never get it right!" Such is the predicament of my chicken loving friend; doesn't the same resonate in the minds of most of us? Mastering chicken breast recipes may come across as an effortless activity, but in reality can be extremely difficult to get right. One of the commonest mistakes that most people make while cooking chicken breast are overcooking it and not marinating it properly. In such a case, the key is to let the chicken breasts soak in as much flavour as possible and cook them for not more than 15 minutes.

There are many ways you can cook chicken breasts: Stuff it and bake it, grill it, pan sear, sauté, stir fry, steam or use it in a rich curry. Once you master the art of cooking it, there is no end to the delectable dishes you can prepare. Join us in our quest to get chicken breasts cooked right with simple tricks.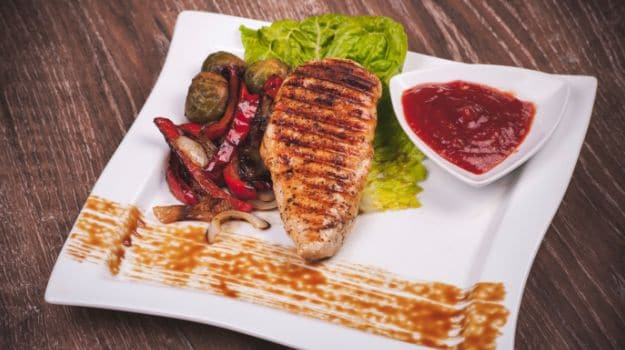 1. Marinating and tenderizing the chicken breasts are really important. They ensure that the pieces are loaded with juices, oils and flavours, and are moist and juicy.

2. Ingredients with distinct pungency work wonders with chicken breast. You can team the pieces with mustard, basil, pesto, teriyaki and so on.

3. Salt, dried herbs, pepper, sugar, vinegar, lemon juice, yogurt, cream and spices are other agents that can aid in marinating your chicken.

4. Avoid overcooking the chicken breasts. Chicken breasts, when marinated properly, cook quickly. Whether baking or pan searing, they will be ready in 20 minutes max!

5. Refrigerate the chicken in case you plan to keep it marinating for over an hour.

6. Avoid marinating chicken breasts for a long time. Keep a balance between oil and acidic element. Over-marinating may make the flesh turn squishy and mushy.

7. Make sure you choose the right pieces for your dish; larger, thicker pieces will take more time to cook. Do not forget to make gashes in the meat to facilitate seeping in of flavours and oil.

8. Try glazing the chicken breasts while cooking, it renders instant flavour.

9. If need be, keep chicken breasts in between plastic sheet or cooking sheet and pound it gently to flatten it a bit. This will ensure quick cooking.

10. Last but not the least, if you are pan frying or baking whole chicken breasts, once it is done, do not rush to cut the meat right after as it will result in flavourful juices to seep out of the meat. Let it rest for few minutes so as the meat soaks in all the flavours and juices. Slice, plate and serve!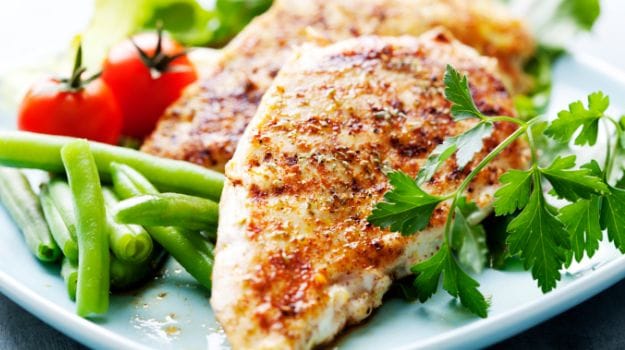 Recipes to Try at Home

Now that you have got the basics right, it's show time! Show off your skills and get inspired with 10 sensational, mouthwatering recipes that will make you fall in love with chicken all over again!
1. Chicken Mascarpone
Recipe by Chef Ritu Dalmia
Chicken breast is stuffed with mascarpone cheese, barbequed and served with a lip-smacking, silky white sauce.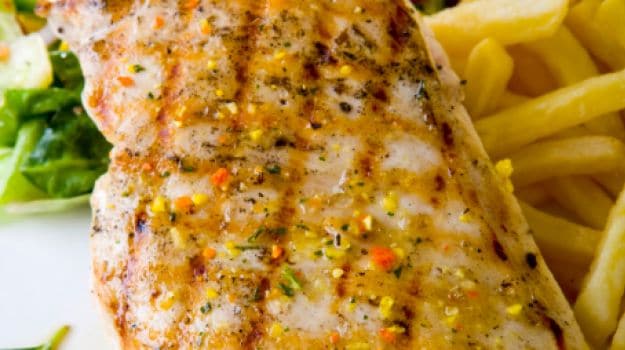 2. Stuffed Chicken Breast with Steamed Beans
Recipe by Chef Joey Matthew

Chicken breast is stuffed with a mix of aubergines, ham and wrapped delicately in bacon.

3. Chicken Layonnaise
Recipe by Andy
Juicy pieces of chicken breast are sauteed in butter, onion and garlic to make a flavourful treat.

4. Grilled Herb Chicken Breast with Honey and Asparagus
Recipe by Tara Josh, The Chatter House
Chicken breasts are marinated in a heartwarming blend of honey, thyme and lemon and served along with crispy asparagus and potatoes.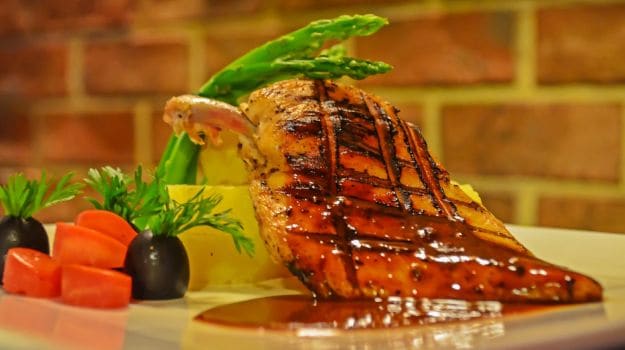 5. Chicken Schnitzel, Chunky Fries and Chilli Mayonnaise
Recipe by Chef Joey Matthew
Learn to master the art of cooking this Austrian specialty in few easy and simple steps. Chicken breast is pounded, coated in batter and crispy fried; served along with potato fries and mayonnaise.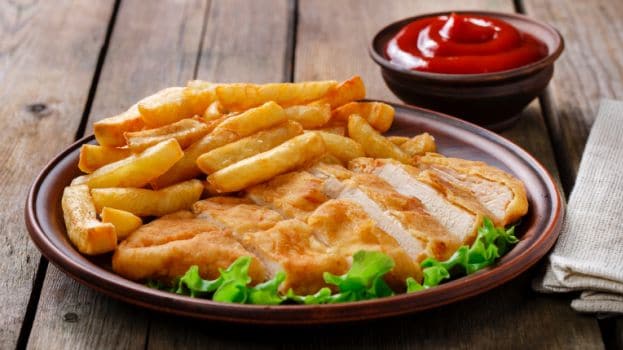 6. Chicken Korma with Coconut Milk
Recipe by Chef Marut Sikka
One of the most loved Indian delicacies, Marut Sikka shows us how to perfect the art of cooking chicken korma. Chicken breast pieces are marinated in yogurt and cooked in coconut milk and an array of aromatic spices.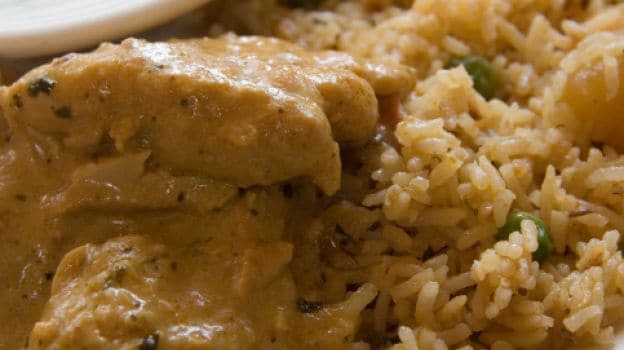 7. Asian Sesame Chicken Salad
Recipe by Chef Ritu Dalmia
For those who are always on the run. Toss in chunky chicken strips along with a zingy salad dressing, nuts, balsamic vinegar and olive oil.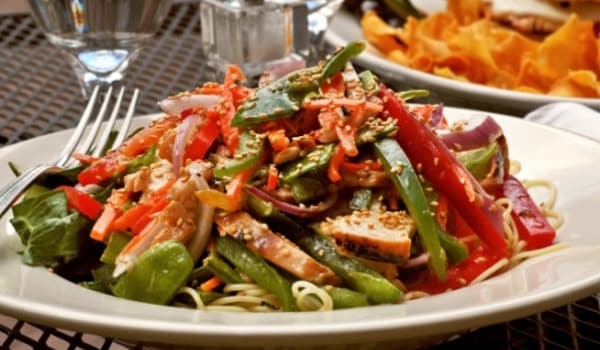 8. Greek Barbequed Skewers
Recipe by Chef Manju Malhi
Chicken breasts are marinated overnight and grilled to perfection on skewers. These make as perfect party snacks.
9. Grilled Chicken in Mustard Sauce
Recipe by Chef Manju Malhi
Chicken breast seasoned with salt and pepper, pungent mustard sauce with cream, onions and white wine, and grilled to perfection.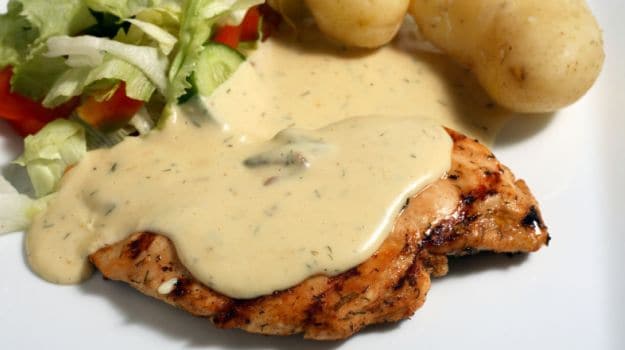 10. Chicken Sizzlers
Recipe by Chef Niru Gupta

Chicken breasts are marinated, deep fried and served hot. Rev up your dinner party with these chunky chicken sizzlers that will score high on the flavour quotient.