I grew up in the days of Moti Mahal and Fujiya. In those days, a restaurant represented a certain cuisine, and no more. There was no 'concept' behind the restaurant. You went to one to eat Hakka Noodles and Shredded Lamb in Hot Garlic Sauce and to another when you wanted Butter Chicken. As diners in India evolved, so did the restaurant scene. Cut to today, a restaurant is no more just that. It represents an ethos, a way of thinking. You go there to be a part of the vision that the owners and the chef collectively put on the plate.Twice Michelin Starred Chef, Atul Kochhar's NRI (Not Really Indian) is just that. Not Really Indian. If you're looking for Butter Chicken or Misal Pav, this is not where you should go (and if it the former you seek in Mumbai, all the best for that). The concept is to recreate Indian dishes that traveled abroad with NRIs and other settlers and transformed there with local ingredients and flavours. The menu is interesting, the food even more so. There is a hint of nostalgia, where you recognise the base flavours or it reminds you of something that is so familiar to you, yet it has taken a form which is new and not-so-traditional.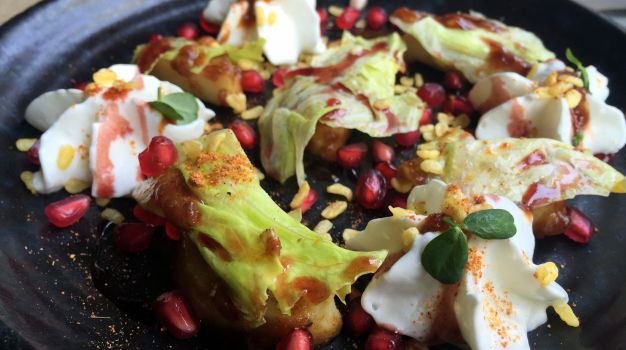 Dalim Shakarkandhi Chaat
The location is conveniently set in
Mumbai
's Cyber-Hub, Maker Maxity, BKC. In tune with its surroundings, the restaurant has glass walls which makes it bright and lends a feeling of space. The décor is industrial, with some abstract milk cans hanging in one corner and a cart of mints somewhere near the entry. A fairly concise menu, it is split into 6 parts - A splattering of
salads
, some hot small plates, a bunch of tapas dishes with your drinks, a section called Tem Pakoras, familiar Indian dishes in one and finally, the NRI curries. Food tasting is a very personal experience, it being subjective. You need to see, taste, allow your mind to process the dish. Sharing this experience with someone else runs the risk of your opinion being influenced. However, this one time, I made an exception to my rule and shared the NRI experience with a fellow columnist on NDTV Food and food blogger,
Kalyan Karmakar
(known for his blog Finely Chopped). The food banter added another dimension and we shared views and thoughts over a very refreshing Curry Leaf Martini, imported straight from Atul's acclaimed London restaurant, Benaras.The 'Cold' menu did not impress, though the Dalim Shakarkandhi Chaat was reminiscent of street food we have all enjoyed growing up. However, at Rs.225, it would need a certain edge to be a repeat order. I suggest you give the Cold and Hot sections a miss and head straight to the 'Robata' section which has some clear winners. The South African Piri Piri
Wings
(Rs.275) are char grilled, sticky and just perfect. Another hit in this section were the
Pork
Curlies (Rs.425), curled up pork sausages glazed with a tangy barbeque sauce. Perfect bites to enjoy with your drinks.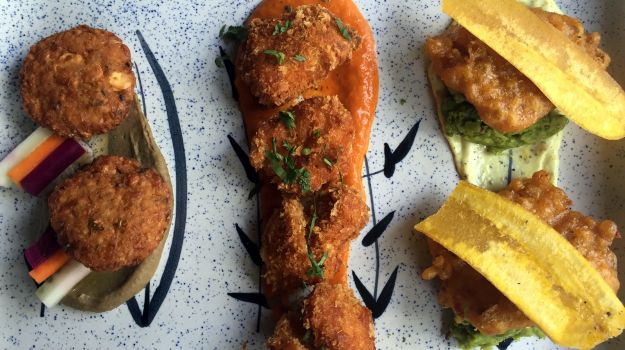 The Tem Pakora section
The Tem Pakora section is unique in its attempt to use a mix of Tempura and Indian
Pakora
batter in an array of items. In this section too, we fell in love with Chef Atul's import from the Benras menu, Karara Kekda (Rs.750). Baby crabs imported from Sri Lanka are marinated and fried in the perfect batter which lends it a crunch and maintains the integrity of the meat inside. Again, skip the India Wale section (as mentioned above, if North Indian curries are what you want, you should be eating at Khane Khaas or
Nihari
at Md. Ali Road). Instead, indulge in the mains off the 'NRI Curries'. This section is the embodiment of what the restaurant stands for. And this is perhaps the section that it should ideally be judged on. It is not a populist list of what will sell the most, instead, it has a handful of delicious dishes, each unique, with their base somewhere in Indian flavours, yet transformed beyond recognition.The Caribbean Goat Curry (Rs.575) is fruity and plays an interesting symphony of sweet and savoury on your palate. It is served with a stellar Buss Up Shut Roti, a crunched up, light, South Indian
parotta
(if you may) that is perfect to lap up the curry with. The star of the show, for me, was the Bunny Chow. Served inside a scooped out bread loaf, this
mutton
dish from Durban is so good that conversation on our table stopped for a whole 5 minutes as we ate. A must have.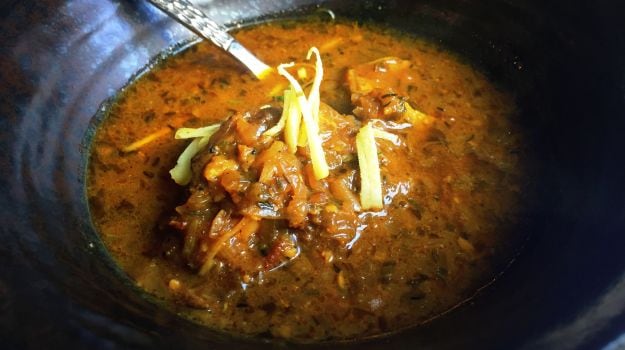 The Caribbean Goat Curry
As all restaurants in today's world should, NRI stands for something, the fine balance between the familiarity of the motherland and acceptance of your new home. The menu shines in some areas and passes muster in some. But if you know what you should order here, this is a meal that you will enjoy and come back to. Great for an afternoon
work lunch
or an early evening drink.It is refreshing to see Indian chefs who have made a mark in the global culinary world come back to the mothership and showcase their expertise here. In some ways, it is their nostalgia that urges them to do so, but it is also a reflection of their belief that the Indian diner has evolved and is now more open to new concepts, new flavours and to exploring the unfamiliar. And for that, we are mighty glad.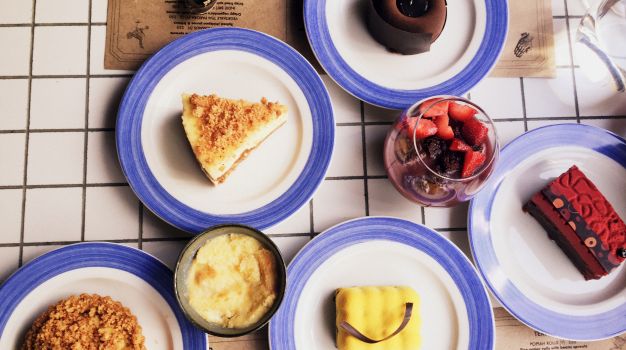 Desserts at NRI
Address: 2 North Avenue, Maker Maxity, Bandra Kurla Complex, MumbaiMeal for 2: Rs.2000Must Haves: Curry Leaf Martini, Piri Piri Chicken Wings, Bunny Chow & Ajwain Cheesecake