Let's agree, it is kind of impossible to prepare a wholesome meal to satiate midnight cravings after a long tiring day at work. We all have been into this situation before where our tummies begin to growl but our tight schedule does not allow us to prepare lavish snacks. In situations like these, we often search for some easy homemade recipes that can be made with existing ingredients in the pantry. Right? Recipes such as bread poha, roti tacos and Bombay toasty are a few examples that are simple, satisfying yet so delicious. And the best part is you will spend less than 30 minutes in preparing each one of these recipes which also makes them perfect for days when you are too lazy, too busy or perhaps too hungry to even wait! So, without any further ado, let's learn about them and their recipes. Read on.


Also Read: 13 Best Easy Snack Recipes
Here's A List Of 7 Easy Homemade Snacks Recipes You Must Try:
1. Bread Poha
Bread is one of the first things we reach out during untimely cravings. From classic sandwiches to egg omelette and more, there's literally so many recipes one can prepare by using bread. Here we bring you, one such recipe known as bread poha. Made with the goodness of spices like hing, turmeric powder, mustard seeds and more along with bread chunks, this recipe is all that you need to prepare an instant delicious snack. Click here for the recipe.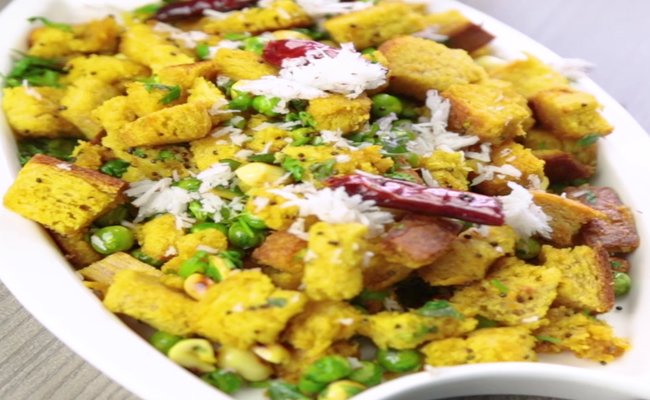 2. Bombay Toasty
Sandwiches are basically a quintessential recipe to satiate midnight and mid-meal cravings. To make this sandwich, all you need is some veggies, mint chutney, butter and two slices of bread. So, move over your regular sandwich and try out this one! Here's the recipe for you.
3. Masala Omelette
Eggs have a tremendous amount of protein and also a bunch of other nutrients like Vitamin B2, B6, K, A and D. The combination of some veggies makes this masala omelette recipe enriched with fibre as well. If you are following a low carb diet, this recipe is an excellent snacking option. Find the recipe here.
4. Roti Tacos
There are times when we are left with some leftover rotis at home. Ever thought of giving it a Mexican twist? Well, this recipe is a must try. It requires only a handful of left-over rotis, some veggies, cheese, sauce and herbs. Click here for the recipe.
5. Desi-Style Poha French Fries
If you are up for some easy yet experimental recipe, then this can be a right fit. Poha French Fries or poha fingers are fuss-free recipes and can be made in less than half-an-hour. All you need is a bowl of poha, some boiled potatoes, all-purpose flour, spices and oil to fry. Click here for the recipe.
6. No bread Sooji Toast
You all must have tried sooji toast, but this no-bread sooji toast is a game changer. All you need is some sooji, curd, some veggies and it's done. Wondering how? Here's the recipe for you to try at home.
7. Besan Cheela
Want a quick, easy and light snack to satiate untimely hunger? This wholesome and yummy cheela recipe made with besan, chillies and spices is perhaps the best pick! Click here for the recipe of besan ka cheela.
So, next time when you want to cook something easy, quick and light, try out these recipes and let us know which one turned out to be your favourite.