"And there's a hand, my trusty friend!
And give us a hand of yours!
And we'll take a deep draught of good-will
For long, long ago."
One of the most sung New Year's Eve verses, anywhere from Beijing to
New York
, is of course, Auld Lang Syne. But as we bid adieu to yet another year, usher in the shining new, it may be interesting to delve a little deeper into how some of the many rituals, and yes, rituals of eating surrounding
New Year's Eve
and Day came into being.Auld Lang Syne, for once, derives from the traditional Hogmanay festivities in Scotland. In Glasgow and other areas of Scotland, Hogmanay parties still involve singing, dancing, eating of steak pie or stew, storytelling and
drinking
. And they go on till day break of January 1st. But Hogmanay was not really a "New Year's" feast. Traditionally, this was a winter festival with Celtic roots possibly to celebrate the end of winter marked by the winter solstice and the "return of light" to the world.
January 1 as the official first day of the new year may be the most celebrated day the world over. But this date became special only with the adoption of the Gregorian Calendar in Tudor England, from where the official '
New Year
' spread to all the Colonies and resulted in the worldwide celebrations that we now see.In India, we can hardly be oblivious to the fact that different cultures celebrate their New Year at different times of the year. From Ugadi to Baisakh to
Diwali
, all our New Year celebrations too, involve their own rituals of eating and
drinking
. The premise, however, remains the same - however and whenever you are celebrating the birth of a new year - regeneration. And a time to celebrate new life and hope.In traditional agrarian communities, the consumption of specific types of foods is closely linked with these celebrations. Rituals involve eating or blessing food, so that we have enough of it in the ensuing year. The fertility of the land is closely linked to prosperity and by celebrating the former or "encouraging" it, what essentially, we are hoping for is the ensuing prosperity in the next 12 months.Foods symbolic of this plentitude, of new life, and richness are thus what are typically consumed on the new year day.
Eggs
and
nuts
—both symbols of new life and potential have been gifted and eaten in European cultures, as is also aged
cheese
, which you should eat on January 1, if you believe in such magical ritual. Sweet cakes full of nuts and fruits, and
greens and beans
, which represent money and prosperity too.
Pork
too is deemed lucky to eat, delicious as it is! And
apples
, symbolic of love and fertility.In fact, wassailing the apples was a common ritual in England, when
apple
trees are blessed by pouring cider at their roots, singing songs and drinking cider from a common cup made of apple wood. Since all these customs have now merged to form part of generic New Year's festivities,
cider
, is quite a New Year's drink too.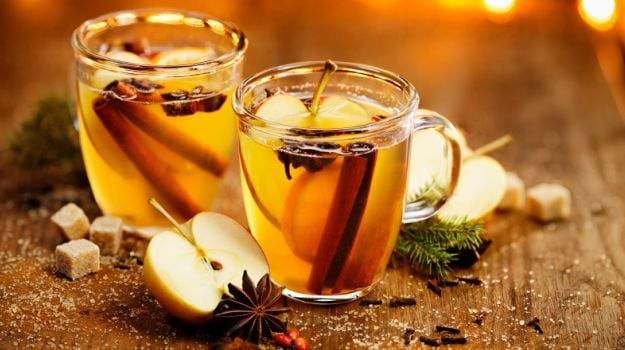 The
Chinese New Year
is still sometime off and the cultural references are obviously different. But the principles are the same: You eat what you hope to most have in the new year. "Lucky foods" served during the 16-day festivities include
dumplings
, fish,
spring rolls
and so on—the sound of the name in Chinese is as important as the shape and ingredients of each dish. Carp and Catfish are both considered lucky. Though there are complicated rules of how the fish should be eaten—whether you should reserve the head and tail till after new year, where should the head point while serving (towards elders and guests as a mark of respect) and so on.Popular sayings also encourage you to eat as many dumplings as you can—because the more you eat the more money you will make in the new year. However, before you start doing that, you need to be careful about the number of pleats on each dumpling—they have to add up to an auspicious number!
Noodles
, of course, symbolize a long life and should not be cut. And golden fruit like
oranges
and tangerines are deemed lucky too.In different parts of India, with different flora and fauna and harvest times, what you eat in the new year to usher in luck is different too. In my family, eating yams for Diwali, our New Year's eve, is mandatory as Lakshmi is supposed to reside in the plant.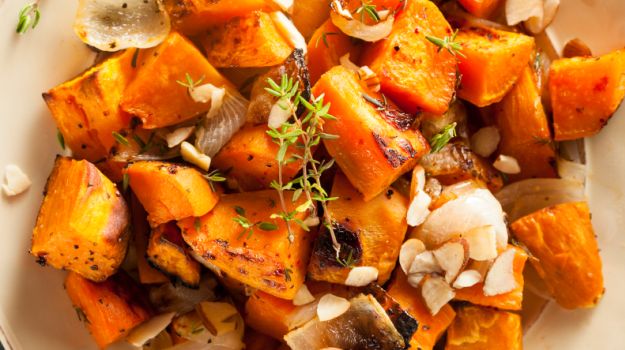 An Ugadi
pachadi
, one of the most important dishes made to usher in the New Year (mid January) in South-Western India, on the other hand combines many different flavours—sweet, sour, bitter and fiery with
neem
, jaggery, coconut, raw mango and chilli powder, symbolizing perhaps the diversity yet completeness of experiences coming your way in the new year. And rice, sesame and jaggery are of course naturally important too during the various sets of festivals marking the harvest and the return of the sun to the "Makar" (Capricorn) rashi in mid-January--- Bihu,
Pongal
, Shankrant - all have their own good luck foods. But that is another story!For tomorrow, just a simple ritual should suffice: Eat (and drink) what you want (or hope to) through the rest of the year!
About the Author:
Anoothi Vishal is a New Delhi-based food critic, writer and curator, with a deep interest in diverse cuisines, culinary cultures, the historicity of food, and the business of F&B retail. She will track contemporary trends, examine both the business of food and its creative aspect and review restaurants.
Disclaimer:The opinions expressed within this article are the personal opinions of the author. NDTV is not responsible for the accuracy, completeness, suitability, or validity of any information on this article. All information is provided on an as-is basis. The information, facts or opinions appearing in the article do not reflect the views of NDTV and NDTV does not assume any responsibility or liability for the same.