My daughter goes to school at 7 am, which means that I have to wake up at 6 am and groggily cook her tiffin, before getting her dressed. In the first few months, I was super-enthusiastic. I tried lots of recipes and cooked a myriad of dishes early in the morning, from pasta to cheela and many more. However, as the enthusiasm weaned off (and I realised that she wasn't getting her morning dose of egg), I had a brainwave. Since then, her favourite tiffin is a couple of French Toasts, and I couldn't be happier. Nutritious, quick and easy to make and delicious. It's a win-win situationBut Are French Toasts Really French?Despite the nomenclature, what is interesting is that these yummy breakfast foods did not really originate in France. The origins are hazy, with mentions of a similar dish back in the 5th Century in the times of the Roman Empire. The first mention is in Apicius, a collection of recipes from those times. Called Pan Dulcis then, it talked about bread being soaked in milk (and sometimes some egg) and fried up in butter or oil. Over time, more mentions emerged, one of which was during the reign of Henry V, when it was called Pain Perdu. Literally translating into 'lost bread', it was usually cooked by soaking stale bread in a mixture of egg and milk before frying it.
An alternate theory suggests that the name was actually used for the first time by an American Innkeeper, Joseph French, in 1724, who added 'French Toast' to his menu without caring much for the grammar. This theory has been debunked by food historians, but does make for great conversation.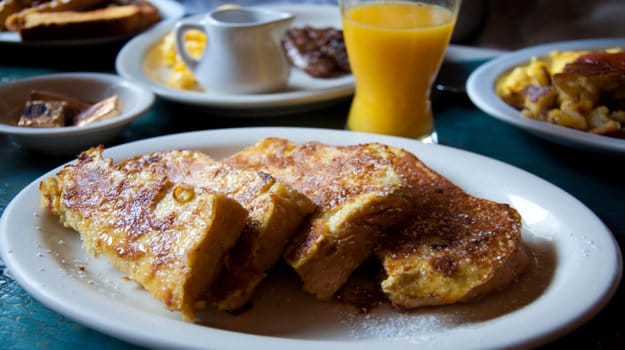 Nutritional Value:
If cooked with 2 slices of brown bread, 1 egg, some milk and ½ tsp of butter, 2 French Toasts contain around 300 calories. The nutritional components are great, with a balance of proteins and carbohydrates, the perfect way to kick off the day. Dr. Rupali Datta, Chief Nutritionist, SmartCooky adds, "French Toasts make a wholesome breakfast if consumed with a smoothie or milkshake and with some fruits on the side". The basic recipe is healthy, but what you top it with may add up the calories. Make the right choices. When Do People Around the World Eat French Toasts?
Though I may be packing my daughter off to school with French Toast as her breakfast tiffin, it is served at varying times in different countries. In France, it is eaten as a dessert after meals, besides being a breakfast favourite. Halfway across the world, in Hong Kong, a deep fried version is popular. This one is more like a sandwich offered in the tea houses, with a sweet filling. The bread slices are dipped in soy or beaten egg and deep fried. Served with a dollop of butter on top and a drizzle of honey. Back in Europe, Spain in particular, Torrija, a dessert cooked during the week of Lent is popular and topped with a sprinkling of cinnamon.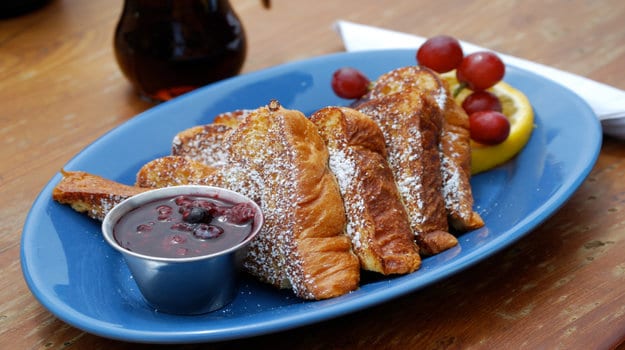 Versions of French Toast
Breakfast menus are quite the rage these days. Restaurants are no more shying away from including things like pancakes and French Toast in their menu. This is great news for the diners, especially thanks to all the versions that they can choose from. With spice sprinkles like cinnamon or a touch of nutmeg to toppings like blueberries,
maple syrup
, bananas and
strawberries
and more, there's never a dull French Toast anymore. Restaurants also differ on the basic recipe, some soaking the bread in orange
juice
or wine instead of milk. Smoke House Deli, a popular restaurant chain with outlets across cities, serves their pancakes with a cranberry compote. Indigo Deli does the same, though they make their preserves in-house.
How to Make the Classic French Toast
Often, it is the simplest things which are the most difficult to perfect. A French Toast, thankfully is not one of them. If you follow the recipe below, you can also flip-up a pile of French Toasts in a jiffy.
Ingredients:2 slices bread
1 egg
3 Tbsp milk
1 tsp sugar
A few drops vanilla essence
20 gm butterMethod:1. In a wide bowl, mix all the ingredients except for the bread and butter.2. Soak the bread slices in this mixture.3. Traditionally and ideally, the slices should be soaked for a while (chefs range from half an hour to overnight). However, if you do not have time at hand (like I don't at 6 am), just turn them around a couple of times to soak on both sides for 2-3 minutes.4. Heat a pan and add the butter. Place the slices in the hot pan.5. Cook on both sides on medium heat. The sugar burns quickly so keep an eye.6. Remove from heat.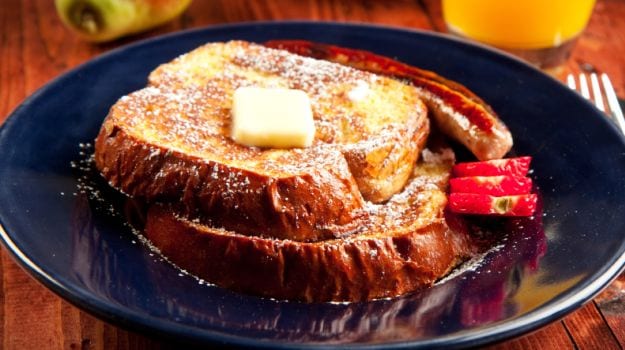 Easy Variations:Here are quick tips for you to spruce up your French Toast:1. Use a non-stick pan and thus lesser butter if you want to make it guilt-free.2. Though you can use a variety of breads for these, brown bread or multi-grain bread makes them healthier.3. Simply dust with cinnamon and enjoy with a dollop of whipped cream on top.4. Top with a compote of blueberries or strawberries (or just place chopped berries on top while serving).5. Caramelise banana slices in some maple syrup or honey on low-medium heat and add them as a delicious topping (or even a stuffing between 2 French Toasts). 6. For some flavour variations, you can soak the bread in some red wine or orange juice first and then in egg before cooking.7. This may sound completely bizarre, but try pairing your sweet French Toast with a few strips of crispy bacon. The salt cuts through the sweetness. Delicious. Whichever way you cook it up, French Toasts are a great way to start your day, or even end a meal for that matter. So what if it is not really French, a platter of these will have you saying Merci Beaucoup with a smile.