Sandwich recipes- Most morning start out the same: hitting the snooze button till you're certain you're late, brushing your teeth and pulling out the day's outfit, all the while wondering - "How would I like my eggs today: fried, scrambled or boiled?" How about, none of the above!



If you're marred by this daunting question day-after-day then we've got news - you're not alone! Even those who love eggs will tell you that the same-old-sunny-side-up just won't cut it anymore. Your morning meal should make you want to wake up, seize the day and feel all warm and cozy. So we did some homework and found five egg-celent egg sandwich recipes that are fuss-free, easy to make and don't need you running out the door with a grocery bag. So sit back, enjoy and lose yourself in your morning cuppa.


7 Egg Sandwich Recipes To Try At Home:

1. Scrambled Egg Sandwich
This one's my favourite breakfast recipe of all time. The eggs are mildly seasoned and cooked for only a few second so they're soft and go really well with toast.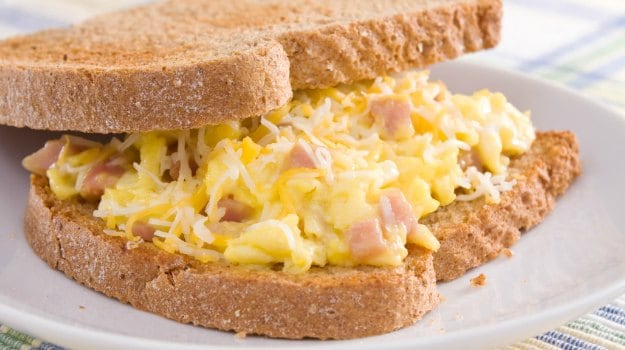 One of the most popular and delicious sandwich recipe to make for breakfast.

Ingredient:


1 medium onion, diced small
1 Tbsp olive oil or cooking butter


2 eggs


1/2 tsp black pepper


Rock salt to taste


1/2 tsp mustard sauce


1/2 tsp sriracha or any hot sauce


1/2 tsp oregano/fresh basil leaves


2 slices brown bread


1 pod garlic



Method:


1. Heat the pan till it's hot. Now, put the butter in till it melts. Add the diced onions and let them fry till they're golden brown and crisp.


2. Add pepper, salt and mix.


3. Break the eggs and let the bottom turn crisp. Now, add the sriracha, mustard and oregano over it.


4. Turn off the gas, scramble the eggs and take them off the heat.


5. Rub some garlic over the bread, spread some butter and heat it on the pan.


6. Put the scrambled eggs over the toast and serve.

2. Egg and Mayo Sandwich
This classic combination never ceases to deliver. I prefer the combination of boiled eggs over scrambled with mayonnaise because they seem to mask the somewhat eggy taste of scrambled eggs. Then there's also the question of hard boiled vs soft boiled eggs: Clubbing soft boiled eggs with mayonnaise can make the whole thing gooey because the centre of the egg is a bit loose and the mayo tends to make it even more runnier. I'd recommend you let the eggs boil a bit longer.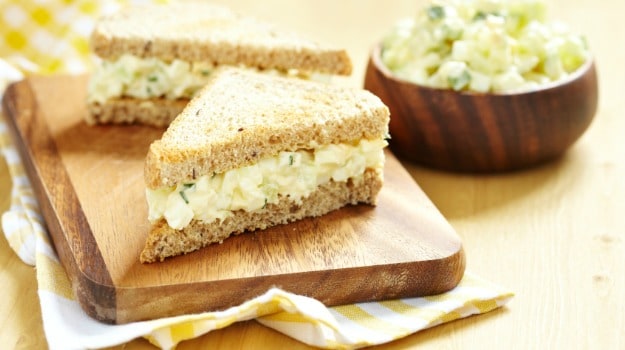 The classic egg and mayo sandwich that is too easy to resist!



Ingredients:


2 eggs, boiled


2 slices multigrain bread, make sure it's soft and slice off the edges


Dil leaves, basil, mint, chives - Any kind of fresh herbs you can find


1 tablespoon mayonnaise, store-bought or homemade


Rock Salt


1/2 teaspoon pepper


1/2 teaspoon mustard



Method:


1. Boil the eggs for 9-10 minutes by dunking them in hot water and lot letting the water boil with the eggs in them.


2. Place them in cool water so it's easy to peel off the shell.


3. Mash it with a spoon and add the mayonnaise and mustard to it.


4. Put it on toast and dress it with all the herbs you've got and serve.

3. Egg (baked), Ham & Cheese Sandwich
This isn't just another egg sandwich: it's got that nice risen egg, like the kind you find in an egg mcmuffin at McDonalds.


Ingredients:


1 Egg
Salt + pepper
Smoked cheese or cheddar cheese
2 Slices ham
Mustard sauce
Basil leaves or any microgreens


Method:


1. Grab a tray, the kind you use for cupcakes and grease it.


2. Break the egg into the mould and dust it with salt and pepper.


3. Pre-heat the oven for 15 minutes and then put the tray in.


4. Let it bake for about 5-6 minutes. You'll be able to see when the egg is done.


5. Pull it out and chop it into medium-sized pieces.


6. Add some ham and cheese to the mix and heat it in the microwave for a few minutes so that the cheese melts.


7. Put it on toast and dress it up with microgreens, mustard and some balsamic vinegar (optional).

4. Eggs & Smoked Salmon Sandwich Recipe
This is probably one of my most favourite food combinations of all time: Light and delicious smoked salmon with eggs and avocado. It gives you the sense of a complete and well balanced meal.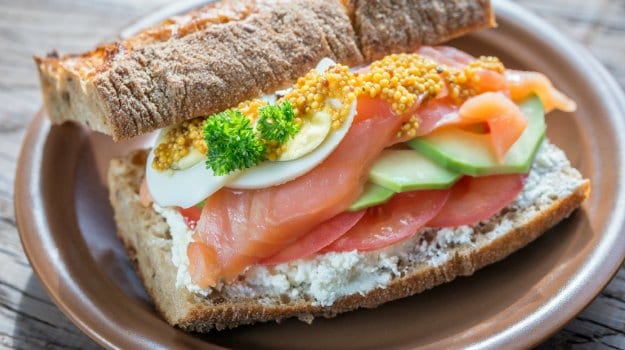 Egg and salmon sandwich is just ideal for a heavy breakfast.
Ingredients:


2 eggs
2 tablespoons milk
1/4th avocado
Smoked salmonSalt + pepper +Cajun seasoning
Tobasco + Mustard
Cheddar cheese
2 slices bread
Olives


Method:


1. Heat the pan and pour 2-3 drops of cooking oil or butter on it.


2. While the pan is heating up, whisk the eggs with milk till you can see the egg white kind of froth towards the top.


3. Pour them in the pan, add some salt and pepper on it and scramble for 2-3 minutes. Turn off the heat.


4. Toast the bread and spread some butter over it. Now stack the eggs, avocado, salmon, olives. Sprinkle some freshly ground pepper over it and done!

5. Grilled Cheese & Egg Sandwich Recipe
This one's a real treat for those who like their yolk runny and bacon fried crisp.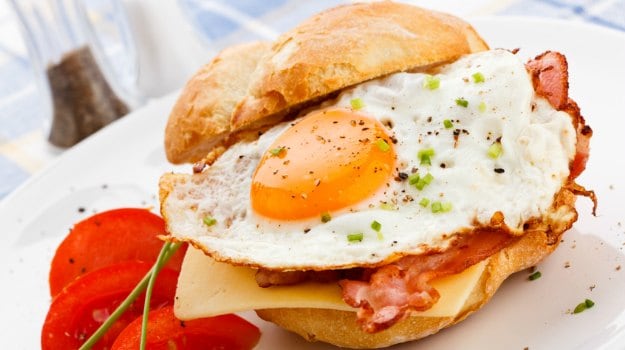 Ingredients:


1 egg
1 tablespoon butter
2 strips of bacon
2 slices bread
Basil leaves
1 cheese slice
Salt & pepper
Thai sweet chilli sauce
Mustard


Method:


1. Heat the pan and then add butter to it.


2. Fry the bacon strips till they're crisp. Let them rest on absorbent paper/tissues.


3. Throw out most of the oil bacon leaves, keeping just enough for the egg.


4. Turn on the gas and crack an egg open when the pan is hot.


5. Let it cook for 3-4 minutes and turn off the gas. Make sure you don't flip the egg.


6. Take a slice of bread and carefully place the egg on it. Cover this with bacon strips, salt and pepper. Take a slice of cheese and place it on the pile.


7. Now take the slice of bread and place it on the hot pan. Let it heat up, till you see the cheese slice starting to melt. Put some more butter in the pan and make sure both sides of the sandwich


8. Take it off the heat, add the basil leaves and dress them up with the thai sauce and mustard.


Here we bring you one more 'eggceptional' recipe to try at home. It is called cheese egg sandwich. The ones who tried cheese omelette already know that cheese, along with egg, makes a wholesome indulgent treat. Click here for the recipe.
We found a delicious egg sandwich recipe that can help you put together a fulfilling breakfast in just 5 minutes. Yes, you heard it right! All you need to do is spare 5 minutes from your busy morning schedule to prepare breakfast for you. Find the recipe here.