It's a spiced and sweet preserve that possibly has as many people who revile it as those who love it. Murabbas are not for everyone-and even before we begin this piece, here's the disclaimer: I absolutely, staunchly, vehemently dislike it. But then I don't care for European style jams either, and my revulsion with the murraba may have something to do with the fact that as children we were force fed quite a bit of it on grounds of good health.
Unlike the mangomurraba, popular in Gujarat, in UP, it is Amla ke Murraba that used to be quite popular at least within a social mileu engendered by the fabled composite Ganga-Jamuni tehzeeb or culture of the region. While that culture may be marginalized today, the story of murraba is one that can keep it preserved, much like the fruit itself.Murrabas possibly came down to the Indian kitchens from Central Asia, where they are a part of many regional culinary cultures. Georgian food, for instance, has preserved sweet fruit as part of the traditional desserts. In Azerbaijan, the jams are part of every tea time table. And the food of the Ottomans that borrows from all these traditions has murraba-making firmly in place. The royal Turkish kitchens had a separate section devoted to "rub" and "murraba", styles of jams that were thicker than the other Western style jams. To make these, fruit pulp and sap was boiled and thickened and then dried in the sun to preserve it for the harsh winter months.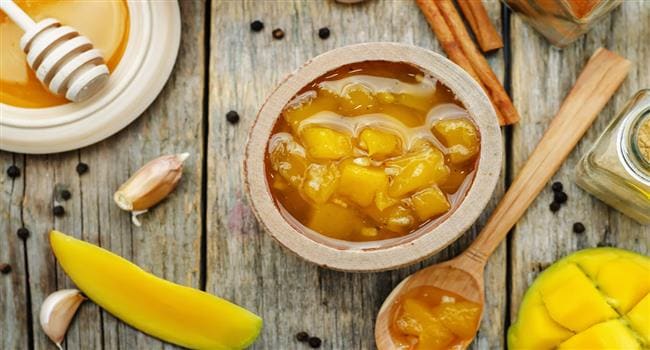 Photo Credit: Nata Vkusidey/Istock. Mango murraba from Gujarat
Murrabas
in all these central Asian and Turkish traditions naturally used the bounty of the land - the many fruit available in these regions from black currants to quince,
pomegranate
and even rose that grew in the imperial gardens. Different cities were famous for different jams.
The Mughals who ruled India for almost 300 years obviously brought to the subcontinent this way of preserving fruit from central Asia. Some murraba traditions that we still find in the country - like a ginger candy in Andhra Pradesh are quite reminiscent of the central Asian sweets. However, the Subcontinent had its own fruit and spices and local produce was naturally used to make these preserves.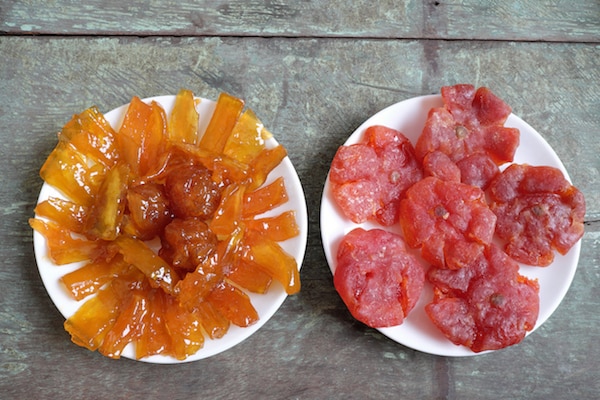 Photo Credit: Xuanhuongho/Istock
Apple
murraba
from Himachal, Amla from UP and Mango from Gujarat are perhaps the three most popular
murrabas
in our midst today, though the almost anything can be candied. Naturally, any fruit with a slightly sour (or astringent) flavour is far better suited to being stewed than sweet ones, which already have a high sugar content.
Amla, or the Indian gooseberry, now regarded as a superfood, is rich in Vitamin C, has fiber to combat digestive ailments and a host of trace minerals which are invaluable nutrients. In Ayurvedic medicine, the fruit is support to bring many benefits-it is given to pregnant women as a source of nutrition.To make a murraba out of amla was obviously a way to make the fruit more palatable. The sour and bitter berries are cooked in honey or sugar, candying them. Eating one or two of these candied fruit a day is supposed to be therapeutic.(Also read: Amla - The Desi Superfood for Cough, Cold and Constipation)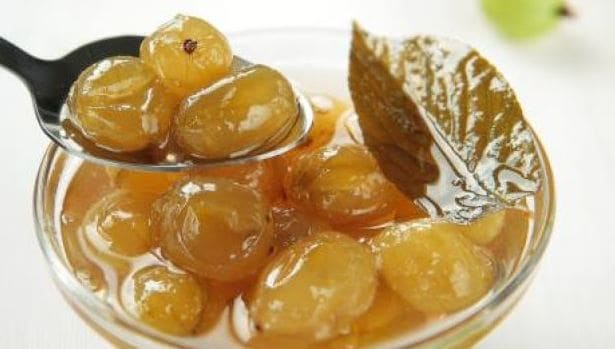 Of course, the use of murraba or preserves as something out of a pharmacy itself is a Turkish tradition, where the royal cooks developed recipes out of ingredients regarded as medically superior for the elite. It was a practice that the Mughal aristocracy followed too and murrabas became a rich man's delicacy and indulgence. Those times are past, and yet some tastes linger on.About the Author:
Anoothi Vishal is a columnist and writes on food for The Economic Times and NDTV Food, and runs the blog a moveablefeast.in. She tracks the business of restaurants and cuisine trends and also researches and writes on food history and the cultural links between cuisines. Anoothi's work with community-based cuisines led her to set up The Great Delhi Pop-Up three years ago, under which she promotes heritage, regional and community-based cuisines as well as researched and non-restaurantised food concepts. She has also been instrumental in reviving her own community's Kayastha cuisine, a blend of Indo-Islamic traditions, which she cooks with her family and has taken across India to a diverse audience.
Disclaimer:
The opinions expressed within this article are the personal opinions of the author. NDTV is not responsible for the accuracy, completeness, suitability, or validity of any information on this article. All information is provided on an as-is basis. The information, facts or opinions appearing in the article do not reflect the views of NDTV and NDTV does not assume any responsibility or liability for the same.