"More women leaders in every sector". "A world without abuse; physical or mental". These are just some of the wishes scribbled on 'post-its' that greet you at Pumpkin Tales, one of Chennai's most buzzed F&B spaces. These scribbles occupy pride of place on their 'Women's Wish Board' that has been put up in time for International Women's day. While many
restaurants
and retail spaces use calendar-driven opportunities to roll out offers and discounts, this restaurant chose this week to listen to its customers. Pumpkin Tales has already started putting some of these thoughts from customer wish lists into action.
The brainchild of three women entrepreneurs - Chind Vardarajulu, Rajarajeshwari and Bhuvaneshwari, Pumpkin Tales opened in the last quarter of 2017. "We wanted to create an environment where women feel safe and comfortable to work in. The key was to break some of the social stigma attached to women waiting at tables". Chindi spelt out the vision for this cheerful eatery that is helmed by an all-women service crew. Pumpkin Tales has been in the making for more than three years. It was Chindi's experience with the F&B business that was the catalyst.
In 2003, Chindi set up Chutney Villa, the first South Indian restaurant in Vancouver. At that time, Indian food usually meant
butter chicken
and
naan
bread
. Within a few years, she had Vancouverites queueing up for
rasam
and crispy
dosas
. There's always room for new culinary experiences in Vancouver, one of North America's most multi-cultural cities. Born and raised in Singapore, Chindi never lost her South Indian connection, thanks to her penchant for Illaiyaraaja music. It was her love for
South Indian food
that fostered those bonds. For nearly five years she led culinary tours from Canada to
Karnataka
,
Kerala
and
Tamil Nadu
. She didn't just become more immersed in South Indian cooking traditions but also began to understand the food scene in Chennai. She eventually moved to Chennai and set up a beach resort along the East Coast road that connects
Chennai
with Pondicherry. It was during this time that she met Rajarajeshwari and Bhuvaneshwari and the plans for Pumpkin Tales were hatched.I still remember my first visit to Pumpkin Tales around Christmas 2017. More than the quality of food and the cheerful interiors, it was the attitude and knowledge of the staff that made a big impression. I could sense that the team was not just well-informed about the menu but also truly empowered. Training is a key focus area for
Pumpkin
Tales. The team was not just trained to take orders but to also get involved in multiple aspects of the business. From marketing to understanding food costs, the emphasis is on all-round development. Rajarajeshwari believes that their all-women team pays more attention to details and can multi-task effortlessly. The success of the restaurant is testimony.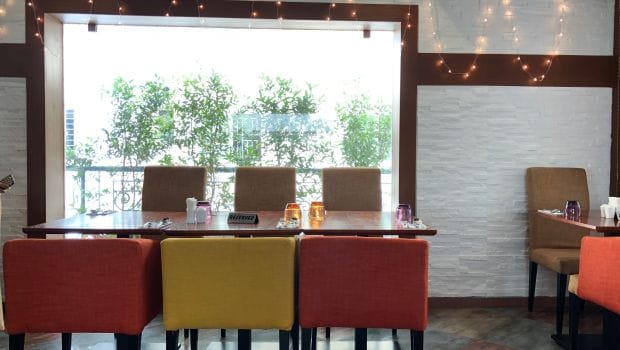 Efficient service is not the only box that this restaurant ticks. There's a lot of thought that's gone into the menu that finds a judicious blend of comfort food and the exotic. Health food complements sinful
desserts
. Chindi believes that salads are an afterthought for most restaurants in India. She was clear that Pumpkin Tales would change that. The menu has options for diners with a variety of dietary restrictions and health-conscious customers who keep up with dietary fads. Fresh produce was a given in Vancouver, Chindi has managed to find local suppliers who deliver high quality produce. From free range
eggs
to exotic vegetables from a farm in Ooty to organic
flour
, sourcing the right ingredients has been key to the restaurant's success.
In a city where diners usually have to choose between South Indian restaurants or luxury hotels for a weekday breakfast, Pumpkin Tales is one of the first eateries with an exhaustive
breakfast
menu. Their Morning Glory Bowls that include a congee and miso soup, are immensely popular. Breakfast is a busy time (especially during the weekends) at this all-day diner; from corporate meetings to diners who drop in after an intense
workout
, the crowd at breakfast is quite diverse. It's a bit like the menu where Asian curries happily co-exist with Italian desserts. When I ask the partners if they will ever relax their 'women-only' rule, Rajarajeshwari quickly points out that their kitchen staff is almost all-male and that this an environment where gender equality is practised not just preached. That's one more wish from their customer's 'post-its' that the restaurant has put into action. Pumpkin Tales is at Bheemanna Garden Street, Alwarpet.
About Ashwin RajagopalanI am the proverbial slashie - a content architect, writer, speaker and cultural intelligence coach. School lunch boxes are usually the beginning of our culinary discoveries.That curiosity hasn't waned. It's only got stronger as I've explored culinary cultures, street food and fine dining restaurants across the world. I've discovered cultures and destinations through culinary motifs. I am equally passionate about writing on consumer tech and travel.