Comfort food, it's what you'd like to eat after a long International flight or a frenetic day at work, almost always in the comfort of your home. Our definition of comfort food might change along the way but then there are some dishes that remain a constant. Like a wholesome biryani or just a simple dal and rice or in the case of many of us in Karnataka or Tamil Nadu, piping hot rasam with rice. It's an integral part of any elaborate meal at a restaurant or wedding feast almost across Southern India, but it's in homes in Tamil Nadu and Karnataka where the humble rasam makes it to most dining tables daily.Saaru in Kannada, Rasam in Tamil Nadu and Kerala or Chaaru in Andhra and Telengana. So, what defines a rasam? It's probably the consistency, similar to a 'thin' soup sans cornflour and similar to a shorba. The ingredients can vary – while a large number of rasams are built with dal as a base, there are quite that don't use dal at all. Cumin, curry leaves, asafoetida, tamarind are usually in the mix but again there are many exceptions like the lime rasam where no tamarind is used. In most regions, rasam is served as the second course (with rice) after sambar but in many parts of Karnataka it's usually served as a first course. Despite all these contradictions there is one common thread, a hearty rasam is the equivalent of a broth (or soup) and almost always a 'go to' option when someone needs relief from a cold or to wake up those numb taste buds when you are unwell.It worked for the British during the days of the Raj too. Mulligatawny Soup is not just an anglicised version of milagu thani (pepper water in Tamil) but is essentially a pepper rasam that has been rejigged with some interesting additions like apple. There are at least 200 known varieties of Rasam, each with their own distinctive ingredients and flavours. There's Ulava Charu made with horse gram, arguably the most popular Rasam in Andhra Pradesh (from the Krishna and the Guntur districts) and is eaten with rice and occasionally as a soup with a dollop of cream. It's quite similar to the kollu rasam that's popular in Karnataka and parts of Tamil Nadu. There's the Mysore Averakkai (Lima Beans) Rasam that gets its thick consistency from the generous quantities of coconut. Wedding cooks in Tamil Nadu have never shied away from experimenting with rasam. From the more conventional lime rasam or ginger rasam to the more exotic, sweet and sour pineapple rasam, the list is almost never ending.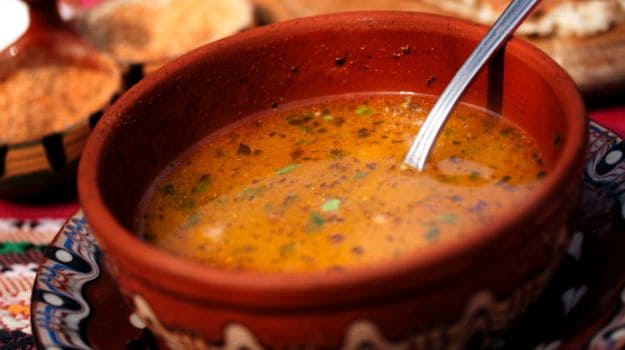 Mulligatawny Soup: Serves 4
Some of
Chennai
's 19th century gentlemen's clubs like the Madras Gymkhana Club and the Madras Club still have room for this classic from the Raj. It's also a popular soup at the Vivanta by Taj-Connemara, Chennai where it's been part of their special Anglo Indian menu for decades.
Recipe by Jaffar Ali, Executive Chef, Vivanta by Taj-Connemara
Ingredients:
10 ml vegetable oil
30 g chopped onions
5 g minced garlic minced
5 g chopped ginger chopped
1 green chilli
10 g ground coriander
10 g ground cumin
a pinch of turmeric
10 g curry powder
2 sprigs of curry leaves
30 g chopped carrot chopped
1 apple (peeled and cut)
40 g potato (peeled and cut)
80 g masoor dal
Lemon juice (from 1 lemon)
20 g fresh coriander (chopped)
50 g chicken (diced)
1/2 litre vegetable stock
Method:
1. Heat oil in a pot over low heat. Add cumin seeds, onion, garlic, ginger, chilly, Spices, curry leaves and sauté well.2. Add carrot, apple, potato, dal to the pot, sauté for a while, add stock, simmer and cover the vessel for about 15 minutes or until vegetables are tender and dal is cooked.3. Add grated coconut and coriander leaves. Give it a boil for 15 minutes till all the ingredients are cooked well.4. Strain the soup and blend or process through soup strainer. Return to the pot, add lemon juice and adjust the seasoning.5. Serve the soup with little steamed rice and chicken cubes as garnish.6. If it is chicken mulligatawny add chicken stock instead of vegetable stock.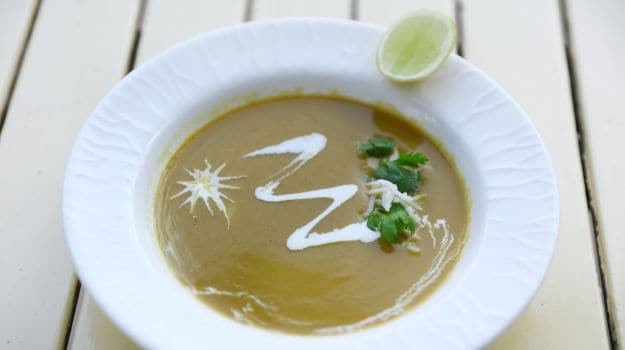 Image Credits: Vivanta by Taj-ConnemaraNeem Flower Rasam: Serves 4Quite a few rasams use herbs and ingredients that are rich in medicinal values. The Neeem flower rasam is a great example. This rasam does not use asafoetida or curry leaves.Ingredients:
½ cup tur dal
Tamarind
4 dried red chilies
½ teaspoon sesame seeds
1 teaspoon jeera
1 finely chopped (optional)
½ cup dried neem flowers
1/2 teaspoon saltMethod:1. Soak tamarind pulp in hot water. Extract the tamarind and boil that water on a slow fire for 10 minutes.2. Fry the mustard, red chillies and jeera in half teaspoon of ghee till the mustard splutters and add this to the hot tamarind water along with the finely chopped tomato.3. Cook the tur dal and add it to this mixture along with a cup of water and boil this for 3 minutes.4. Fry the neem flowers in one table spoon of ghee till it turns golden brown and add this to the mixture.5. Boil for a few seconds and cover the dish with a lid for five minutes before serving.Nandu (Crab) Rasam: Serves 4Not all rasams are vegetarian. From free range chicken to mutton ribs there's a mix of ingredients that get tossed into a quintessential rasam like this Crab rasam, a delicacy in Chennai.Ingredients:4 medium-sized crabs
6-7 finely chopped onion shallots
1 finely chopped tomato
a handful of curry leaves (chopped)
¼ teaspoon turmeric powder
Salt (to taste)
½ teaspoon fennel seeds
2 teaspoons cooking oilFor the Rasam Masala:
3 teaspoons coriander seeds
1 teaspoon cumi seeds
1 teaspoon black peppercorns
3 pieces dry red chilies
1 teaspoon fennel seeds
4 cloves of garlic
a small piece of gingerMethod:1. Clean and wash crabs2. Fry the ingredients for rasam masala for few minutes on medium heat. Grind the roasted ingredients to a smooth paste along with tomato and ginger garlic.3. Heat oil in a pan, add fennel seeds followed by chopped onions, curry leaves and sauté for a few seconds. Reduce the heat, add the ground masala, stir well and cook for a minute.4. Add turmeric and 2 ¼ cups of water, season with salt and mix well. Increase the heat, cover with lid and let rasam boil for 7 to 8 minutes.5. Add the washed crabs to boiling rasam, stir well and simmer for 5 minutes until crabs turn orange-red in colour.6. Serve as a soup or as an accompaniment with rice.About the Author: Ashwin Rajagopalan is a cross cultural training expert and lifestyle writer. When he's not writing about food, he thinks about gadgets, trends and travel experiences. He enjoys communicating across cultures and borders in his weekday work avatar as a content and editorial consultant for a global major and one of India's only cross cultural trainers.Disclaimer:The opinions expressed within this article are the personal opinions of the author. NDTV is not responsible for the accuracy, completeness, suitability, or validity of any information on this article. All information is provided on an as-is basis. The information, facts or opinions appearing in the article do not reflect the views of NDTV and NDTV does not assume any responsibility or liability for the same.