Come the
holiday season
and
pecan pies
are a rage. The pecan nuts with their contoured structure, crunchy texture and buttery flavour make for an interesting ingredient to include in a number of dishes, and they look pretty on the plate too. Native to
America
, these pricey nuts are related to the
walnut
and grow enclosed in a brownish-red oval shell. Now whether you say pee-can or peh-kahn, they are probably one of the most sought after
nuts
and can be tossed in just about anything. You can stuff them in peppers with goat cheese or toss them in a
salad
for some crunch. Pecans pair beautifully with caramel too, so just add a handful on top of a caramel
cheesecake
for a flavour-packed bite every single time. Or spruce up an
ice cream
with a splash of bourbon and candied pecans in the summer. You can even add a crumbly pecan topping the next time you bake a coffee cake, or add it to a batch of
double chocolate chip cookies
.
Nutrition in a Nutshell
According to a study in the
Journal of Agricultural and Food Chemistry
, pecans (19 halves, 193 calories per serving) contain more antioxidants than any other tree nut. Pecan nuts in fact rank among the top 15 foods with the highest levels of antioxidants according to the USDA. They are also a powerhouse of vitamins and minerals such as manganese, potassium, calcium, iron, magnesium, zinc, and selenium, offering some wonderful health benefits.

Health Benefits of Pecans:
1. Heart Healthy
Pecan nuts contain monounsaturated fats such as oleic acid along with phenolic antioxidants which help reduce the risk of heart disease. According to the National Pecan Shellers Association, adding a handful of pecan nuts in your diet helps decrease LDL i.e. 'bad
cholesterol
' and increase HDL i.e. 'good cholesterol', which in turn prevent stroke and coronary artery disease.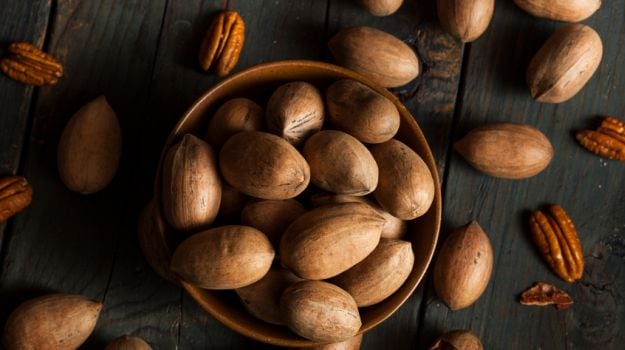 2. Improves Digestion
Nutritionist Anshul Jaibharat says, "Since pecan nuts are
fiber
-packed, they promote colon health and facilitate regular bowel movements. Pecan nuts prevent constipation and reduce the risk of hemorrhoids and colitis by cleaning out the gastrointestinal system."
3. Helps with Weight Loss
Consuming nuts enhances satiety and increases metabolism, research has indicated that a diet comprising pecan nuts
helps in losing weight
. The nuts are also very rich sources of several important B-complex groups of vitamins such as riboflavin, niacin, thiamin, pantothenic acid, vitamin B-6, and folates which together help increase the rate of
metabolism
.
4. Reduces the Risk of Certain Cancer
Pecan nuts protect the human body from cancer due to the anti-proliferative properties of ellagic acid which inhibit DNA binding of certain carcinogens such as nitrosamines and polycyclic aromatic hydrocarbons. They contain oleic acid, a fatty acid which has been found to reduce the risk of breast
cancer
. Pecan nuts also reduce the risk of colon cancer since they help clean the gastrointestinal system.
5. Anti-Inflammatory Benefits
Pecans are rich in magnesium which is known for its anti-inflammatory benefits. Studies have proved that increased magnesium intake reduces inflammatory indicators in the body, and also reduces inflammation in the arterial walls, thus reducing the risk of
arthritis
,
Alzheimer's disease
, cardiovascular disease, and other inflammatory ailments.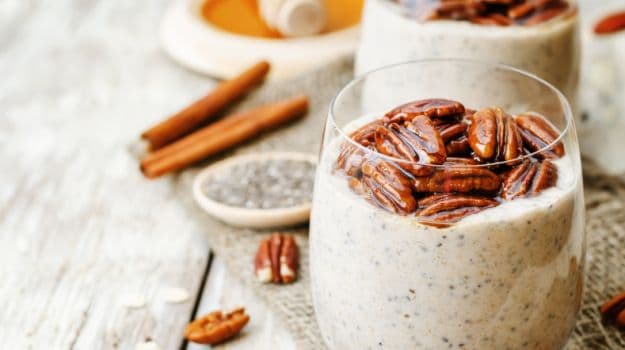 6. Boosts Immunity
Dr. Manoj K. Ahuja, Healing Touch Hospital, says "Adequate intake of manganese is vital for nerve conduction and
brain
function, and pecans are a rich source of manganese which is a powerful antioxidant. This trace mineral protects your nerve cells from free-radical damage, thus boosting immunity and protecting the body from diseases, infections, etc."
Skin Benefits and Hair Benefits of Pecans:
Pecan nuts are an excellent source of vitamin-E,
vitamin-A
, zinc, folate and phosphorous which play an important role in maintaining good skin. Here are the skin benefits pecan nuts have to offer.
7. Prevents Skin Problems
The toxins inside your body cause
breakouts
, dullness and excess oil. Pecans are packed with fiber and aid in eliminating these toxins and waste from the body, thereby improving the appearance of your skin. Pecan nuts also contain vitamin A and zinc which help achieve a clear complexion and protect against skin infections.
8. Anti-aging Benefits
Pecan nuts contain numerous antioxidants including ellagic acid, vitamin A and vitamin E which fight and eliminate the free radicals responsible for causing premature
skin aging
. Thus, pecans can prevent the occurrence of fine lines, wrinkles and pigmentation.
9. Stimulates Hair Growth
Pecans are an excellent source of L-arginine, an amino acid which, when applied topically helps treat male pattern baldness as well as encourage the growth of healthy hair. L-arginine helps increase flexibility of the artery walls and makes them less prone to blood clots. This in turn increases the rate of blood flow throughout the body and to the
hair
roots which is vital for healthy hair growth and scalp.
10. Prevents Hair Loss
Lack of
iron
in the body leads to anemia which is one of the common causes of hair loss. But pecans are a good source of iron and hence,
combat hair loss
.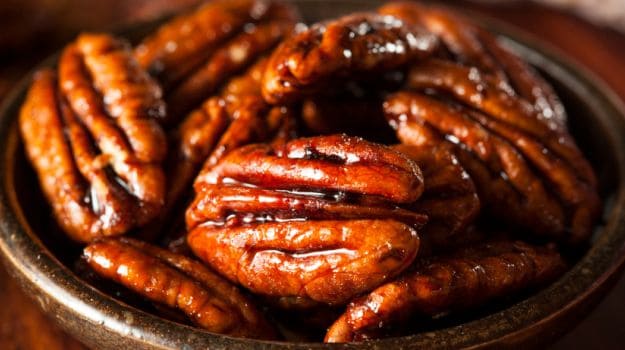 Now if you're as excited about the super-healthy nut as we are, you're in luck! Here are decadent recipes we can't do without, including pie, of course.
Pecan Cupcakes
Upgrade your
cupcake
topper. Skip the fruit slices or chocolate ganache, and add a sprinkling of pecans instead. Ingredients:
¾ cup chopped pecans
¼ cup packed brown sugar
1 cup all-purpose flour
½ tsp baking soda
¼ cup butter, softened
¼ cup shortening
¾ cup granulated sugar
3 eggs, separated
2 tsp vanilla bean paste or 1/4 teaspoon vanilla extract
½ cup buttermilkFor the frosting:
¼ cup butter
1 package (8 oz) cream cheese, softened
4 cups powdered sugar
⅛ tsp vanilla extractInstructions:
1. Preheat the oven to 350°F. Place paper baking cup in each of 18 regular-size muffin cups.
2. Spread pecans in an ungreased shallow pan. Bake uncovered for 6 to 10 minutes, and stir occasionally until golden brown. After cooling, place ¼ cup of the pecans in a food processor, and price until finely chopped. In a small bowl, mix finely chopped pecans with brown sugar and set aside for topping.
3. In another small bowl, mix the flour and baking soda; set aside. In a medium-sized bowl, beat ¼ cup butter and the shortening with a mixer on medium speed until fluffy. Gradually add ¾ cup of the granulated sugar, and beat well. Add egg yolks, one at a time, and beat after each addition. Stir in the vanilla essence, add flour mixture alternately with buttermilk.
4. In a small bowl, beat egg whites with a mixer on medium speed until soft peaks form. Add remaining 1/4 cup granulated sugar (1 tablespoon at a time) and beat until stiff peaks form. Fold one-third of the egg whites into batter; fold in remaining egg whites with remaining 1/2 cup toasted pecans. Divide batter evenly among muffin cups, filling two-thirds full.
5. Bake for 25 minutes or until toothpick inserted in center comes out clean. Cool completely.
6. Meanwhile, whip up the frosting. In a heavy saucepan, cook ¼ cup butter over medium heat, and stir constantly until browned. Pour into a large bowl and refrigerate 20 minutes. Add cream cheese to the browned butter, and beat with a mixer on medium speed until smooth. Gradually add powdered sugar, beating until light and fluffy. Stir in a dash of vanilla essence.
7. Frost each cupcake with generously, 2 tablespoons of frosting perhaps. And sprinkle the remaining pecan and brown sugar mixture.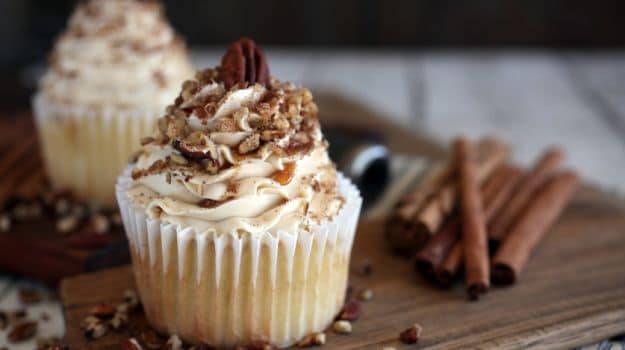 Candied Pecans
We've got 1 word for you- addictive. Candied pecans make for a delicious snack and can also be sprinkled over
desserts
, particularly sundaes and ice creams. Umm, yum!Ingredients:
1 cup white sugar
1 tsp ground cinnamon
1 tsp salt
1 egg white
1 tsp water
2 cup pecan halvesInstructions:
1. Preheat the oven to 250 degrees F.
2. Mix sugar, cinnamon, and salt together in a bowl.
3. Whisk egg white and water together in a separate bowl until frothy. Toss pecans in the egg white mixture. Then mix sugar mixture into pecan mixture until pecans are evenly coated. Spread coated pecans onto a baking sheet.
4. Bake, but note: Stir every 15 minutes while baking, until the pecans are evenly browned. It could take upto an hour.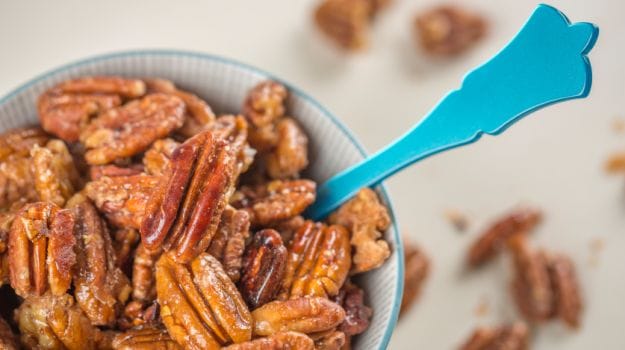 Pecan Pie
Recipe by Chef Niru Gupta
This pecan pie recipe features maple syrup and brown sugar, and is sure to draw recipe requests all year round. Serve warm with a scoop of vanilla bean ice cream.Ingredients:
1/3 cup butter-tightly packed
1/4 cup brown sugar-tightly packed
1/3 cup castor or powdered sugar
3 eggs-slightly beaten
3 Tbsp maple syrup
6 Tbsp milk
120 gm pecans-cut small, saving a few whole for decoration
1 tsp Vanilla
1/8 tsp salt
1 unbaked shell of short crust pastry of 7Instructions:
1. Preheat the oven to 325°F.
2. Blend brown sugar and butter and melt in a pan placed over a pan of hot water.
3. Add castor sugar, eggs, maple syrup and milk. Mix well and cook till thickened a bit (all over hot water).
4. Remove from heat and mix in pecans, vanilla and salt.
5. Pour mixture into the unbaked shell and bake for an hour in a pre-heated oven.