Former Indian Captain Mahendra Singh Dhoni would be ringing in his 36th Birthday today. On 4th January 2017, M.S.Dhoni stunned everyone with his announcement to step down as the Indian Captain for ODI and T20. He makes way for Virat Kohli, who he believes is ready for this crucial role. But very few people really know the toil and the discipline that went into making him one of the greatest skippers of all times. Here is a glimpse into Dhoni, beyond the cricket pitch.
M.S. Dhoni rose from a humble background to become one of the world's most celebrated cricketers and arguably one of India's best captains ever. Under his leadership, India won the 2011 ICC Cricket World Cup amongst other series and championships
(also the 2007 ICC World Twenty20, the CB Series of 2007–08, the 2010 Asia Cup, and the 2013 ICC Champions Trophy)
. But that is not what sets this skipper apart. If there are three things that define Dhoni, they are his calm demeanor, his ability to put the team's glory above his own ambition and humility.
Also known as 'Captain Cool' or fondly as 'Mahi', M.S Dhoni has rarely been seen angry on the field. Even in times of extreme pressure, he manages to keep his cool and perform, as well as help his team perform. Which brings us to the second aspect. There are great cricketers who can hit sixes and score high. Scoring was never a problem was M.S Dhoni. However, it takes a mature player to provide the kind of stability he does. He has the ability to hold fort and allow the other batsman to hit, while he provides the stability often required in a high scoring match. However, when he realises that the overs are running out, he is well capable of getting on the crease and set the scoreboard rolling, earning him the badge of being one of the world's greatest finishers in limited-overs cricket.It is a wonder then, that this man is so supremely humble. When India won the 2011 ICC Cricket World Cup, it was M.S Dhoni who led the team to the win, scoring 91 not out off 79 balls (he was awarded Man of the Match too). However, knowing that this was
Sachin Tendulkar
's last World Cup, he stood humbly in the shadows while the team carried Tendulkar on a victory lap around the stadium.
Virat Kohli
commented on Tendulkar, "He has carried the burden of the nation for 21 years. It is time we carried him on our shoulders".
Here's a little glimpse into the former captain's food and fitness secretsWhat Does He Love To Eat?
It is said that M.S Dhoni has a soft corner for
Butter Chicken
. We understand that,
Butter Chicken
has that effect! However, his everyday diet is extremely light and healthy.
Breakfast
is wholesome, and usually consists of
porridge
with
fresh fruits
and
nuts
. A glass of milk accompanies this hearty breakfast. For lunch, he likes
chapattis with daal or chicken
(for added protein). A mixed
vegetable salad
on the side helps add in the required nutrients. A
chicken sandwich
is his preferred munchie when evening hunger pangs strike. (Also read:
Yuvraj Singh of Sunrisers Hyderabad's Diet and Fitness Regime​
)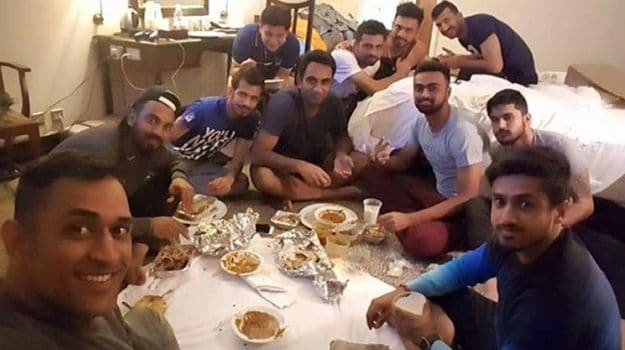 During matches, he is often seen sipping on
protein drinks and fresh juices
. They help keep him hydrated and his energy levels elevated. At one point of time, fans believed that he consumed five liters of
milk
every day, which explained the power in his shots. This was, of course, an exaggeration and the truth is nowhere close to that. However, he is said to love dairy products, be it
milk
or
curd
.
Dhoni's Fitness Secrets
Stephen Fleming has been quoted as saying that M.S Dhoni is remarkably fit. Being the wicket keeper of the team, Dhoni is required to sit in the squatting position for hours. This may seem easy but
squats
are an intense workout in themselves and one needs to be in
great shape
to be able to crouch like that throughout the innings.(Also read:
Virat Kohli: All About His Diet and Fitness
)
It is refreshing to know that MS Dhoni loves to play other sports besides cricket for recreation. This goes a long way to aid his
fitness
levels too. His personal trainer revealed to an online portal that he is particularly good at
badminton and football
and often switches a session at the
gym
for a game of these instead. Badminton is great for eye work and honing your reflexes, helpful for a wicket keeper. The footwork and stamina build-up that football teaches, could contribute to his ability to run between wickets (The Telegraph reportedly stated that he is the fastest Indian between 22 yards).Though working out in the
gym
is a necessity in his line of work, he does so grudgingly, always preferring a run or a game of football to indoor exercises. In 2005,MS Dhoni confessed to a cricket website, "I even don't know the secret because I really don't do the
gym works
and all. But I started off as a footballer, so the training I did over there is helping me a lot". However, his trainers note that he is in extremely good shape and can take up any challenging exercise in the gym, if required. Being from the hills (Almora, Uttaranchal), his genes play a large role in his low body-fat percentage and general muscular frame.
Here's wishing India's very own superhero, Captain Cool, all the best for what lies ahead. As Virat said, he will always be our Captain.