Almonds, owing to their nutritional value, have been an integral part of the Indian diet for centuries. They are healthy, crunchy and a delight to much on. These tear-shaped nuts can be consumed in a variety of ways. From whipping up healthy smoothies to garnishing salads and desserts - almonds are used in different ways in every household. But most of us also have a habit of eating them plain or soaked overnight. In a recent Instagram post, celebrity nutritionist Lovneet Batra revealed the impact of consuming almonds every day. Wondering whether it is good or bad for you? Find out more below.
Also Read: Eating Almonds Before Meals May Help Improve Blood Sugar Levels: Study
Should You Eat Almonds Every Day?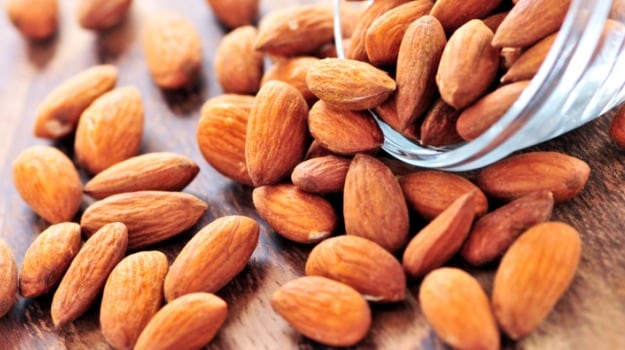 We have some good news for you: eating almonds daily is a healthy practice. Almonds serve as a nutrient-dense source of vitamin E, calcium, phosphorus, potassium, riboflavin, manganese, magnesium, copper, iron, and zinc along with protein, and dietary fibre. Almonds are also a good source of bioavailable a-tocopherol (vitamin E), therefore increasing their intake enhances the resistance of LDL cholesterol to oxidation.
Also Read: 7 Health Benefits Of Eating Raw Green Almonds - Expert Suggests
Here Is What Happens When You Eat Almonds Daily:
1. Can Lower Blood Pressure
According to Lovneet, the magnesium content of almonds can help in lowering blood pressure levels in the body.
2. May Reduce Depression
"Almonds are a great source of amino acids tryptophan. They are best paired with a source of vitamin B6 such as bananas," says the nutritionist. Almonds and bananas can work wonders for people who are experiencing depression. Vitamin B6 has been shown to convert tryptophan to serotonin, which plays a pivotal role in reducing depression symptoms, reveals Lovneet.
3. Aids In Weight Loss
These power-packed nuts are low in carbohydrates but high in fibre and protein. Hence, they are effective at curbing appetite and satisfying hunger, according to Lovneet. This can especially help those on a weight loss diet by keeping cravings at bay.
Also Read: 5 Delicious Ways To Add Almonds To Your Weight Loss Diet
4. Can Regulate Blood Sugar
Lovneet says, "Regular almond consumption tends to regulate blood sugar and insulin levels, which are related to hunger." It is often suggested that you carry a handful of almonds along to pop them in whenever you feel like your blood sugar has dipped too much.
5. Good for your gut
Almonds alter the composition of gut bacteria. Wondering how? Lovneet explains that these nuts stimulate the growth of Bifidobacteria and Eubacterium rectale. Thus, these nuts tend to increase the prebiotic index of the body.

Also Read: What's The Best Way To Eat Almonds? With Or Without Skin? Expert Reveals


Now you know why you should be consuming almonds more regularly if you aren't already doing so.


Disclaimer: This content including advice provides generic information only. It is in no way a substitute for a qualified medical opinion. Always consult a specialist or your own doctor for more information. NDTV does not claim responsibility for this information.