Italian Chicken Recipes: Remember the days we used to be all secretive about our lunchbox at school whenever we had pasta for lunch? Fast forward to today, I still want the whole bowl to myself. Italian cuisine is one global cuisine that all of us love to indulge in. Italian food has taken over the world and has found its way to the dining tables and menus of most urban households in India, and more often than not we find ourselves relishing pizzas, pastas and risottos to satisfy those cheese cravings.


While pastas, pizzas and risottos are the most popular Italian dishes, you would be surprised to know how expansive the cuisine is. The variety of pasta like penne, spaghetti, lasagne or ravioli, when tossed with innumerable sauces, herbs, meat or veggies, creates a new dish. Italians are known to be very serious about their food and while pastas and pizzas are their traditional dishes, they are very particular about the sauces and cheese they add in. From mozzarella to parmesan and fontina to asiago, Italy's cheese is world-renowned. Besides being famous for potato gnocchi and panzanella salad, Italian cuisine also has an array of non-vegetarian dishes that would have you at the first bite.


Here are 7 Best Italian Chicken Recipes To Try At Home:
Bite-sized chicken breast chunks cooked in olive oil with spaghetti, onions, eggs, garlic, black peppercorns and oodles of cheddar cheese make for a delectable bowl of spaghetti carbonara pasta. You can prepare this Rome special pasta for breakfast and can even pack for lunch. A favourite among the kids, you can even add some veggies to it!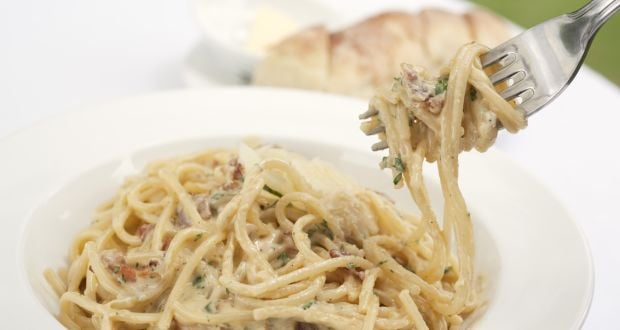 Crisp chicken, garlic and onions are tossed with cooked spaghetti and egg.
Freshly made pesto sauce tossed with penne pasta and smoked chicken! The aromatic fresh basil along with the flavourful smoked chicken will take you over and if that's not enough, cherry tomatoes would bring another level of tangy twist with the crunch of pine nuts and cheesy parmesan!


(Also Read: 7 Best Chicken Pasta Recipes)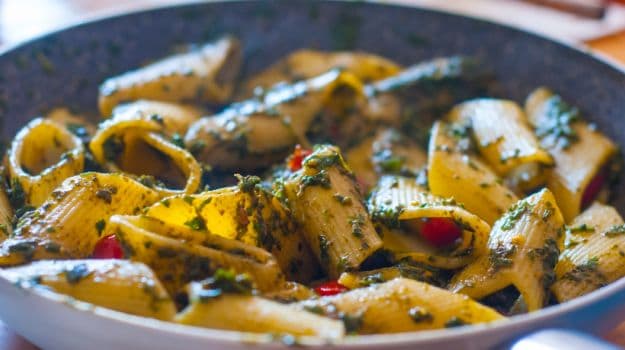 Nothing like fresh pesto sauce tossed with penne pasta!
A mouth-watering grilled chicken recipe, Tuscan brick chicken has the spicy flavours of mustard, paprika and chilli flakes, cooked in a host of sauces such as worcetershire, teriyaki and dark soya sauce. A perfect pick for a dinner party, this can be a stellar starter to begin with!
A juicy, tender, succulent chicken dish.
Bruschetta is a classic snack from the Italian cuisine. In true Italian term, it comes in the category of 'antipasto'- a traditional first course of a formal Italian meal. Bruschetta has toasted bread with your choice of topping - a perfect appetiser to serve for high tea or breakfast. Here is a bruschetta recipe with an Indian twist of tandoori chicken topped over it.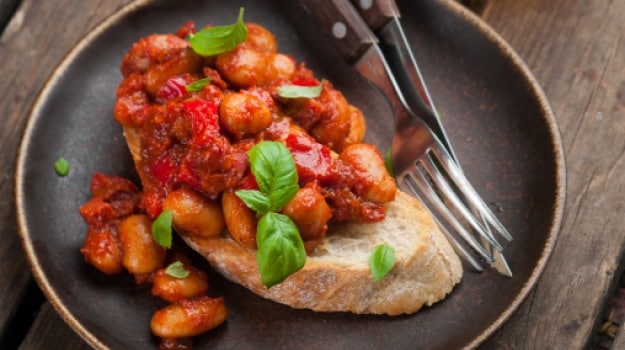 A quintessential Italian snack topped with something particularly Indian.
This piping hot pizza, fresh out of the oven, is a perfect dish that you can serve your guests in parties or get-togethers, and the best part is that you can prepare it easily at home! With a healthy base of millet and tapioca (sabudana) and topped with chicken salami, pepperoni and more along with oodles of mozzarella cheese and tomato sauce, meat lover's pizza is going to please everyone's taste buds!
This quick and easy pizza recipe is indeed a meat lovers delight.
Known to be one of the oldest types of pasta, lasagne is made with stacked layers of pasta alternating with delicious sauces along with veggies or meat. Chicken and mushroom lasagne is a mouth-watering recipe that you can prepare at home with the goodness of refreshing thyme, basil and low fat milk.


(Also Read: 11 Best Mushroom Recipes)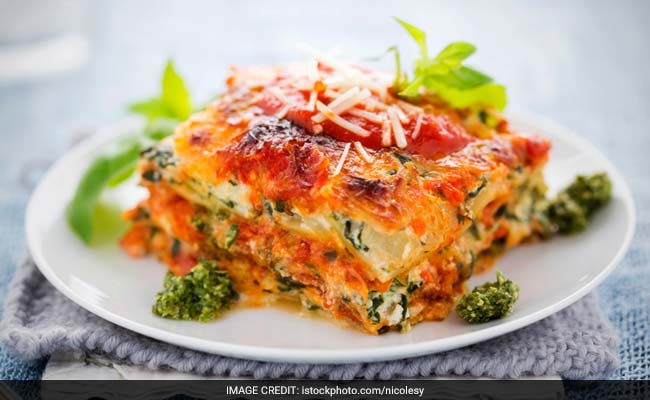 Ever thought lasagna could be healthy? With this recipe, it surely can!
Risotto is a fine Italian rice dish that is cooked with broth, until it reaches a creamy consistency - the broth can be of meat or vegetables. Risotto gets its name from 'riso' that is rice in Italian. It is a common dish across restaurants in India but with this healthy risotto recipe, you can even cook it at home. Pearl barley cooked in butter, stock, parmesan and white wine and served with chicken thigh marinated in a host of flavourful spices.
Barley cooked Risotto style.
Surprise your family and friends by serving them these scrumptious recipes. Let us know which one you liked the most in the comment section below.
About Aanchal MathurAanchal doesn't share food. A cake in her vicinity is sure to disappear in a record time of 10 seconds. Besides loading up on sugar, she loves bingeing on FRIENDS with a plate of momos. Most likely to find her soulmate on a food app.