Bandra is not just a suburb in Mumbai. Bandra is an attitude, just like Bombay is an emotion.

Ask any Bandra-ite and they will swear by it. No other place in Mumbai can quite match up to the vibe of it, in their opinion, and on that front, I do agree. It is cosmopolitan, always buzzing and yet completely chilled out. There are so many places to go out and feast in the vicinity that it's tough to make a choice. Bandra is home to Carter Road where the sunsets are magical, where you may have hundreds of people for company, and yet you can completely lose yourself in that moment when the sun goes down over the Arabian Sea. It has a wonderful Christian community which has influenced the food in the area (and we're forever grateful for that).

It is difficult to narrow down a list of places we love in Bandra. And it is entirely possible that the list leaves out some of your favourites. If so, do comment below and let us know. But taking up the challenge, here is our list of 10 places we recommend you try in Bandra:

1. Candies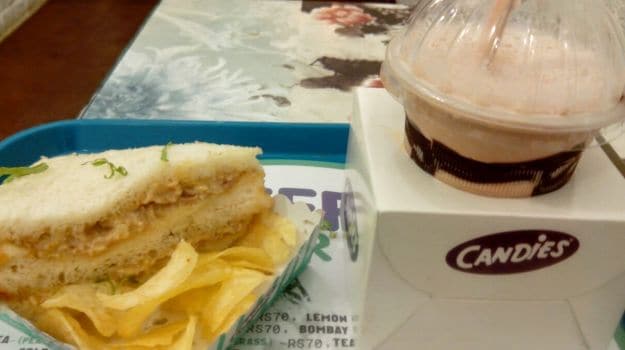 Candies has to top this list, there is no other way. In particular, the outlet on Pali Hill is magical. A Portugese-style villa that embraces the hill as it entwines along it, the alfresco seating is best when the weather allows it. Candies is not known for spectacular food, though the soft chicken sandwiches (served with old-school wafers) that get sold out by 11am are the best I have had anywhere. It is all about comfort food in a relaxed environment, great for breakfasts or a cold coffee with friends. The pocket friendly prices are refreshing. Where: Mac Ronells, Next to Learners Academy School, Pali Hill, Bandra West
Cost for two: Rs. 700

2. Kofuku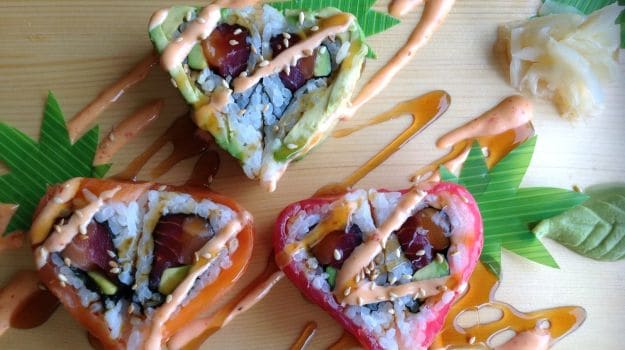 If you love Japanese food, Kofuku is the answer to your dreams. Arguably one of the best place to devour sushi in Mumbai, it is tucked away in a corner lane off Linking Road, on the first floor. The décor is authentic and the kitchen serves a delicious Prawn Tempura with Creamy Wasabi. Another favourite is the Yaki Shitake.

Where: Level 2, Kenilworth Shopping Arcade, Linking Road, Bandra West
Cost for two: Rs. 2000

3. Imbiss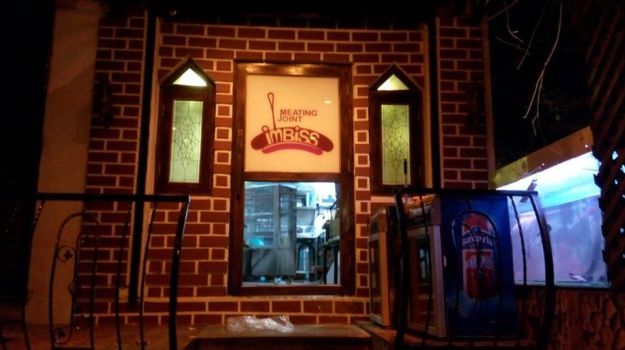 Finding Imbiss in the years when Google Maps did not exist may have been a task in itself. Located in a narrow one-way lane, it is best if you come here by auto and not bring your car (as there's parking only for 3 vehicles). Imbiss is your go-to place for a meat overload. The portions are huge (did we say huge?) and the food fuss-free. Pork Ribs are drenched in barbeque sauce and can easily be shared between two people. Easy on the wallet, this is a must do if you love your meats.

Where: 14, Ben O Lil Haven, Waroda Road, Off Hill Road, Hill Road, Bandra West
Cost for two: Rs. 800

4. The Birdsong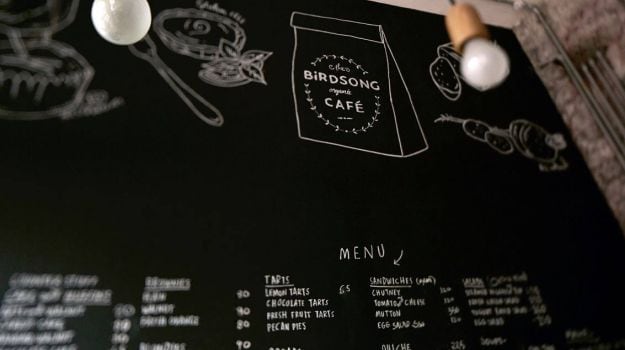 In the same lane as Imbiss, this one is more atmospheric and a great place to sit and sip on a cup of coffee. Or rather, it is their stupendous hot chocolate that you should order. The interiors are rustic and unfinished. The food is good as well, with the pizzas winning our vote. Ask for the specials of the day and you may be in for a treat. A laid-back café where time seems to slow down.

Where: Waroda Road, Near Jude Bakery, Hill Road, Bandra West
Cost for two: Rs. 1400


5. The Fatty Bao
Cost for two: Rs. 2000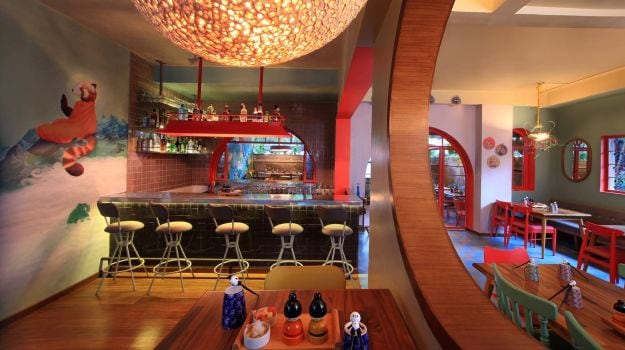 The Fatty Bao seems to build a fan club wherever it goes. The Bangalore outlet was exceptional and then it came to Delhi which lived up to our expectations. Mumbai's Fatty is equally good and where you should go if you love oriental food. The pork is outstanding, especially the Pork Belly and Char Siu Bao. Enough said. Go now.

Where: Ground Floor, Summerville, Junction of 14th and 33rd Road, Linking Road, Bandra West
6. Villa Vandre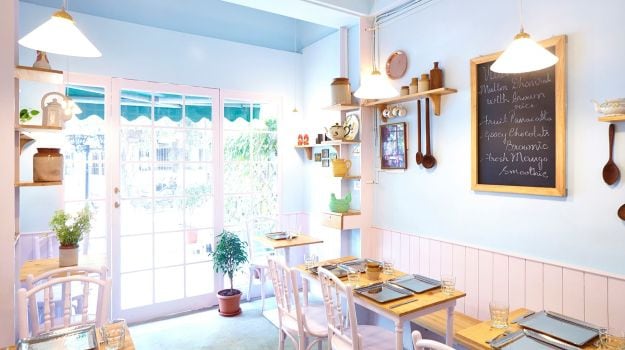 As posh as Pali Village Café is, Villa Vandre is the quintessential home-style restaurant. A small and cosy place, it fits in barely 5 tables, thus rendering the name misleading. Locating it is a bit difficult so we suggest you call ahead and ask for specific instructions. The food is good, largely owing to the fact that the kitchen is run by the very talented Chef Aloo.

Where: Shop 1, May Flower, New Kantwadi Road, Off Perry Cross Road, Pali Hill, Bandra West
Cost for two: Rs. 800

7. Taj Mahal Tea House




The recent rise of Tea Houses has been a pleasant trend. Coffee shops were done to death when someone remembered how much we have always loved our tea. Taj Mahal Tea House is elegant and classy, just the place to take someone who likes the finer things in life.

Where: 36-A, Ground Floor Sonofon Pereira Bungalow, St. John Baptist Road, Reclamation, Bandra West
Cost for two: Rs. 1500

8. Pali Bhavan

Quaint seems to be the magic word these days, and quaint it is. Earthy and 'grounded' (if one can say such a thing for a restaurant), Pali Bhavan makes for nice meals and easy conversations. The vada pav seems to be popular but it is borderline sacrilege to order vada pav in a restaurant when you get it at every street corner in the city. The coconut fish curry is delicious and the music sets the mood. Go with your family for the heritage feel of times gone by, not so much for the food in particular.

Where: 10 Adarsh Nagar, Next to Costa Coffee, Pali Naka, Pali Hill, Bandra West
Cost for two: Rs. 3000

9. Royal China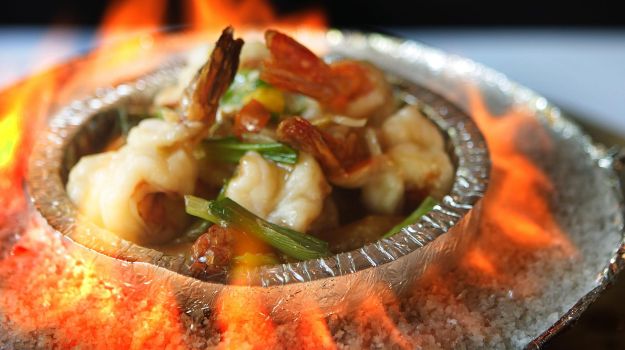 If you like Chinese food, this should be your pick blindfolded. They have a set lunch menu which is a great way to try out a variety of things. The service is attentive and knowledgeable and prices on the higher side. And if you're wondering what to order, we have two words for you – Peking. Duck. Enough Said.

Where: 192, Turner Road, Bandra Talao, Bandra West
Cost for two: Rs. 2500

10. Persian Durbar

This just nudged its way into the Top 10, though truth be told, it has been slipping downhill through the years. However, sometimes one must give credit to nostalgia which is why this features here. The Tandoori Raan Masala is great for sharing and Mutton Turkhi Boti worth a try.

Where: Moray Mahal, Linking Road, Bandra West
Cost for two: Rs. 1300

As I mentioned before, it is like performing harakiri, trying to shortlist only 10 restaurants in Bandra that we recommend. This is true for two reasons. One being the possessiveness of Bandra folk of all things Bandra. How can we leave out some of their favourite places? The second being the fact that there really are so many great places in the area that it is close to impossible to narrow them down. Yet, we took on this challenging task.

The ones that didn't make the list:

You would perhaps have noticed some popular names missing on this list. Many people I know love the breakfast at Salt Water Café and even the Smoke House Deli. Neither has ever managed to impress me. They're good, but with plenty of options nearby, they are not the best around. I feel similarly for Suzette. At the risk of inviting ire of the Bandra community, I will go all out and say that I find Suzette overhyped. The portions are small, the prices high and the tables too close to each other. And if I am paying a bomb for a crepe, it would be nice to have some sides. For some reason that I do not understand, there is also a crazy fan following for Khane Khas. Having grown up in North India, my tolerance levels for sub-standard Punjabi or Mughlai food are fairly low and Khane Khas just does not make the cut. Pali Village Café on the other hand, is nice enough. I've had a good steak there over a glass of wine and interesting conversations.




With Christmas right around the corner, it is just the season to go out and explore these fantastic places in the Queen of Suburbs, as Bandra is known. I have some wonderful food memories from here and I hope after trying these places, you will too. Cheers.