Delhi is a hotbed for international cuisines. Korean, Japanese, Spanish,
Mexican
, Italian,
Thai
, you name it and Delhi has it. However, the one area that is still not explored well enough, is that of International
street food
. Thai in particular, considering the fact that the street food scene in Bangkok and other towns far surpasses that of larger establishments. A trip to Thailand is incomplete without stir fries from the street-side woks, fresh
salads
or skewers of
meat
being cooked fresh in front of you. Alas, the only Thai food that reached us till recently, were the
curries
, thickened and sweetened to suit Indian tastes. No more. There's a new kid on the block and it has a sassy attitude to go with it.Ping's Café Orient is from the same stable as PCO and ATM, both 'closed-group' ventures. Rakshay Dhariwal, who co-owns the venture with his sister, wanted to now open something that was more accessible to people who just wanted to walk in, unlike ATM where you need a membership and PCO where you need a password. So where did the concept of
Bangkok street food
come along? Rakshay confesses to having flirted with the idea of regional Indian food, something along the lines of what Bombay Canteen is successfully doing in the Maximum City. But in the end, it was nostalgia that won. Having grown up in Thailand, the brother-sister duo knew their flavours and decided that this was one unexplored area in Delhi's food scene. And thus, Ping's was born.
Occupying the same spot as Ploof was earlier, in one corner of Lodhi Colony Market, the location is central as well as discrete. The restaurant itself is bright and has a certain energy, the kinds you wouldn't mind visiting at 11:30am or at 9pm. Bright red walls, comfortable wicker chairs with cushions and fun elements like street lights in the middle of the restaurant, there is no staid seriousness about the décor. The seriousness though, is reserved for the food. The menu is still in trial phase and the final menu should be out in a couple of weeks but if the trial menu is anything to go by, the kitchen knows what they are doing.
Prawn
crackers are served complimentary with a black bean dip and sambal, the latter offering just the right kick. Munch through these as you sip on a peach and
honey
sangria
(Rs.450) or a refreshing Ma-Collins (Rs.300), a bourbon based cocktail with star anise,
ginger
and lemon, arguably the best in their limited
cocktail
menu.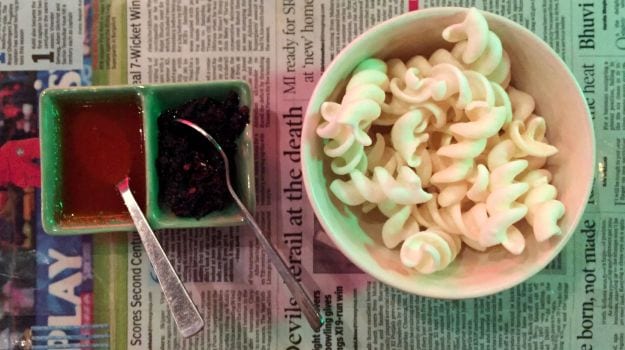 The salad section shines bright, and is just perfect for the weather outside. Vegetarians, rejoice. The options are aplenty and in places, beat their meat counterparts when it comes to taste. We love all things
quinoa
, but you need to know how to cook it well. Ping's Orient does a fabulous job with the Quinoa Salad with
mango
, red chilli and
soya
(Rs.245). Giving it close competition was the Chiangmai's Spicy Beef Salad (Rs.245) with a well-balanced lime drizzle. The shocker though, came from unexpected quarters.
Pork
is arguably one of the most flavourful meats and pork belly is a personal favourite. However, when we were served Pork Belly skewers (Rs.245) and a
spinach
-based Gomai Salad (Rs.195), shockingly, the latter won hands down. It wasn't even a contest. And that is a first. The pork was tender but the cut a bit too fatty. But the salad, playing up the flavours of
sesame
, was nothing short of outstanding. Popeye would be a fan.
The Bacon Wrapped Prawns (Rs.395) were smoky and delicious, the prawns succulent and the bacon perfectly crisped. Another welcome surprise on the menu was Hainanese Chicken
Rice
, Singapore's staple food. I have searched far and wide for this dish in Delhi and come back unsuccessful but no more. Ping's does a decent version, wouldn't say it is the best I have ever eaten. The rice itself is fantastic, robust and full of flavour. It is the
chicken
pieces which seem too chewy or perhaps chopped too large.
Desserts
are usually not my favourite part of the meal so I was in half a mind to skip them. But the scoop of
Coconut
Jaggery Ice Cream deserves special mention. Not too sweet and creamy like it should be, it was the perfect end to a fun meal.
Ping's Café Orient scores high on soul. That is perhaps the best word to describe it. The dishes haven't been put on the menu haphazardly (except a few unavoidables like chilli chicken). Each dish has depth of flavour and is true to the streets of the orient that it represents. Executive Chef Prantush Rai has trained alongside Chef Manish Mehrotra back when he was at Oriental Octopus, and manages a great team in the kitchen. A place with great potential, a few edges that need to be smoothened but a welcome addition to Delhi. Perfect for a solo meal, a romantic dinner, a bite with friends or even a small party (the terrace is ultra-chic, with grass underfoot and its own bar, sans any seating though).
Location:
13, Main Market, Lodhi Colony, New Delhi
Meal for 2:
Rs.800 without drinks
Must Haves:
Gomai Salad, Beef Salad, Coconut Jaggery IceCream. We suggest you skip the mains (which you get plenty of in the city) and overdose on salads and small plates.
The Negatives:
The beverages need some work. Would love seating on the gorgeous terrace too.