Best Baked Chicken Recipes- Everyone should know how to make baked chicken. Not because it is one of the healthiest ways of cooking your favourite protein, allowing you to marry chicken with any ingredient you like, but because it's one of those methods where your oven will do all the work while you sit back and relax. However, there's a catch. It's not a simple task. Cooking chicken in the oven requires a little practice. You don't want to end up with dry, tough and flaky chicken, do you?

In the oven, the chicken is exposed to dry heat which sucks all the moisture right out of it. So if you don't understand how to work your oven, you could end up with dry meat. The breast is more problematic than other parts as it dries up much quicker. You know you have baked your chicken perfectly, when you find it swimming in a bed of its own juices. While searching for good recipes, don't confuse baked chicken with roast chicken because they're not the same. Yes, they're both cooked in an oven but baked chicken is when you cook parts of the chicken while roast chicken is cooking of the whole bird.


Now, we're going to take you through a couple of basics: how to cook chicken in an oven, how much of it depends on the temperature, how to get the skin real crisp and 10 mind-blowing recipes to try at home.

(Also See: How to Make the Ultimate Baked Potato)
How to Cook Baked Chicken: The Perfect Method | Tips To Cook Perfect Baked Chicken
While looking up the best ways to cook chicken in an oven, we came across Ali's B.B.R.R.R method which she's shared on her blog Gimme Some Oven. BBRRR stands for brine, brush, rub, roast and rest. It's unusual to brine chicken as it's mostly done with turkey but it's a sure shot way of getting real moist chicken.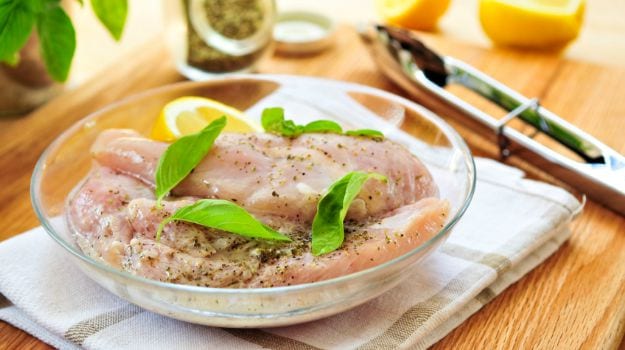 To brine the chicken, take a bowl of warm water and add a bit of salt to it. Add the chicken into the brine and let it rest for 15 minutes or more if you can spare the time. Cover the bowl and refrigerate it for 6 hours. Next, brush the chicken liberally on both sides with butter or olive oil. Then rub it with dried spices like cumin, pepper, cayenne pepper, cajun seasoning, mint, parsley or anything you desire. Roast at a low temperature for about 30 minutes or at high heat for 15 minutes. We'll come to the temperature in a bit. The final and most crucial step is to let it rest. Once you pull your baking tray out of the oven, cover it with aluminum foil and let it rest for 5 to 10 minutes.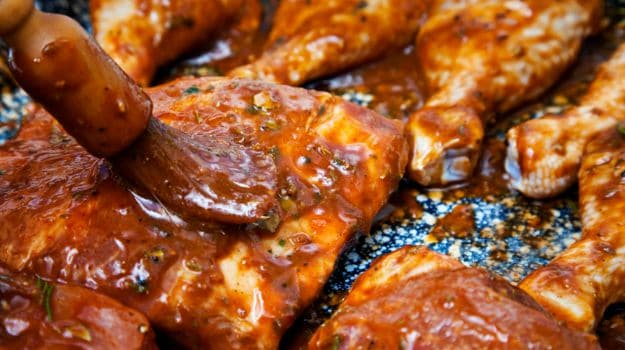 Now for some golden rules. We promise that by the time you run through them you would have nailed how to get juicy and tender chicken every time | Tricks for the Best Baked Chicken:
1. After you wash the chicken, pat it dry before you season or oil it.


2. In an oven, chicken is exposed to dry heat which means it's stripped of all its juices. This is why it's crucial that you oil your chicken well before pushing it into the oven.


3. Another way to get moist chicken is by covering it with a parchment paper. Make sure you tuck it in so that the chicken is covered from all sides.


4. If you're cooking chicken breast, make sure you flatten them so that all of them cook in time.


6. The thighs, wings etc. will take more time to cook but pull out the breast as soon as it changes colour from pink to white.
It's All About the Temperature
This is the most crucial step in cooking baked chicken. A lot depends on the kind of oven you have. You may have one which is really effective and doesn't need to be heated as high as the recipe suggests or you may have one for which the temperature needs to be higher than the one mentioned. Chicken breasts are devoid of fat and to make sure they don't run out of moisture you either need to wrap them in foil, marinate them with a layer of sauce or cook them in liquid. They won't take more than 15 to 20 minutes in the oven.


The best thing to do would be to invest in a cooking thermometer. Stick the thermometer in the thickest part of the chicken breast and when the temperature touches 160 or 170 F, pull it out. This way, you won't have to roll the dice with your food. When it comes to chicken thighs and drumsticks, I found Nigel Slater's recipe to work best. After you drizzle some oil over the meat, preheat the oven to 180 degrees C and then cook the chicken for 45 to 50 minutes.


Now, moving on to the real deal. Here are 13 of our best baked chicken recipes that'll inspire you and make you drool!
This one will spread delight through your kitchen. Make some fresh pesto with garlic paste, basil leaves, Parmesan, pine nuts and butter. Smear it on 4 plump chicken breasts and bake for around 20 minutes.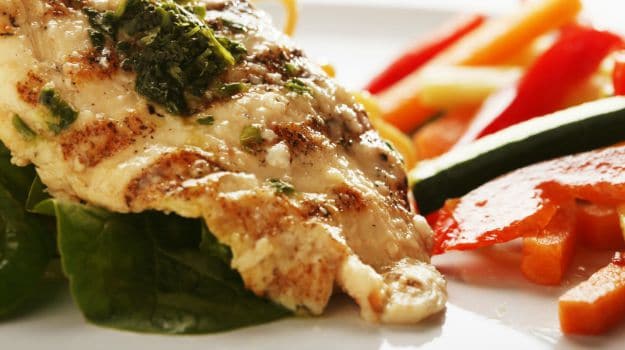 Chop a chicken into smaller pieces and marinate them in a pungent mustard sauce and some sweet honey that cuts right through. You can leave it overnight so that the flavour is absorbed completely and bake the next day for around 20 minutes.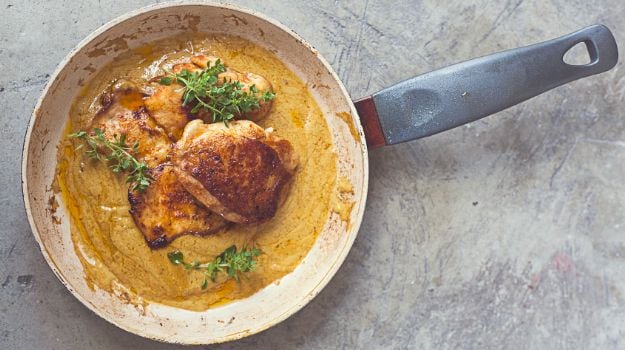 Chicken breasts are marinated in a home-made, fiery peri peri sauce, kept for as long as possible and baked on high heat for 20 minutes or so, till the chicken's cooked through and through.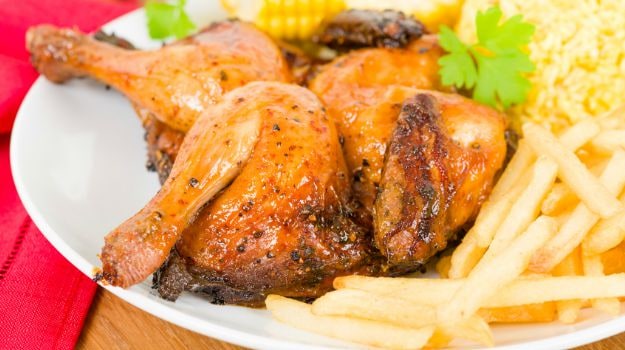 If you love chicken drumsticks then bookmark this recipe because it gives you tender, perfect chicken every time. Marinate the drumsticks with curd, maida and ginger, and refrigerate for 4 to 5 hours. Then bake them for 30 minutes or so.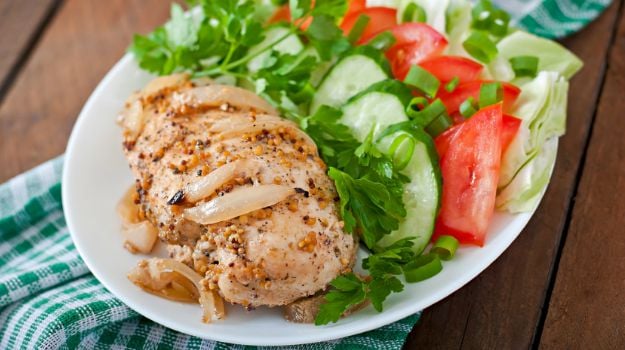 Small pieces of chicken cooked well from the inside and crisp on the outside. This recipe will blow you away. Marinated chicken is rolled in an egg mix and sprinkled with sesame seeds for that extra crunch.


Marinated in quintessential Indian spices and baked for around 40 minutes, this recipe results in an aromatic dish that is hard to resist.
Give a healthy spin to your favourite kebabs. All you need is some minced chicken, garlic, onions, chilli, ginger and egg-wash.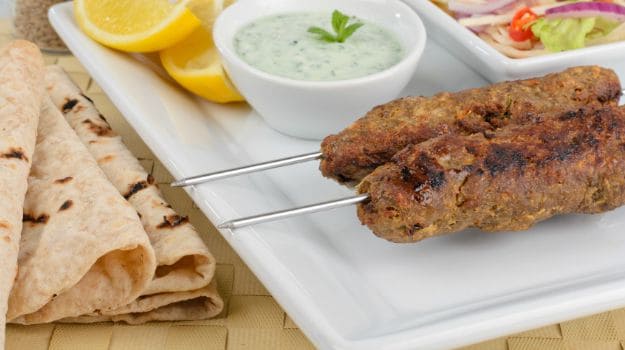 Here's a combination of flavours we promise you'll love. Lemon grass, chilli, lemon juice, jaggery, capsicum, cashew, garlic and ginger. Try this pepper-glazed chicken recipe and you'll know why it's one of our best ones.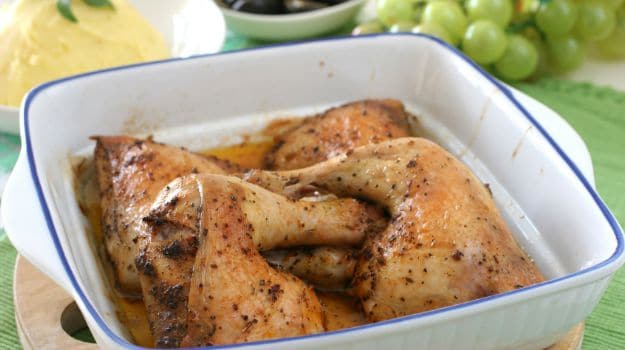 The lip-smacking filling is made with the meat from juicy chicken thighs. Marinate it with vinegar, yogurt, salt, pepper, cardamom and bake for around 30 to 35 minutes.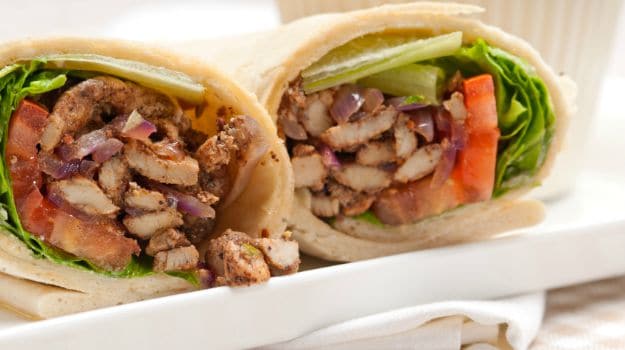 Medium-sized cubes of chicken are marinated with spices like pepper, cumin, coriander, cardamom, cream and lime. Then they're cooked in the oven for 20 minutes.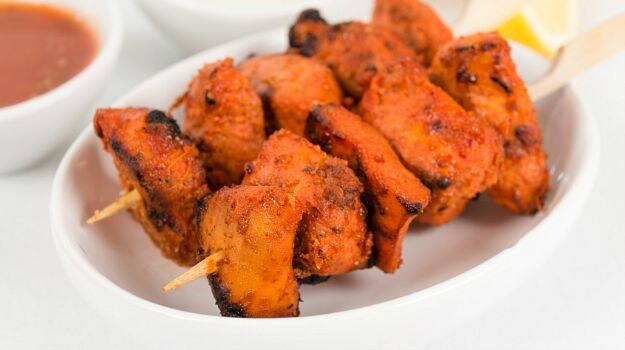 A mouth-watering chicken dish, lathered with spices and baked to perfection. Prepare this to feast on special occasions and dinner parties, this is easy and fuss-free and takes very little time to prepare. The rice and mint adds a great flavour to this chicken dish.
Whole chicken rubbed with a spice mixture, stuffed with rice and mint and baked.
A popular Indian evening snack requires very few minutes of you time and is now tweaked to suit your diet plans!


There is a reason for calling this an 'Angara' tikka because it is as hot as burning coal and as spicy as its fiery red colour.