Despite
growing
wild throughout China for centuries, the
cultivation
of the kiwi fruit did not begin until the late 19th century. While it has garnered an assortment of odd
names
in the recent years, ranging from "melonette" and "strange
fruit
" to the "hairy bush fruit", kiwi got its
current
name as a
result
of a cleverly designed marketing campaign hatched in New Zealand in 1959.
The tangy fruit was introduced to India in Shimla in 1963 and later farmers experimented with several varieties in
cooler
regions including Himachal Pradesh, Sikkim, Jammu and Kashmir, Arunachal Pradesh, Meghalaya and the Nilgiri Hills. The short
season
lasts from October to December. While buying, check for hardiness of the immature ones since the fully ripened kiwi fruit yields to gentle pressure. If the fruit is hard, it will be unripe and tart and should be kept outside at room
temperature
in order to allow it to ripen. If it is too soft, it can be pealed and used for a nice kiwi
smoothie
. The ideal way to store a kiwi is to wrap it in brown paper and refrigerate it.At first glance, the fuzzy brown skin might turn you off with its potato-esque exterior, but the flesh is marked by robust colours and juicy
flavours
, especially of the Indian green or golden variety. Martha Stewart is of the view that the fruit can be consumed in its entirety. The
skin
of the fruit contains flavonoids, antioxidants and fibre, however, it may also carry a large percentage of the
pesticides
used while farming the fruit. Some people tend to eat the kiwi fruit without peeling the skin off. They believe it doesn't spoil the taste of the fruit and instead gives it an added texture. Hence, the consumption of the skin should be avoided unless the fruit is grown
organically
.
Most people prefer to eat it with the skin removed. An easy way to do so is to trim off the ends and insert a teaspoon between skin and flesh. Then run the spoon along the circumference to loosen the flesh. Slide it out in one piece. With the peeled fruit on its side, slice it into rounds and enjoy. Since the kiwi fruit is high in Vitamin C, it is best eaten raw as cooking kills the vitamin content as well as the lovely green colour of the fruit. It contains certain enzymes which make it a great tenderizer for meat just like
lemon
. Just cut the fruit in half and rub it over the meat, or peel and mash with a fork and then spread on the surface of the
meat
. Let it stand for 10 to 15 minutes and you get tender and flavourful meat. The fruit, however, may cause
milk
to curdle and will prevent the gelatine in any dish from setting. Therefore, avoid using it in ice creams or jelly. Several studies have pointed out a less known fact about the kiwi fruit - it works as a great laxative.
The consumption of kiwi along with our regular meal enables better bowel functions making it a convenient home remedy. Due to the high content of
magnesium
in kiwi it enables our body to convert the food we eat into
energy
. It replenishes our body and we feel less tired especially if our routine includes frequent visits to the gym.In case you are wondering how to add this wonderful fruit in your meals, these chefs have it covered for you!
1. Kiwi Pavlova
Recipe by Chef Nikhil Chib
Nikhil and Natasha whip up their version of New Zealand's national dessert with a pistachio-almond meringue and kiwis.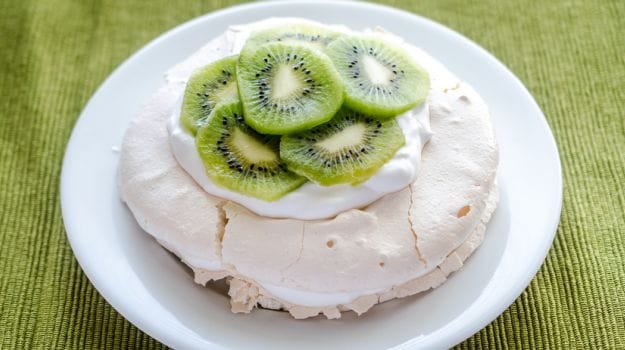 An amazing dessert to back up those nutrients of Kiwi.
2. Bajra Tarts with Mango and Kiwi Custard
Recipe by Plavaneeta Borah
Who knew Bajra could be turned into these dainty little tartlets holding your favourite kiwi fruit with a mix of light whipped cream?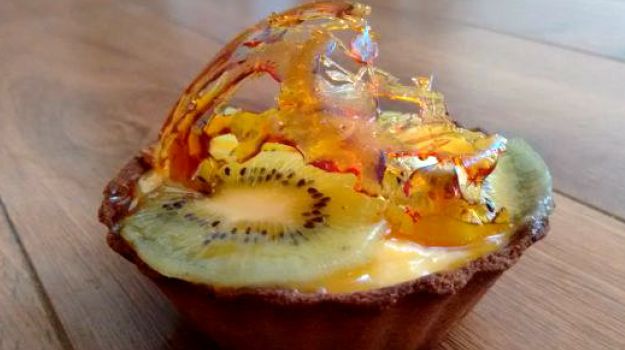 Bajra and Kiwi can sure be a good combination like that.
3. Chilled Green Soup
Recipe by Chef Vicky Ratnani
The unforgiving sultry weather is challenged by this kiwi cooler by Chef Vicky Ratnani. One glass of this cold soup will charge you up for the entire day.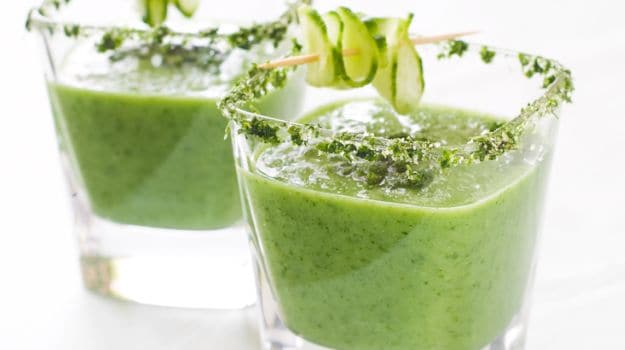 One glass of this can be fulfilling and recharging for the day.
4. Kiwi Upside Down Cake
By Chef Sanjeev Kapoor
Turn that frown on your child's face upside down with this fruity cake. A recipe you can share with your little one.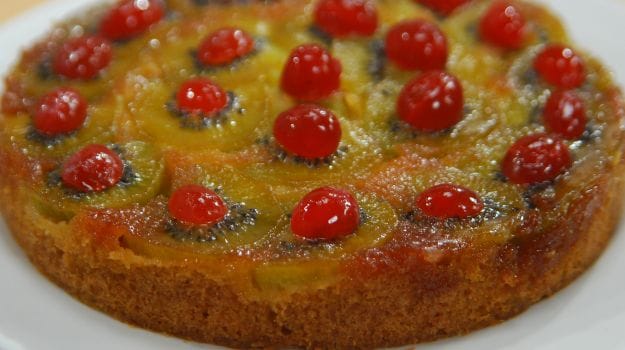 By Chef Sanjeev Kapoor
If being hearty and healthy is your motto then this easy to make salad is your pick. Combine the sweet flavour of pomegranate with the tartness of kiwi to make this stunner.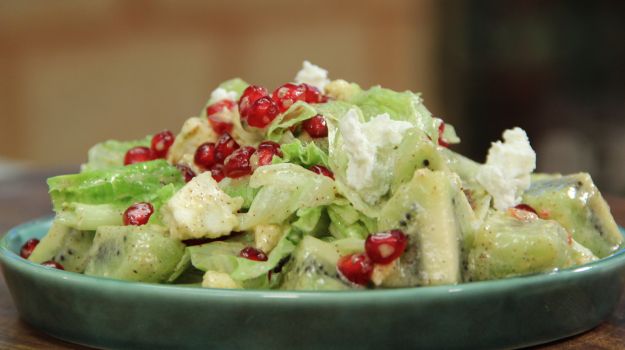 An healthy and hearty way to eat your fruits up.