Zorawar Kalra has often been touted as the 'Prince of Indian Cuisine'. The prince part, we gather, comes from the fact that his father, Jiggs Kalra still commands formidable respect in the culinary world. As for the latter part,
Indian Cuisine
has been his domain from the days of Punjab Grill upto the modern-day
Farzi Café
. However, for once, we beg to differ.Zorawar Kalra is no prince anymore. He rules his kingdom with aplomb and it is but appropriate that the crown sits on his very befitting head. Much has been written about Zorawar Kalra the restauranteur. His father's legacy, his return to India after a MBA from Boston University, his meteoric rise in the
culinary world
and the inevitable coming into his own. However, every time I meet him, there is another side I witness. A side that perhaps explains how he has managed to achieve what he has, in such a short duration of time. And that is Zorawar Kalra the person. He brings a certain energy, an unmistakable zeal to everything he does. A discussion with him is never mundane. Extremely well-informed, passionate and ambitious, he is also warm and humorous, making for lively conversations.What do you ask a man who has already answered the obvious questions umpteen times? You put him on the spot. And that is just what we did when we visited him at the highly acclaimed Farzi Café in Central Delhi's Connaught Place.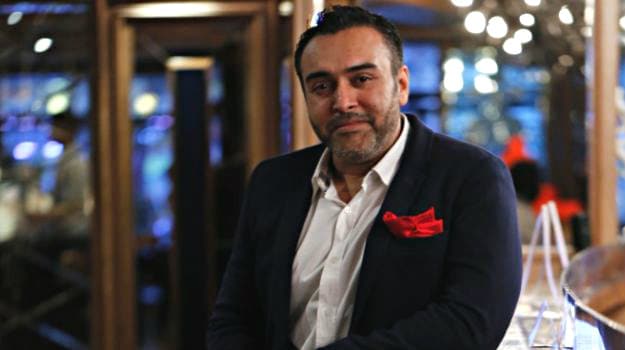 We present to you, a Rapid-Fire with Zorawar Kalra, unplugged, uncensored and extremely entertaining:
Which is the worst dish you have ever eaten?
Horse meat. There is a horse meat dish that I had in Cambridge. My friend took me to try it and it was perhaps the worst dish I have ever eaten. It was
boiled
, completely unseasoned, with absolutely no flavour. And they insisted that is their original recipe so how does one argue with that?
Which is the strangest meat you have eaten?
There are lots of weird things I have eaten but I think the award goes to Chicken Feet. Braised and crisp, I had it in El Bulli in Spain in 2006, a few years before it shut down. I loved all the food there but this I just could not because it actually looked like Chicken Feet! It was all bone, where in the world was all the
meat
?
Butter Chicken or Tandoori Chicken?
This one is easy.
Tandoori Chicken
as I'm a low carb kind of a guy.
Your best street food memory?
When I used to live in South Delhi, I would go for a tuition class in Malviya Nagar. There was a
tikki wala
, who used to make this fantastic
Aloo ki Tikki
. I remember that the only reason I convinced myself to go for tuition was to treat myself to the
tikki
. My father used to hate all this for hygiene issues so in my house it was forbidden, perhaps which is why I relished it so much. We had the craziest curated dining experiences growing up as we couldn't eat on the street like at those
chowmein
trucks which dished out great food!I can't eat unhygienic food now. My nostalgia makes me believe that I loved the flavours of the street but perhaps it was also because at that time, I did not know any better.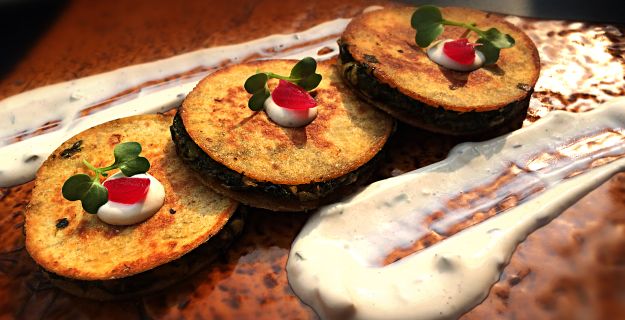 Quesadillas from Farzi Cafe
Tea or coffee?
Coffee.
Delhi or Mumbai?
This is a dangerous one! Ludhiana (guffaws).
Gun to my head, Delhi because it's home and Mumbai for the vibe of the city. Food wise, I think Delhi is a little bit ahead.
Your mother's cooking, your wife's or your grandmother's?
Grandmother, hands down. The easiest question of the week! If you tried her food, you'd understand. My dad and I developed our palate because of her. Ours was probably the only Punjabi household in India which made a Kashmiri Rista Kofta better than the original (she added chopped
masala
in it and the meat was ground by hand). My fondest home-food memories.
Do you cook? If you HAD to cook a dish for your kids, what would you make?
No, I don't cook. But if I had to, I'd cook them a wrinkle free, perfectly cooked
omelette
, smooth as a pebble, little runny on the inside, with atleast three types of
cheeses
and one type of meat, preferably prosciutto and a lot of hand-crushed fresh oregano. The only thing my dad made for us, ever, once a year, were the omelettes. They were gourmet. The ingredients were all imported, I don't know what he used to do, they were the tastiest thing in the world.
The one lesson you learnt from your father?
Figure out something you'd love to do for free and then figure out a way to make money out of it.
Who do you look up to in the global culinary world?
I wouldn't know where to begin – Alain Ducasse, Thomas Keller, I used to love Charlie Trotter (he's my No.1 actually).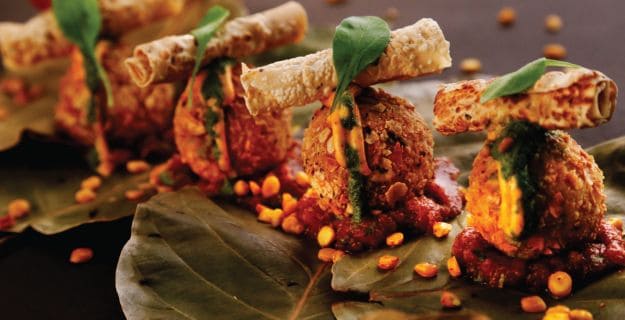 Dal Chawal Arancini from Masala Library
Zorawar Kalra 20 years from now. Explain him in 3 words.
Stress free, loved and recognised.
Disney is in the business of 'Magic'. What are you in the business of?
We're in the business of putting Indian food on the global palate. The only way to make something globally acceptable is to be on the cutting edge and not hold on to the traditional way to do it. I really feel that
Indian food
is the greatest cuisine on earth and I consider it my personal crusade to put it on the global palate and for it to be as recognised as Mexican or
Chinese food
. The effort involved in Indian food is unparalleled and thus is its complexity and potential.
Your go-to restaurant in India (besides your own)?
Le Cirque and Karim's (only the one at Jama Masjid).
The best decision of your life so far?
My wife would love it if I said it was to get married to her. But, perhaps it was to come back to India from the US after my MBA due to my father's ill health. I did it grudgingly then, but in retrospect, it was the best decision by far.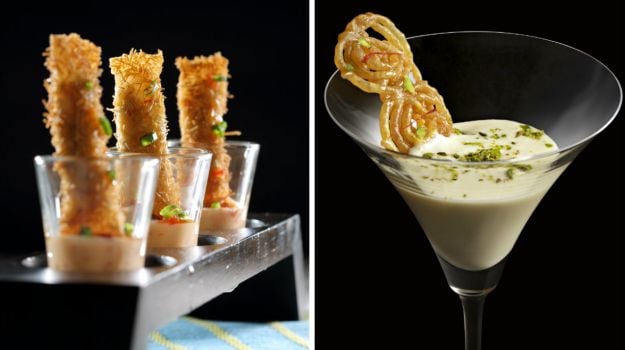 Kurkuri and Crispy Jalebi with Rabri from Made in Punjab
If you were not a restauranteur, what would you do for a living?
Professional race car driver. I'm very good at it. I race once a month on Buddh Circuit in my Porsche 911 Carrera S. My current best time is 2:19, which is a very good time for that car.
One dish that you would pick from each of your restaurants as your ultimate favourites?
Delhi Belly Tikka (Farzi Café), Jalebi Caviar (Masala Library), Yaki Tori (Pa Pa Ya) and Multani Tikka (Made in Punjab).
What did you eat for lunch today?
Home-made
Mutton Biryani
.
First word that comes to your mind when I say the word Food?
Soulful.