Bright, peppy and flavourful, popsicles or ice lollies are just what you need to beat the heat during this hot season. Made with the goodness of fruits and/ or yoghurt, they are an instant energy revitaliser, giving your body the much needed mineral boost. While the popsicle-craze seems to have caught on from the West with restaurants and bars going all out to woo their patrons with creative mixes, including boozy concoctions, it is not really a 'new thing' in India because the country has had its own range of iced desserts.
Snap back to your childhood and you will remember savouring ice golas in myriad flavours - kala khatta, cola, paan, etc; or the elongated tube-like, orange/ strawberry flavoured icicles which the neighbourhood ice cream vendor would bring along and we would wait eagerly for it. And who can forget our beloved kulfi, the milky frozen treat?The new-aged popsicle no doubt takes the genre of iced desserts to a whole new level, with exotic fruits and spectacular flavour combinations giving it that gourmet appeal. So this summer, forgo those sugar loaded, store-brought, iced treats and say hello to popsicles.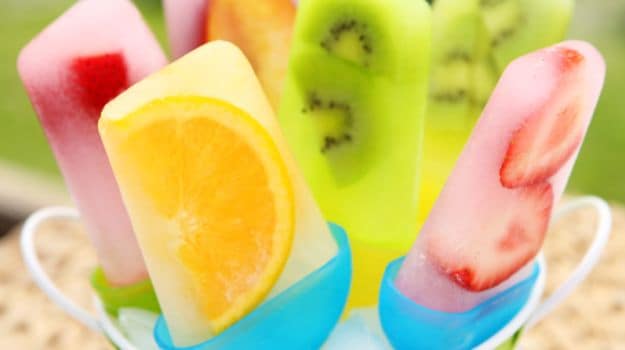 Icicle or Popsicle?Like the saying goes that there are no mistakes in life and everything is meant to be, the creation of popsicles follows the same suit. The story goes that in the early 1900s, a young boy named Frank Epperson created the popsicle by a stroke of luck. He had left a glass of powdered soda and water with a stick in it on the porch through the night. The cold San Francisco night breeze caused the mixture to freeze and what little Frank discovered the next morning was an interesting treat that he knew would be a big hit with his friends. Little could he have anticipated the rage it would become a millennium later. Today, billions of popsicles are sold every year across the globe!
You can now enjoy these iced pops in various restaurants, bars and food trucks across the country. In one of our luncheons during this hot month, we thoroughly enjoyed the boozy Cucumber Pop and the Watermelon Berry at Coast Café, a much-loved eatery in Delhi. Renowned Chef Manish Mehrotra also offers a refreshing range of popsicles as a palate cleanser in the tasting menu of his award winning restaurant Indian Accent. It is served in an adorable, mini pressure cooker prop that adds to the thrill. We have also enjoyed the popsicles in Chef Manu Chandra's Monkey Bar, as well as the beer-based ones in The White Owl, a brewery in Mumbai.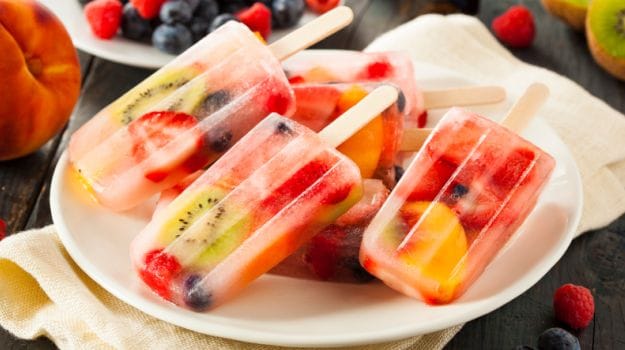 A new bar in Juhu, True Tramm Trunk, is creating quite a stir with their golaritas - the desi twist to the concept of popsicles. "Our most popular flavours include Jack n Coke (made of Jack Daniels and Coke), Jameson and Chocolate, Vodka and Passion Fruit with a sprinkle of chaat masala, and Tequila and Strawberry," says Ashima Batra, Head of Marketing and PR of True Tramm Trunk.
Stepping away from the heady concoctions, there's Frugurpop, the popsicle food truck, who has got the people of Gurugram, Delhi and Mumbai hooked with their sinful range of flavours such as Mango Cheesecake, Tiramisu, Kiwi Strawberry Lemonade, Triple Berry, and Frutilicious to name a few. The best part is that they also deliver their gourmet popsicles right to your doorstep. So you can sit home and indulge!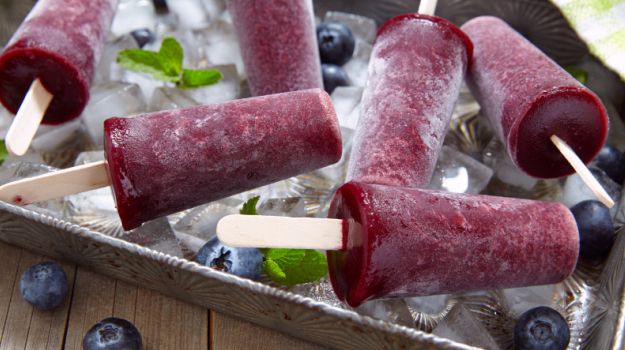 How to Make Popsicles at Home
If the thought of popsicles has got you wanting to try your hands at making them, you have some good news. They are ridiculously easy to create at home and you need only about three to four ingredients to dish out a range of fun and delicious popsicles all by yourself. What's more? It may be the best way to make your children have
their fruits
without hearing a single complaint.
An article on Celebrity US Chef Marcus Samuelsson's website states, "Fruit, dairy and sweeteners are the three main things that can compose a great popsicle. A water-based popsicle has no dairy, and fruit is the main component, whereas a dairy-based popsicle can be rich and creamy with the help of milk, yoghurt, or even Greek yoghurt. Sugar, agave nectar and honey can be added in to combat the sugary sweetness of conventional store-bought popsicles."
Coming to the flavours, there's absolutely no limit to what all you can experiment with. Pick any fruit of your choice and you can mix and match it with other ingredients. While you will find Chef Jamie Oliver creating creamy yoghurt-based popsicles with ripe bananas, blueberries and strawberries, Chef Sanjeev Kapoor can be seen giving a desi twist to his creations, such as the guava popsicle with a mix of spices, which looks like the perfect summer treat. You can also play around with mango, kiwi, jamun, peach, watermelon, pomegranate, orange - you name it!
What you do require, however, are the moulds to make popsicles, which are available in most cookware and home stores. Even if you can't find them, you can use shot glasses, chai glasses or kulfi moulds to make them. Just blend a mix of fruit juices, pour them in the glasses or moulds, put in a stick, chill them for three to four hours in the freezer, and it's done!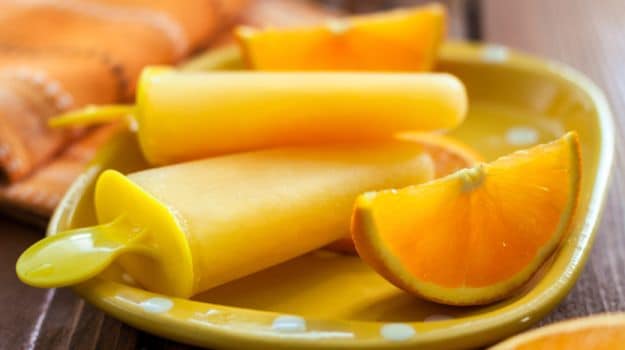 Recipes to Try at HomeSo play the popular track Ice Ice Baby by American rapper Vanilla Ice, and roll your sleeves up to create these popsicles – 1. Watermelon Dill Popsicle1 small watermelon
A few sprigs dill, chopped
1 Tbsp honeyMethod:1. Deseed the watermelon completely, and cut them into small chunks.2. Blend the pieces in a mixer along with honey and dill. Strain into the popsicle moulds, place the stick and keep them in the freezer for 3 hours.3. Demould and enjoy!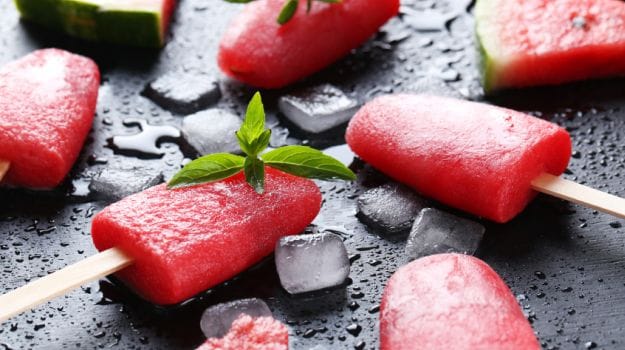 2. Jamun Mint Popsicle500 gm jamuns, deseeded
A few sprigs of mint
1 lime, juiced
2 tsp sugar (optional)Method:1. Blend the jamuns in a mixer along with lime juice, sugar and mint leaves. Strain into the popsicle moulds, place the stick and keep them in the freezer for 3 hours.2. Demould and enjoy!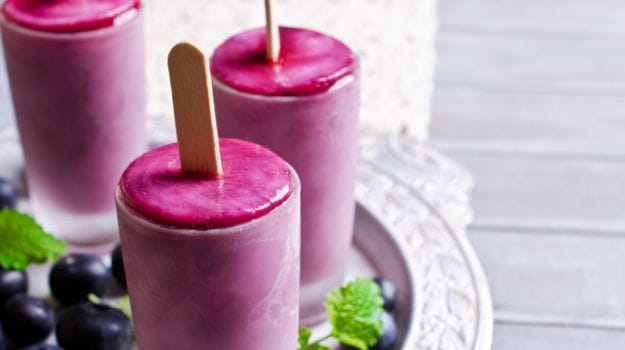 3. Fiery Kiwi Popsicle8 kiwis
1 Tbsp lime juice
1 tsp paprika
A few sprigs of mintMethod:1. Take one kiwi and chop into small pieces. Keep aside.2. Blend the remaining kiwis in a mixer along with lime juice, paprika and mint leaves.3. Place the chopped kiwi at the bottom of each popsicle mould. Strain the blended mixture into the moulds, place the stick and keep them in the freezer for 3 hours.4. Demould and enjoy!