It's not easy to please a child, especially when it comes to food. They come back from school, tired and groggy, and all they want is something delicious. Before they head out for their evening game, they need to fuel up again. Snacking between meals is important but it is also important to eat the right food and not fill up on empty calories. More so, you there's a constant struggle between healthy and delicious. You can't fool your kids, you see. We have some great ideas for you, from homemade granolas to whole wheat burgers, healthy snacks your kids will absolutely love.

"Kids have small tummies and a big appetite and so they are unable to meet their daily nutrition needs with just major meals. Snacking is very essential for these tiny bundles of energy. While choosing snack options for kids keep in mind that the snack provides at least one important nutrient other than calories and proteins like calcium or iron. Moreover, your kid may not be able to consume a full meal at one time, so the missing portion can make a snack. For example, if the dahi is left out in a meal then you can use it in a smoothie later in the evening. Lastly, make snacks in sizes that can be eaten while running around rather than sitting with a plate," suggests Dr. Rupali Datta, Chief Nutritionist at SmartCooky. She also stresses that while snacking is crucial, you should monitor the snack intake and regulate what and when your child eats.


Mix up your daily routine and let your kids have some fun. Healthy eating need not be boring. Chef Arun Sundararaj from The Taj Mahal Hotel in New Delhi suggests some easy tips to up your child's health quotient while keeping them happy -


- Use healthy alternatives like olive oil to saute and fry
- Go for whole grain for dishes like multigrain pizza, millet cakes or ragi dosa.


- Sneak in seasonal fruits in sweet treats like mango muffins, whole wheat pancakes with cherries or make a delicious crumble


- Present the food in an attractive way. For instance, strawberries sliced and presented in a shape of a flower, cucumbers or baked potatoes in a shape of a boat filled with sprouts and pomegranate will seem attractive to kids who normally avoid fruits and vegetables



- Substitute cheese and mayonnaise with homemade spreads like hung-curd and hummus. Hung-curd with tri-coloured bell peppers finely chopped makes for a delicious sandwich spread. You can also add some baby carrots or other raw veggies to up the health quotient.


Fresh homemade snacks are the best choice as compared to ready to eat processed snacks. Here are some healthier alternatives to draw a smile on your child's face.

Recipe by Chef Seema Chandra

Sneak some calcium-rich ragi flour in cookies and your kids will never know. These crisp cookies are perfect for dunking in milk for breakfast or in the evening before they head out to play.
Recipe by Chef Seema Chandra

This recipe cuts out unwanted refined flour, excess salt and preservatives in favour for healthier substitutes like whole wheat flour, flax seeds and oats.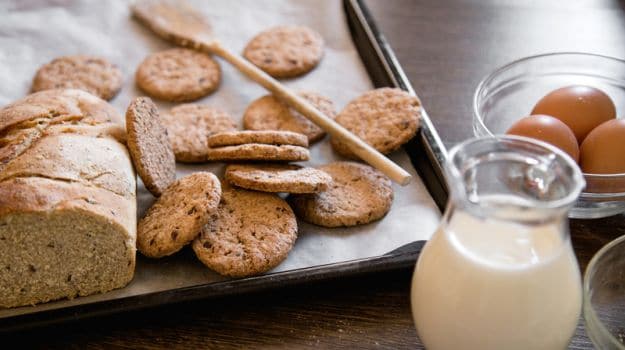 Recipe by Chef Amit Dash, Courtyard by Marriot

Granolas are perfect to beat sudden hunger attacks and keep away unwanted cravings. Make a batch of small-sized, nutty granolas and store them in a place where your kids can easily reach them when hungry.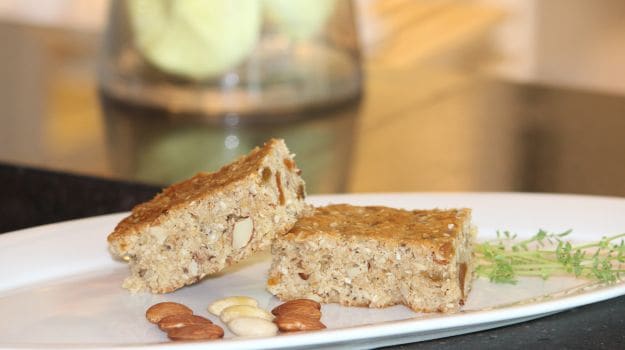 Recipe by Chef Aditya Bal

The perfect snack to fuel up on after a long day at school. Serve with a freshly made mango or tomato chutney.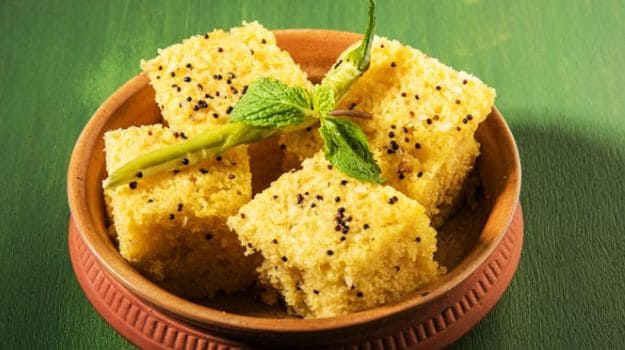 Recipe by Chef Divya Burman

With flavourful chicken wrapped in cabbage leaves, these dainty bundles will delight your child. Spend some quality time with your little one, while you perfect these dumplings.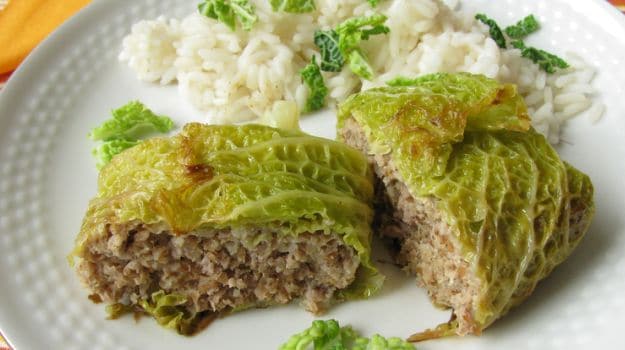 Recipe by Ramya Parameswaran

Serve a plateful of these mini idlis that hide vegetables like carrots with the goodness of oats.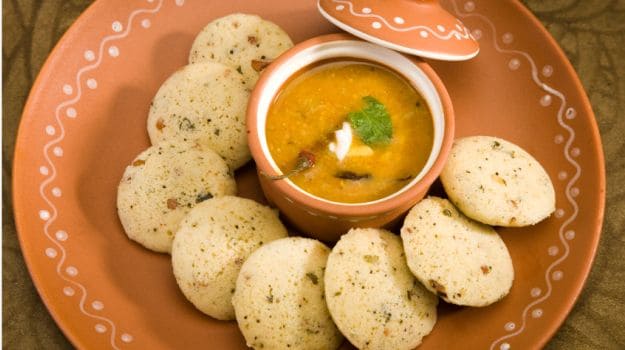 Recipe by Chef Seema Chandra

Rid yourself from the endless trouble of getting your child to eat healthy. Put forth a plate of this nutmeg infused oats and apple crumble, which is both appetizing and healthy.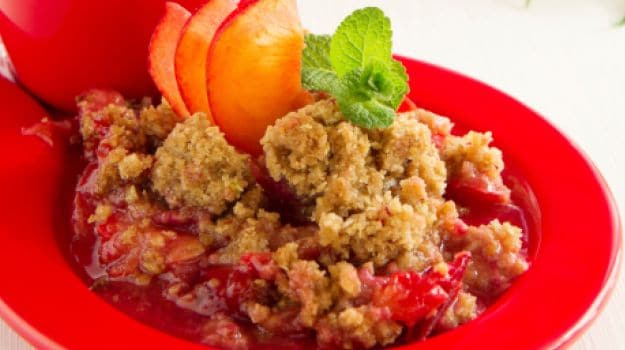 Recipe by Chef Arjun Gupta, Piano Man

Does your child refuse to touch that protein rich bowl of dal on his plate? All you have to do is hide the goodness of lentils and present your child with this delicious and super-healthy mini-burger. They would never suspect!
Recipe by Chef Ruchira Hoon

Move over tart shells made with maida, maize flour is here. Go gluten free with these savoury maize tarts filled with a cheese and vegetable mixture. A smart way of getting your child to eat healthy, these little tartlets work like magic.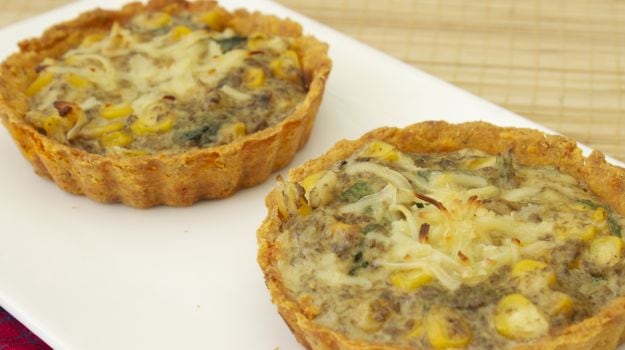 Recipe by Plavaneeta Borah

Filled with the goodness of dates and cashew and the sweetness of coconut. These bite-sized and wholesome rounds will make for a good evening snack for your little one.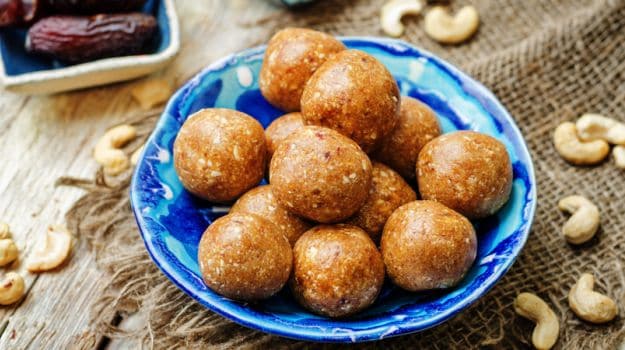 Samosa cones filled with a delectable and tangy paneer stuffing, baked perfect! Pair it up with mint chutney and enjoy as an evening snack.
Try out these recipes and let us know how you liked them in the comments below.